(Yicai Global) May 18 -- China's manufacturing sector mounted a V-shaped recovery after the restrictions imposed to combat the Covid-19 outbreak in January and February were eased, according to a new report based on geospatial data. But the recovery is regional rather than national.
The V-shaped "bounce" indicates that manufacturing production in the world's second-largest economy has rebounded to levels seen before the novel coronavirus, consultancy Oliver Wyman and risk advisory Silk Road Associates said in the joint report published on May 15.
"The Chinese economic recovery is well underway, following the Covid crisis," Peter Reynolds, a partner at Oliver Wyman in Hong Kong, said on a weekend webinar to mark the report's release.
Though Reynolds emphasized that the onset of a global recession could have broad implications for China's prospects in the long-term, he expressed optimism at not only the relative speed of recovery in manufacturing but also the outbreak's impact on the sector as a whole.
"It's striking that the Q1 numbers that came out showed only an 8.4 percent decline in manufacturing output relative to the same quarter in 2019," he said. "If you look at the amount of time that was shut down -- the Chinese New Year break plus the additional couple of weeks that things were stopped -- you actually have 17% less operational time."
Reynolds said demand for the fulfillment of backlogged orders and the steady supply of crucial raw materials are key factors in the recovery.
Regional Recovery
Ben Simpfendorfer, chief executive at Hong Kong-based Silk Road Associates, Oliver Wyman's data partner on the project, introduced some of the geospatial data used to provide a more regional than national picture of the recovery across China's diverse industrial heartlands.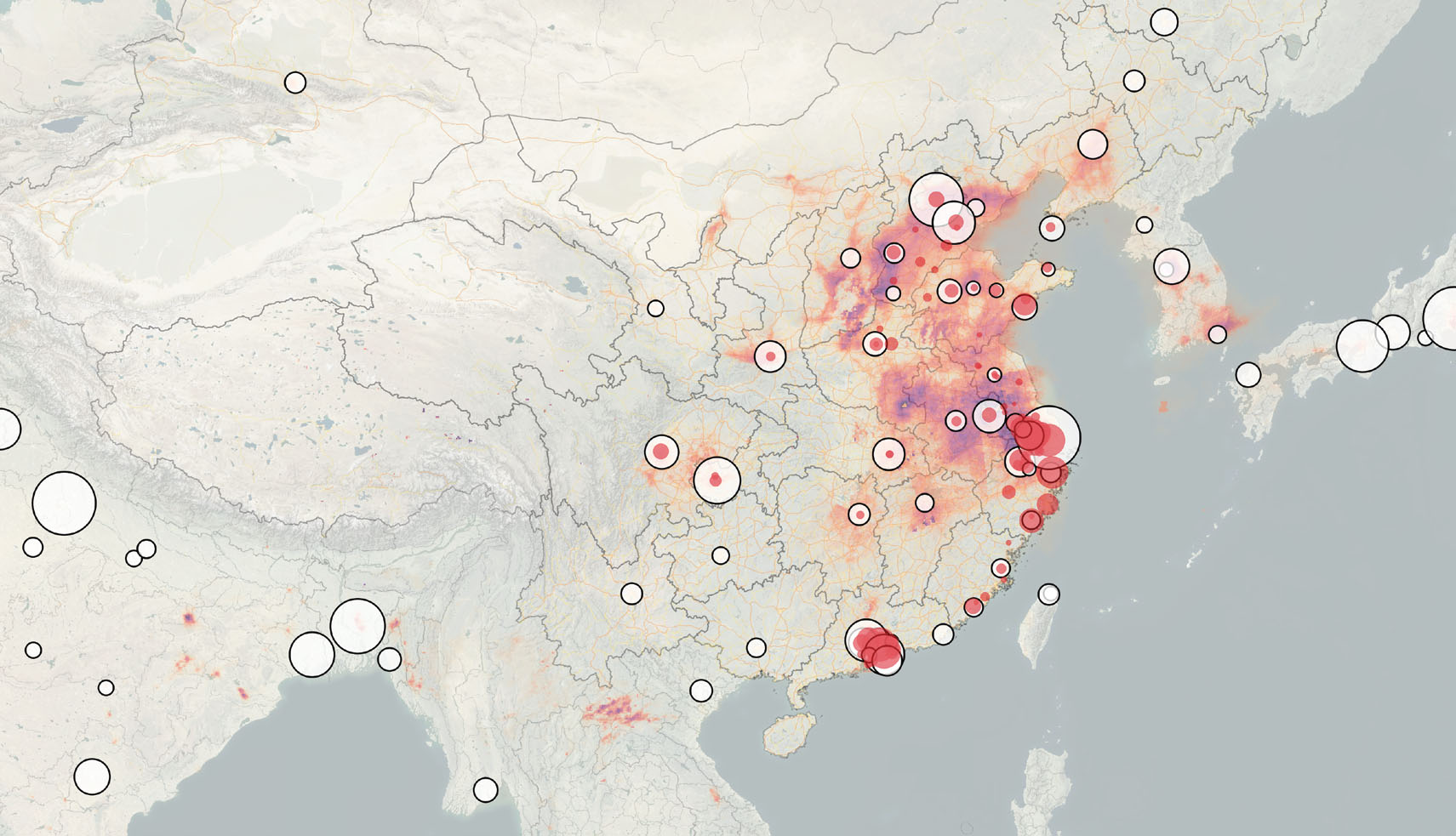 Official data for the country as a whole indicates an overall recovery is already underway. The Caixin purchasing managers' index for the sector leaped 9.8 points to 50.1 in March after an all-time low in February. But Simpfendorfer highlighted the importance of regional data in gaining a better understanding of the current situation.
"The data released by the National Bureau of Statistics and other independent agencies tends to be at the national level and that's helpful. It's important for financial markets," he said. But China is "a big country, and we really need to be able to understand at a granular level what's happening on a regional basis, especially as certain regions have competitive strengths, whether it's agriculture or manufacturing services."
Silk Road Associates used geospatial data to compare nitrous oxide pollution in 650 urban areas with the year-ago period to demonstrate the recovery of manufacturing and the return of workers.
"The recovery is not national," Simpfendorfer said. "It tends to be concentrated in certain areas.
"We saw the Yangtze River Delta suffer from higher pollution levels suggesting that the recovery in coal-fired power plants and state-owned industries, especially heavy industries, was more intense there and that's consistent with the government prioritizing the recovery of those largest state-owned firms first."
Simpfendorfer also pointed to data seen in the delta's waters. "Equally, we saw a pickup in pollution levels, at least initially in the pool of the delta, where there's a concentration of export manufacturing," he said. "Municipal officials at provincial-level officials are very keen to get those factories back online."
Guangdong's Quick Return
Despite Shanghai's relatively prompt return to work, the report indicates that many factories in the southern industrial powerhouse of Guangdong restarted operations some 10 days earlier. Silk Road Associates sought out Baidu's urban mobility data for early to mid-February, finding high-levels of interprovincial movement -- an indicator that migrant workers were on their way back to work.
"You saw the return of migrant workers in particular to Shenzhen and Guangzhou and that was quite striking to us," Simpfendorfer said. "The fact that those migrant workers were quick to come back to the southern manufacturing hub; the return to more eastern coast manufacturing hubs, particularly Wuxi, Suzhou, Ningbo, were slightly delayed again underscoring regional municipal level differences."
Simpfendofer attributes these disparities to demand, but also the municipal-level restrictions on mobility and social distancing. It's worth stating that urban mobility levels in these eastern cities returned to similar figures to those in Guangdong a few weeks later.
The report states that while average distances traveled to most destination cities has returned to the January average of 250 kilometers, the figure remains subdued for those going from Beijing and Shanghai.
Ship Arrivals
In addition to pollution levels, the report also looked to Automatic Identification System daily ship movement data to provide a "more real-time insight than some of the monthly figures." This included ship arrivals from 130 of China's coastal ports.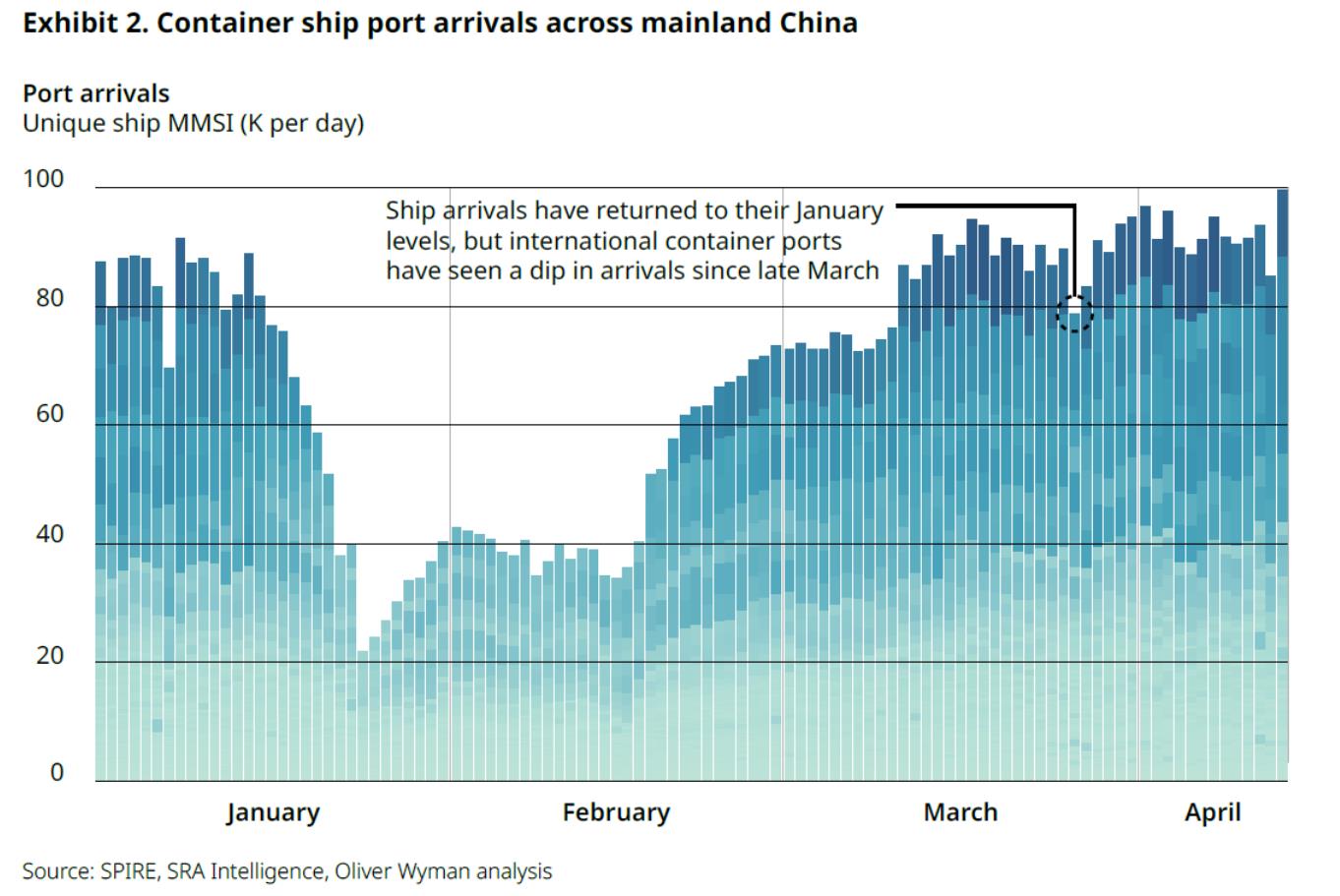 Researchers found a pickup in vessel arrivals post-Chinese New Year, partly due to the return of workers, Simpfendorfer said. Previous unfulfilled orders also played a role as factories looked to ship products out as quickly as possible. The analysis also noted another rise in activity at international ports in March. This second jump was "consistent with factories trying to get through that backlog of orders," he said.
While international container ports initially returned to January levels in March, there has since been a "flattening out" in ship movements with some terminals experiencing decline. The report suggests the dip indicates that the possible weaker demand for exports is now hitting the manufacturing sector.
"Over the next few weeks, once that backlog was eased and external demand weakened, many global brands said to factory suppliers: please, you've got to delay shipments, we actually don't have demand for these products now," Simpfendorfer added.