(Yicai Global) May 25 -- Eastern China's Hefei and southern Foshan have appeared as China's new emerging first-tier cities with boosted competitiveness.
Anhui province's Hefei and Guangdong province's Foshan replaced Kunming and Ningbo among this year's 15 emerging new first-tier cities, according to 2020 Ranking of Cities' Business Attractiveness compiled by The Rising Lab, the big data project of Yicai Media Group, the owner of Yicai Global. The data is from last year.

During the fifth year of compiling such a list, The Rising Lab gave more consideration to individual choices. Hence, client flow was added as an indicator of the concentration of commercial resources index. The data from Baidu Map was used to depict the increase of cities' permanent residents. SmartSteps, China Unicom's Big Data service platform also helped to track where most migrant workers went.
Overall, 2020 Ranking of Cities' Business Attractiveness assesses Chinese cities by the concentration of commercial resources, connectivity, urban residents' activity, diversity of lifestyle, and future potential.
Foshan has become a magnet for migrant workers, ranking second in migrant worker population among the emerging new first-tier cities. Thanks to the integration and urbanization of the Guangdong-Hong Kong-Macao Greater Bay Area and the introduction of innovative industries, Foshan has climbed by seven steps in the future potential index which is composed of talent attractiveness, urban scale and growth index, etc.
The No. 1 emerging new first-tier city is Chengdu in southwest China, followed by Chongqing, and eastern Hangzhou. Wuhan is No.4, but this year's COVID-19-caused shutdowns could change that. Xi'an, Tianjin, Suzhou, Nanjing, Zhengzhou, Changsha, Dongguan, Shenyang, Qingdao followed down the list.
The epidemic that prompted months-long shutdowns nationwide since January has changed the way that cities work People's expectations of the good life may also carry a different meaning now.
The term 'resilient cities', used in urban planning, has become increasingly central. Cities that can mitigate external shocks such as epidemics and recover fast can outgrow others. Traditionally, the city needs to maintain flexibility and connectivity with other cities in order to optimize production. However, People have gradually realized that the exact connectivity between cities also fosters the virus to spread so quickly.
To try to understand the changing landscape, The Rising Lab publishes 2020 City Report of Emergency Management to analyze cities' preparation for similar public health emergencies. This report digs into aspects of COVID-19 response and government support, information disclosure and digital governance, urban infrastructure, as well as economic recovery.
The paradigm of a connected city has been questioned by the pandemic. Before the virus, most cities were trying to boost the connection with other regions in order to improve productivity. But now, the question of ideal connectivity has come into focus as citizen's safety has become increasingly crucial when epidemics strike.
The calculation method and the result of the five major indexes of 2020 ranking cities' business attractiveness would be explained as follows.
A. Concentration of Commercial Resources Index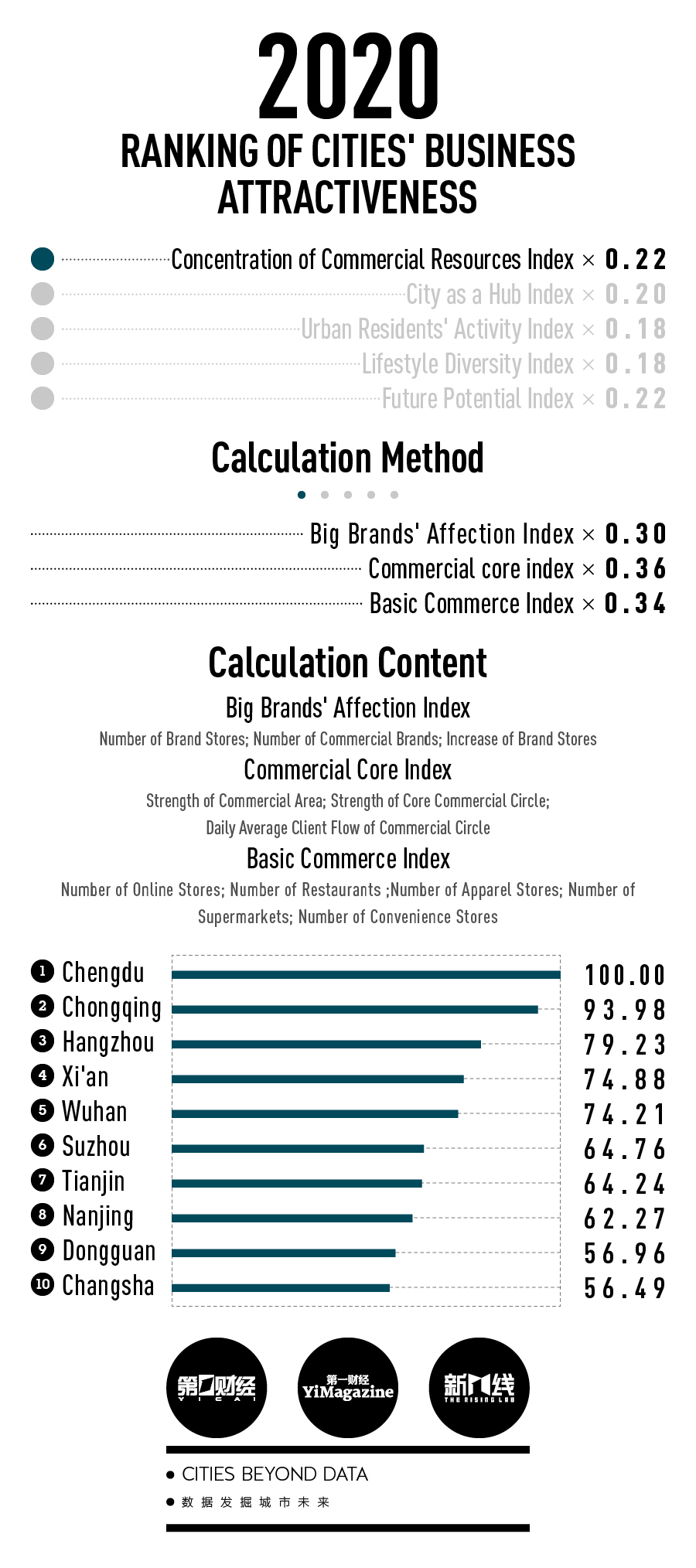 The concentration of commercial resources index is an indicator that assesses the strength of urban commerce through business site selection. It measures city's business prosperity from three aspects: big brands' affection to the city, the strength of the cities' commercial core, and the development of basic commerce.
Shanghai ranked first in this index with its score much higher than Beijing, Guangzhou, and Shenzhen. Shanghai has been the home of new franchises in China and even Asia, consolidating its nationwide influence in commercial brands.
The gap between the leading emerging new first-tier cities and first-tier cities has narrowed significantly compared with last year. Hefei's ranking jumped to 19th from 22nd last year, making it the fastest-growing new first-tier city of the past year. Its ranking in big brands' affection index jumped five places from last year.
The Rising Lab uses the location information of more than 1 million restaurants and brand retail stores to carve out the geographical scope of nearly 5,000 major commercial cores in 337 cities across China, and studies brand store concentration and client flow attraction of commercial cores in different cities.
These leading new first-tier cities could overtake existing first-tier cities by building top commercial cores. The commercial cores of central and western Chinese cities with large populations, including Chongqing, Chengdu, Xi'an, and Wuhan, can attract more than 1 million people every day.
The rise of basic commercial volume is also one of the signals of growing urban commercial power. The number of restaurants grew fastest in Kunming, Xiamen, Jinan, Huizhou, and Zhuhai last year.
B. City as a Hub Index

The city's status as a hub has never been a single issue, and it must be assessed in terms of the city network
We can divide cities into several types through their performance in different intercity transport links. Shanghai and Xi'an are typical integrated transport hubs. Chengdu and Kunming have a lot of aviation links. Wuhan and Nanjing have many high-speed rail connections with other cities. Shenyang and Changchun, the regional centers in the Northeast, are the core highway hubs on the vast Northeast Plain.
China's air routes become stable despite competition from high-speed rail. Flight routes are increasingly concentrating between major cities in different regions, while international routes have become the core competitiveness of cities looking to compete as a civil aviation hub. International flights at airports in Shenzhen, Chengdu, Kunming, and Xianyang, near Xi'an, all soared by more than 35 percent from 2016 to last year, with growth in Xianyang reaching 87 percent.
Vehicle-based networks transport people and goods. Production materials and commodities arrive at their destinations after a reciprocating process of collection, dispersion, and collection through the logistics system. The number of packages sent from Yiwu (data integrated to Jinhua city) and Guangzhou last year was far higher than that of Shenzhen, the third largest, according to data from Alibaba Group.
Yicai has been using the enterprise network analysis methodology for several consecutive years to determine a city's status as a commercial hub through the store distribution network in various categories in the region. Consistent with the previous data result, both North China and Northwest China exhibit a typical single-center form, with Beijing and Xi'an still holding unshakable dominant positions in their respective regions.
C. Urban Residents' Activity Index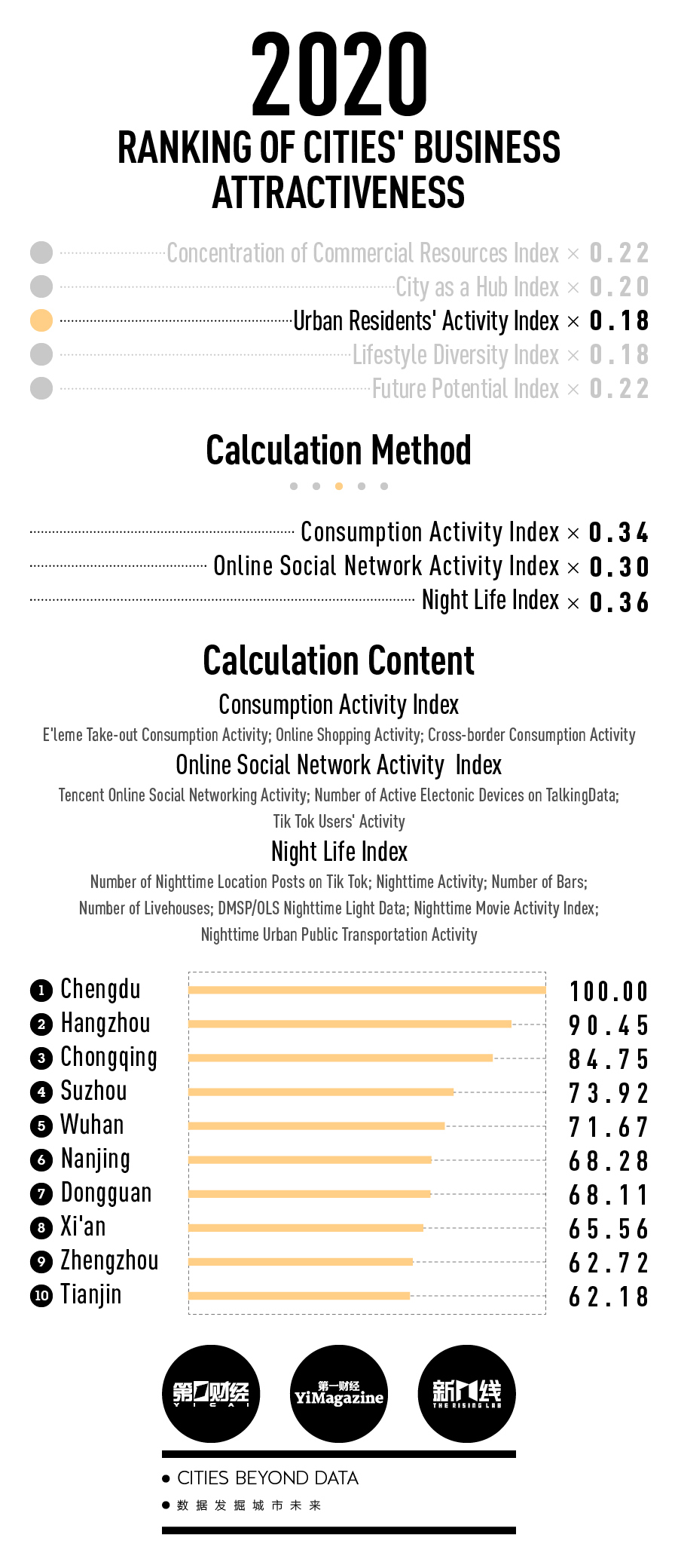 We need to understand the active individuals in a city to understand the city. Urban residents are living a positive life in every corner of the cities, exploring different approaches of consumption, recreation, and nightlife, with aspirations for a better life.
Chengdu, Hangzhou, Chongqing, Suzhou, and Wuhan ranked top in the urban residents' activity Index behind the first-tier cities this year, showing vigor and prosperity. Chengdu and Hangzhou have been racing to be best in class among new first-tier cities for years. Chengdu has strength in nightlife activity, and Hangzhou is extremely active in consumption.
The consumption activity index bases on data of takeout delivery services platform E'lemeand online e-commerce platform Alibaba. It measures the overall payment capacity and market size of a city, as well as a city's commercial diversity and saturation. We can see the patterns and trends of urban residents' consumption behaviors from the index.
Compared with visible consumer behaviors, the online social network activity index is ideal for measuring the breadth and depth of urban residents' relationships with others, access to information, and willingness to share. With the diversification of online social network platforms, the differences in users and their affection to different platforms are becoming more and more distinct, helping contrast the social network atmosphere in each city.
the top five cities among Tencent user activity were Shenzhen, Zhuhai, Guangzhou, Zhongshan, and Dongguan, all in South China. The short-video platform Tik Tok has attracted a huge number of users in second- and lower-tier cities like Zhoukou, Zunyi, Fuyang, and Zhumadian.
Nighttime activity data and more night activity venues are added into the night life index this year. The number of people for night activity in Beijing, Shanghai, and Guangzhou makes up 13 percent to 14 percent of their permanent resident population, and the figure in Shenzhen is 31.5 percent. The nighttime activity data gives us not only an angle to consider the city's nighttime infrastructure but also a direct knowledge of urban residents' night behaviors.
D. Lifestyle Diversity Index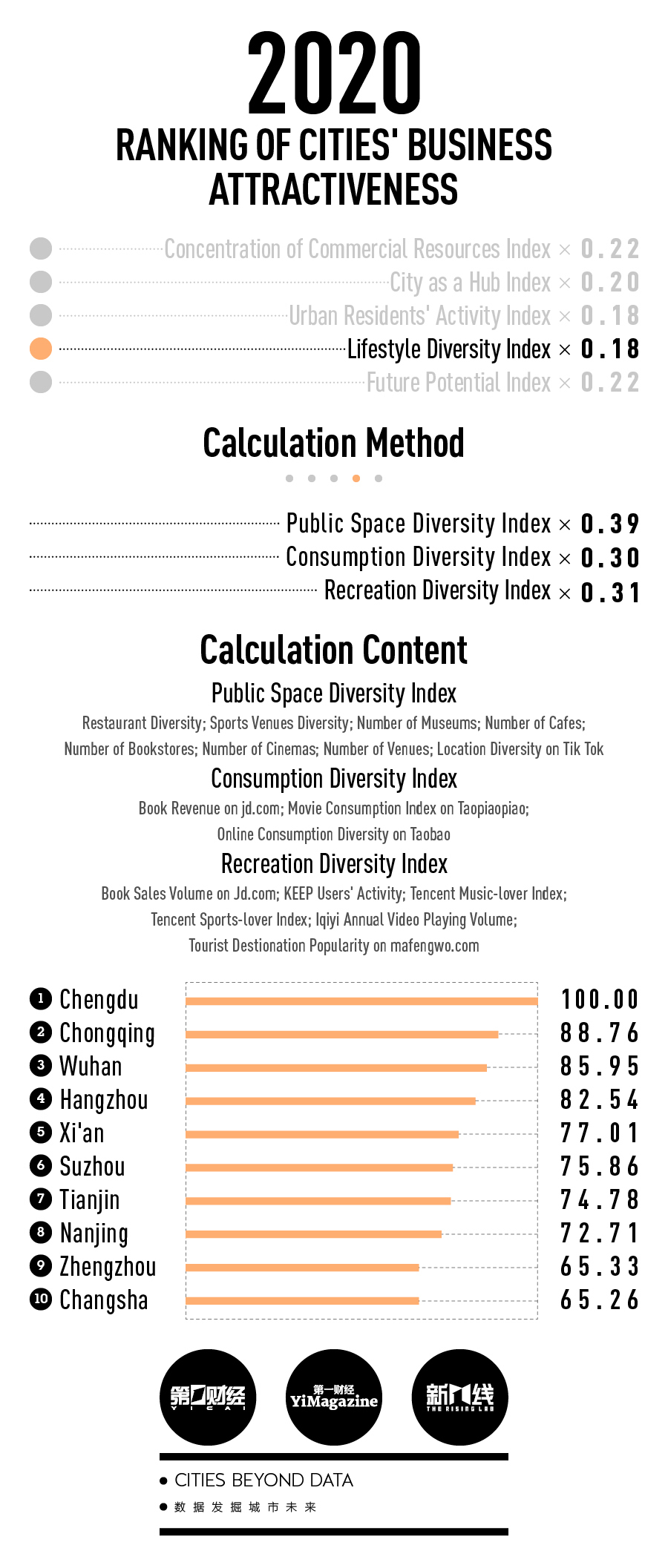 The COVID-19 pandemic trapped people at home and highlighted the importance of a city's lifestyle diversity. If you are not allowed to go outdoors to interact with the city where you live, you'll lose the essence of colorful life.
The public space diversity Index indicates the lifestyle options that a city can provide in normal life. The top five cities in location diversity on Tik Tok include three new first-tier cities: Hangzhou, Chengdu, and Zhengzhou. Beijing, Shanghai, and Chengdu are home to 25 percent of China's performance venues. Chongqing is the new first-tier city with the most bookstores and cinemas. Kunming took first place in bookstores per capita, and Hangzhou ranked top in cinemas per capita.
Theoretically, the more diversified venues to meet citizens' demand, the more consumption. But it is not really that simple as consumer preferences are diversified. The Taobao Consumption Diversity Index shows that cities in Sichuan province took half of the top 10 spots. Most of the cities that greatly improved in their rankings were fourth- and fifth-tier cities. In the future, these low-tier cities would be the new engine of online consumption.
Different consumption preferences and characteristics reflect the fact that people have different ways of recreation. The recreation diversity index tracks the diversified ways of recreation based on citizens' diversified demand.
Hangzhou and Nanjing citizens love traveling most, only second to citizens in first-tier cities, according to mafengwo.com, an online travel service provider. Chengdu residents love music most among the new first-tier cities, followed by Dongguan, Xi'an, and Chongqing, according to Tencent's music data.
E. Future Potential Index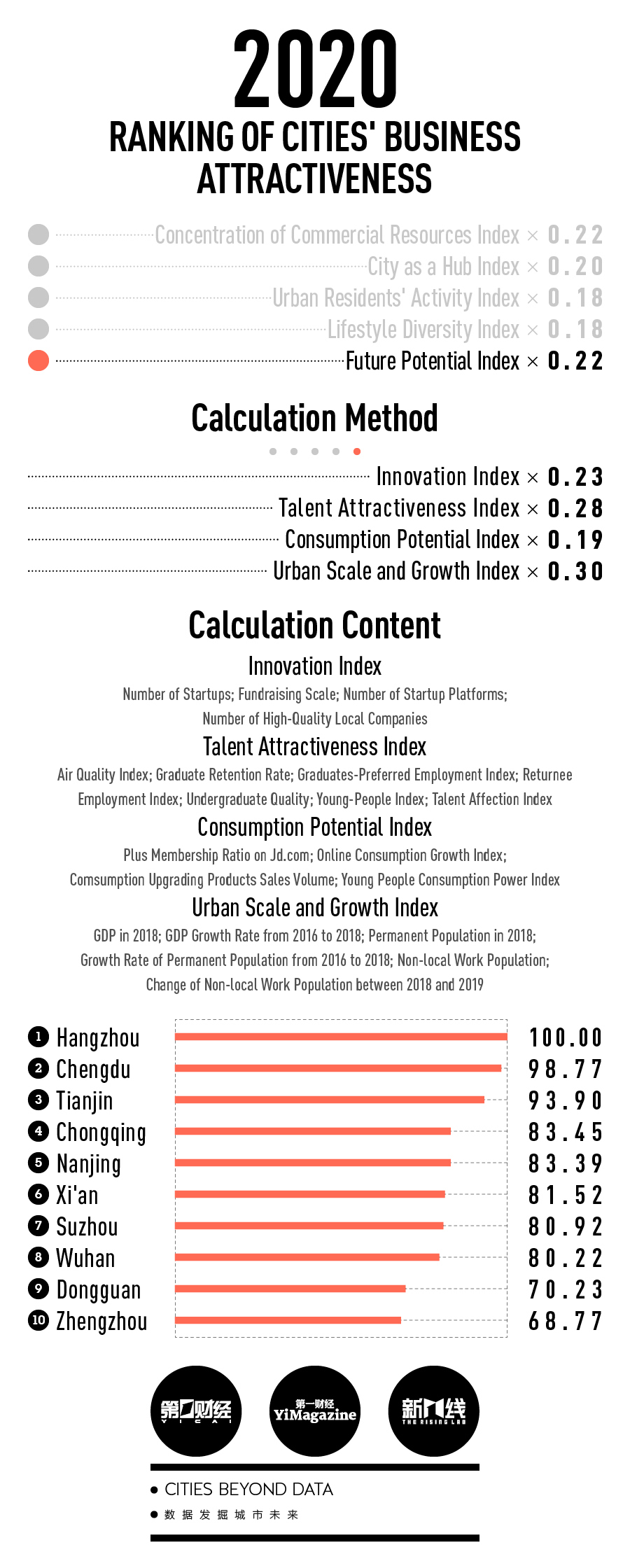 The future potential index focuses on the present and predicts future development.
Dongguan and Foshan moved up a lot in the future potential ranking this year compared with previous years. In contrast, Wuhan and Xiamen fell in the ranking.
The advantage of city clusters began to emerge in the innovation index. The spatial distribution of high-tech companies and technology-based small and medium firms in China clearly shows the country's technology companies mainly gather in the Yangtze River Delta and the Pearl River Delta, forming a reticular setup of strong firms adjoining to each other.
Students returning from overseas no longer flooded to Beijing or Shanghai Instead, they also went to other first-tier and new first-tier cities. What's more, graduates' decision to stay in the city where they graduate is becoming less related to the resource strength of the city's colleges and universities year on year. Talents are prone to live in regional central cities and cities with new economic vitality, according to data provided by Zhaopin.com.
Shijiazhuang, Huizhou and Jinan ranked 5th, 18th, and 19th in online consumption growth on jd.com, Changzhou, and Huizhou took the 13th and 18th places in consumption upgrading products sales volume according to the data from leading e-commerce platforms Alibaba and JD.com. Putian and Fuzhou ranked among the top 10 in young people consumption power index, according to Alibaba. The growth of these cities indicates consumption in third- and lower-tier cities are rising, and the upgrading of consumption concepts and patterns will take place in more places as time goes by.
It has become a clear sign that the migrant population in 17 of the 26 cities with migrant population of over 1 million last year dropped this year. Leaving big cities becomes common place.
We do not need to interpret it pessimistically. From another perspective, people leaving big cities means they are heading to more suitable places, which will transform production patterns and lifestyles in the cities they go to and leave.
Editor:Chen Juan, Emmi Laine, James Boynton