(Yicai Global) Aug. 31 -- Data from the China Banking and Insurance Regulatory Commission (CBIRC) show that the profits of Chinese banks fell 9 percent, to just over CNY 1 trillion, in the first half of the year (Figure 1). Their performance to-date seems to be extremely strong, given the State Council's encouragement that they transfer up to CNY1.5 trillion in profits to the real economy and that full-year profits in 2019 were CNY2 trillion.
Figure 1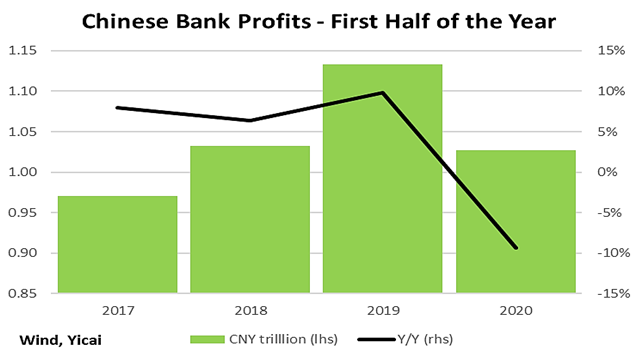 Guo Shuqing, the CBIRC's Chairman, recently gave an interview in which he explained all the ways in which China's financial system is supporting the economy's recovery. He began by noting that the rate of credit growth is increasing, giving firms enhanced access to funds. Figure 2 depicts the growth of Total Social Financing (TSF), a broad credit indicator. It shows that TSF, which had been growing at close to 11 percent, began to accelerate in March and by July was nearing 13 percent.
Figure 2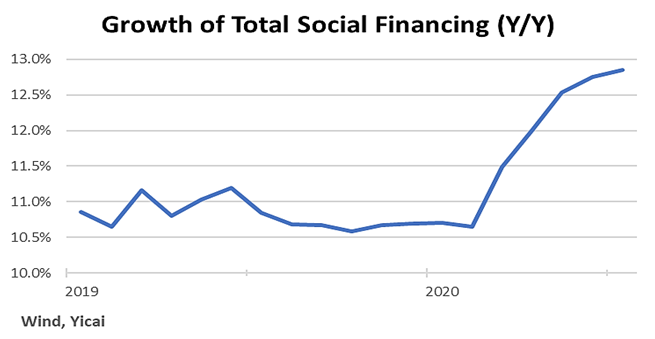 Bank loans account for close to 60 percent of TSF and they have grown somewhat more rapidly since March. However, much of the acceleration in credit to firms has come from the issuance of corporate bonds (Figure 3).
According to Chairman Guo, encouraging firms to raise funds directly – for example via the bond market instead of going through the banking system – is one aspect of "financial supply-side structural reform". Direct finance has two benefits. First, is typically cheaper for firms to borrow from markets than from banks. Second, it can also help spread the risks associated with corporate finance more widely, as the investor base for bonds grows.
Figure 3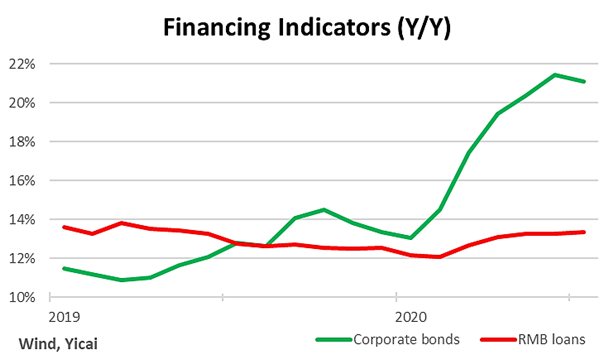 Chairman Guo stated that lowering firms' cost of finance is a key way in which bank profits are transferred to non-financial firms. He posits the following example. The outstanding stock of local currency loans is about CNY165 trillion. If the average lending rate was to fall by a percentage point, that would represent a saving to firms of CNY1.65 trillion.
Interest rates are, indeed, falling. Figure 4 shows that the average interest rate on general loans fell by 70 basis points between June 2019 and June 2020. This should provide firms with a sizable reduction in borrowing costs.
Note, however, that banks' net interest margins only fell by 10 basis points over the same period. This suggests that most of the firms' savings came from reduced payments on deposits. Thus, the lower lending rates appear to be more of a shift of funds from savers to borrowers than a transfer of bank profits to firms.
Figure 4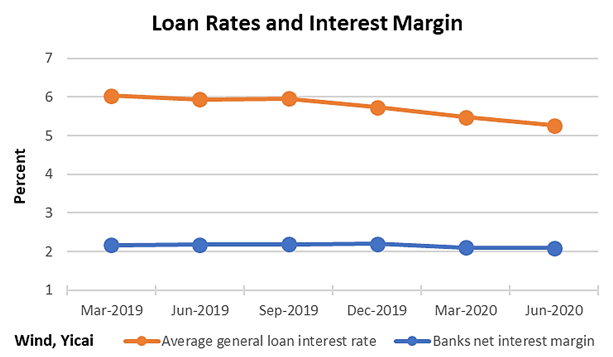 Part of the government's recovery program involves improving access to credit for smaller firms. However, the Chinese financial system has long had a proclivity to lend tolarge state-owned enterprises, because such exposures have hidden guarantees, which mitigate risk, lower management costs and boost profits. Moreover, banks often have a hard time assessing the credit quality of smaller firms.
Chairman Guo notes that banks have begun to leverage big data, cloud computing and artificial intelligence to better assess the risks involved with lending to smaller firms. These new technologies have allowed banks to improve smaller firms' access to financial services. Indeed, small-and medium-sized firms, obtained 23 and 19 percent, respectively, of all of the new non-mortgage bank loans issued so far this year. Nevertheless, as Figure 5 shows, the banks will have to continue working hard to bring small- and medium-sized enterprises' (SMEs) share of outstanding non-mortgage loans back to its December 2017 peak.
Figure 5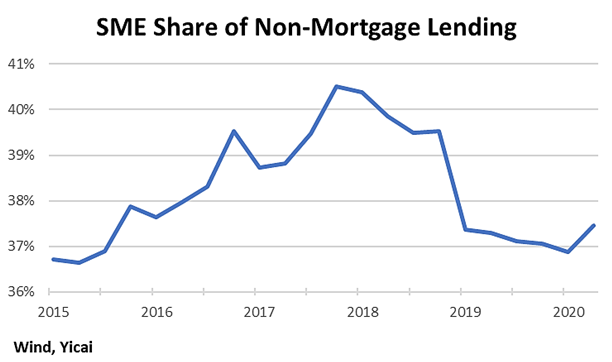 This year, as the economic situation deteriorated, the banks' non-performing loans (NPLs) rose by CNY 0.32 trillion to CNY 2.74 trillion (Figure 6). The banks took provisions of CNY trillion 0.50 against these new bad loans, but, even so, the NPL coverage ratio fell slightly.
Chairman Guo warned that the true magnitude of the NPLs has not yet emerged, as the banks are exercising forbearance and a number of firms are postponing interest and principal payments. He notes that a number of measures are being undertaken to prepare for the anticipated deterioration in credit quality: reinforcing supervision, raising capital, increasing provisions and selling bad loans. At last week's press conference, CBIRC officials suggested that sales of NPLs could reach CNY 3.4 trillion this year, up from CNY2.3 trillion in 2019. Chairman Guo said that the CBIRC is looking at supporting the increased disposal of bad loans by creating an NPL trading platform.
Figure 6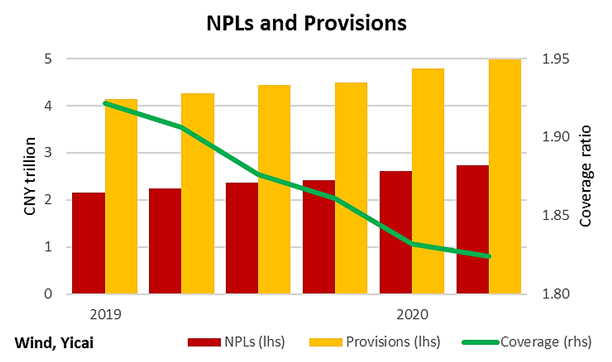 The modest decline in the banks' profits, combined with faster asset growth, resulted in a fall in return on equity to 10.4 percent in the second quarter. This is a pretty low rate of profitability for Chinese banks. However, as we have noted earlier, the Chinese banking system is not only the biggest in the world, it is also among the most profitable. Internationally, other banks would dearly like to attain such a high return on equity, especially during such trying economic circumstances. Indeed, Chinese banks' return on equity in the second quarter was well above what US and European banks achieved, on average, over the last decade. Thus, it seems that the Chinese banks have struck a good balance between supporting the recovery and reinforcing their own financial stability.