(Yicai Global) Sept. 19 -- Harbin Beer has once again joined the prestigious list of renowned Chinese brands ranked in leading global brand data and analytics institution Kantar Group's 2023 Kantar BrandZ Top 100 Most Valuable Chinese Brands. Exhibiting robust brand equity and an array of innovative marketing endeavors with young adults at the core of it, Harbin Beer is proudly standing among the top three brands of the Chinese beer industry.
Kantar BrandZ Top 100 Most Valuable Chinese Brands is the source of authoritative brand recognition within the Chinese market, meticulously weighing both financial performance and consumer mindshare garnered by a brand, and holds considerable gravitas in global brand value assessments. Since its first publication in 2011, the list has kept track of the evolution of the Chinese market, offering a spotlight on brands of prominence and prestige from various industries. Nominated brands have either attained exceptional value growth over the past year or have remained steadfast amidst market uncertainties, showcasing the enduring growth story and prosperous business landscape in the Chinese market with their continuing pursuit of excellence.
Boasting a storied legacy of 123 years, Harbin Beer has exceeded expectations by carefully targeting a younger adults in its business strategies and has masterfully penetrated the youth market. Through strategic collaboration with trend-setting sport leagues, music and fashion labels, the brand has cultivated a pioneering marketing culture and demonstrated significant impact among a new generation of consumers. This year, Harbin Beer's brand value has transcended $2 billion, far surpassing the industry average by a remarkable 27% and manifesting its solid brand strength.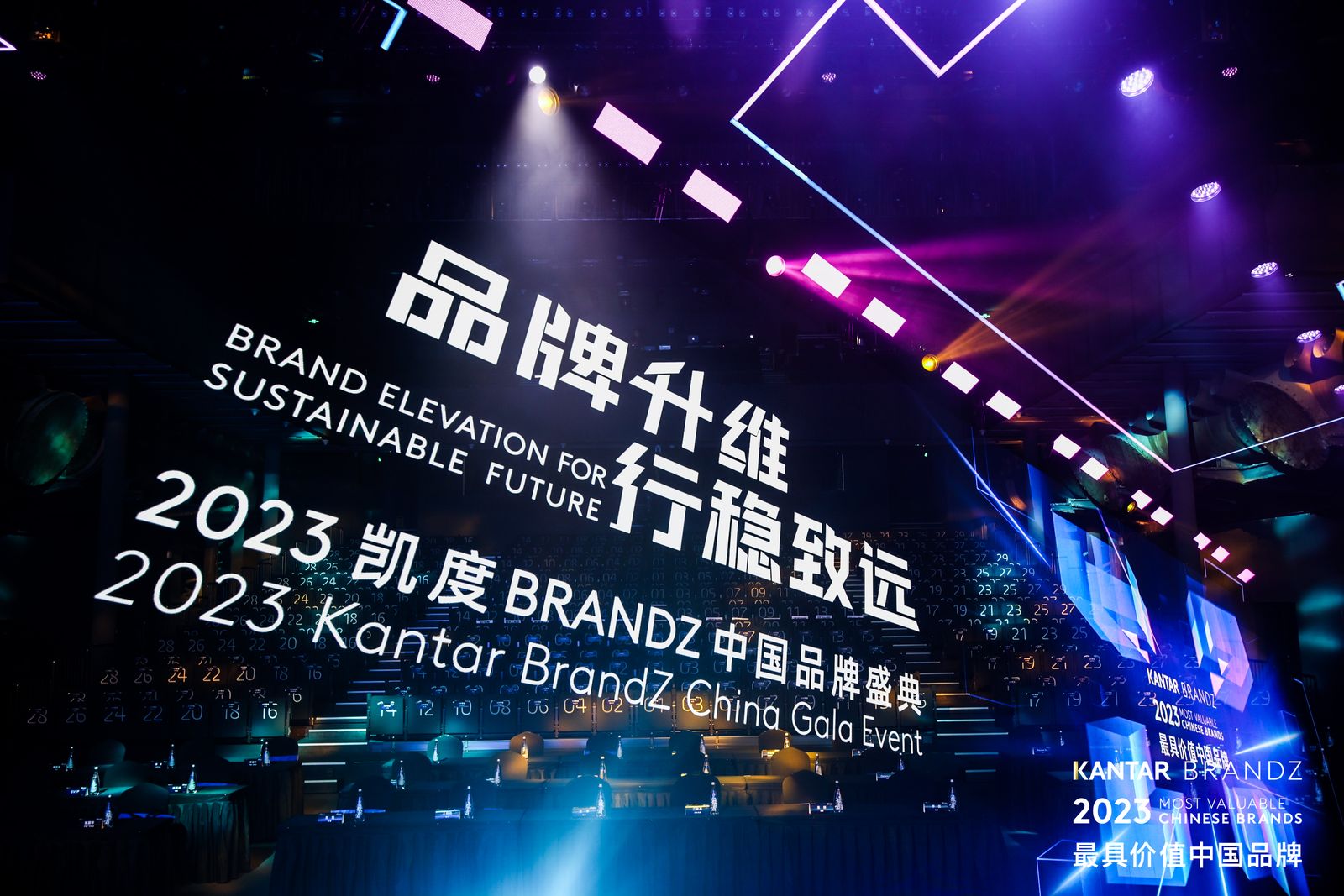 2023 Kantar BrandZ China Gala Event
Precision Targeting of the Young Adults to Harbin Beer's Innovative Brand Essence
As a classic and heritaged brand with an initiative to best attract young adults, Harbin Beer has profoundly researched both the social drinking habits and latest trends of this youthful demographic. As a result, Harbin has laid down four coherent marketing strategies based on these core customer insights. This includes precise positioning to craft a refresh and upgrading of brand assets, developing top-brand partnerships to renovate its "youthful" DNA, along with product innovation to elevate the customer experience and promoting the education of Harbin's traditional brand culture whilst infusing a renewed vitality.
Guided by its youthful brand positioning, Harbin Beer has engaged in numerous highly-innovative activities and embarked on extensive marketing collaborations in areas such as music, e-sports and sport leagues. This has resulted in consistently capturing the attention of a younger crowd, reforming and reshaping a more relatable brand image and fostering a positive engagement between the brand and its consumers. Harbin Beer has successfully bridged the perception-gap between what is commonly regarded as a traditional national beer brand with great heritage and the desires and ambitions of a new generation with deep resonation. It empowers them to break boundaries, embrace self-expression, and celebrate for moments of social gathering with a "Ha Pi" ((the word "happy", as in similar pronunciation with Harbin Beer in Chinese) attitude.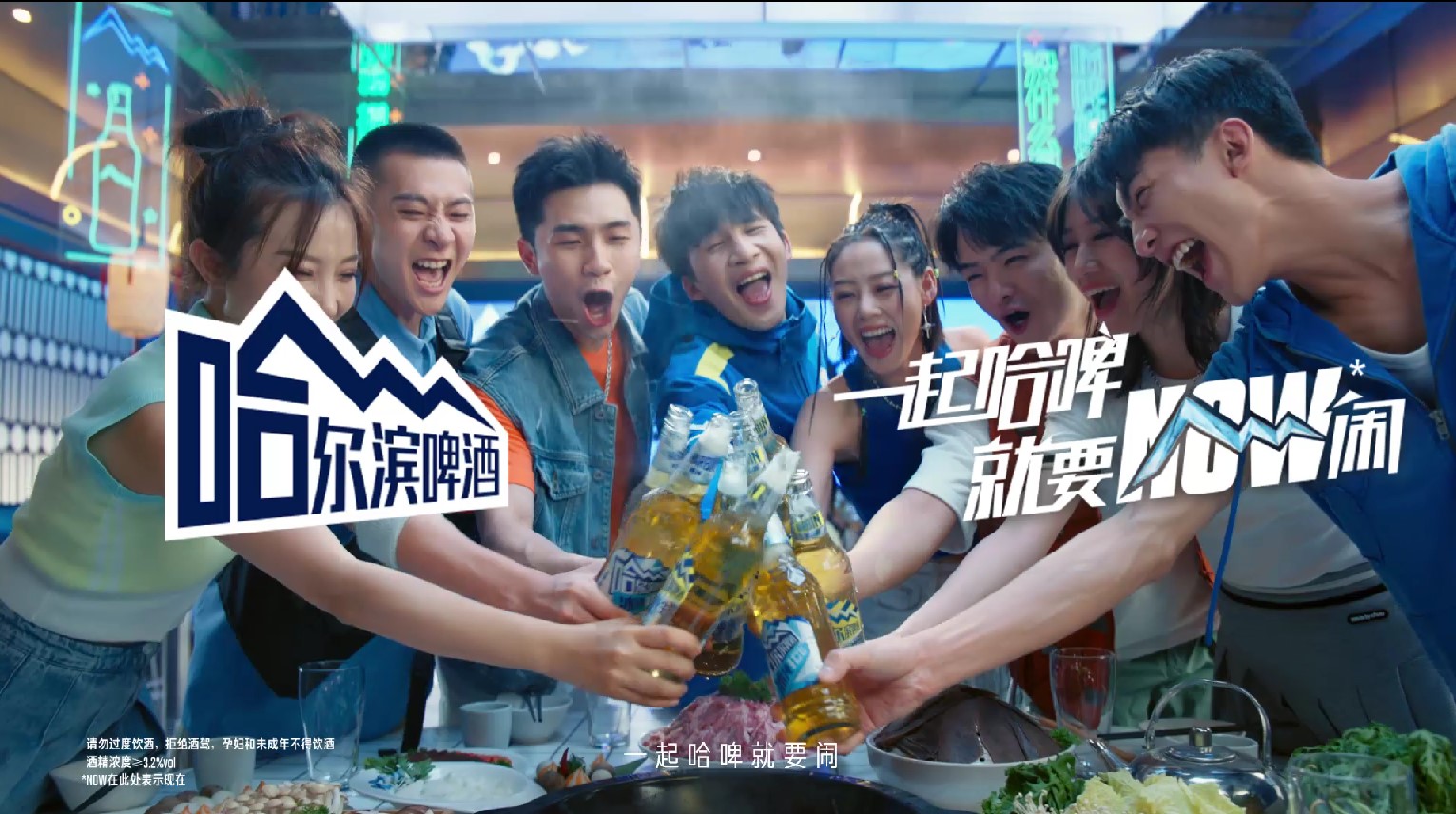 Moments of Social Gathering with a "Ha Pi" Attitude
Highly Creative Marketing Communications with Industry-Leading Strategic Innovations
Harbin Beer has been constantly breaking through with its disruptive marketing endeavors, leading new cultural currents and ceaselessly garnering the admiration of audience and industry insiders. The brand blazed a path in industry marketing ventures by joining forces with top-notch sports events, ascending to the esteemed role of official sponsor for both the FIFA World Cup and NBA years ago, and enlisting the globally celebrated basketball icon Shaquille O'Neal as the brand's official ambassador, delivering a boundless array of exhilarating surprises and invigorating moments to sports enthusiats. In the subsequent chapters of its journey, Harbin Beer infused its brand with a spirited and youthful essence, partnered with the League of Legends Pro League to present a rich and enthralling gaming and product experiences for e-sports fans; earning distinction of being chosen as the emblematic beer of street culture by LDA. This year, the brand announced its new spokesperson Wowkie Zhang, a well-known Chinese singer, musician, host and actor, guiding the brand's image towards a beacon of joy and leading consumers in the creation of unforgettable moments.
With this continuous and highly-innovative effort in creative marketing, the brand has successfully reached out in making a significant impact on young consumers resulting in Harbin Beer's outstanding performance in sales growth. The brand has previously received recognition by Kantar BrandZ as one of the Top 100 Most Valuable Chinese Brands, specifically recognized as one of the fastest-growing brands in the beer category. In 2019, its brand value reached USD$5.18 billion (approximately 36.9 billion RMB), and ranked in the top five of the "World's Most Valuable Beer Brands".
In its pursuit of a younger brand identity and drive for innovation, in recent years Harbin Beer has continued its journey in immersing tbe brand into the culture of young adults. Firstly, the brand unleashed its groundbreaking new product, HRB Ultimate Icy GO, defining a new trend of refreshment, with its triple cold extraction technology and the stunning visual impact of its packaging. Then in 2022, Harbin Beer renewed its partnership with FIFA World Cup, enhancing the exhilarating game-watching experience for fervent fans with even more excitement. And, this year, Harbin Beer collaborates with China's premier music label, 88 Rising, to curate the Head in the Clouds Music Festival, combining the brand's spirit with the allure of new-generation music, unleashing the brand's dynamic vitality while bringing unexpected thrill and surprises to China's young consumers.
Harbin Beer's consistant innovation has created countless joyous moments of celebration, a solid proof of its well-deserved reappearance on the Kantar BrandZ Top 100 Most Valuable Chinese Brands list after three years, and a remarkable showcase of its boundless potential and commercial strength.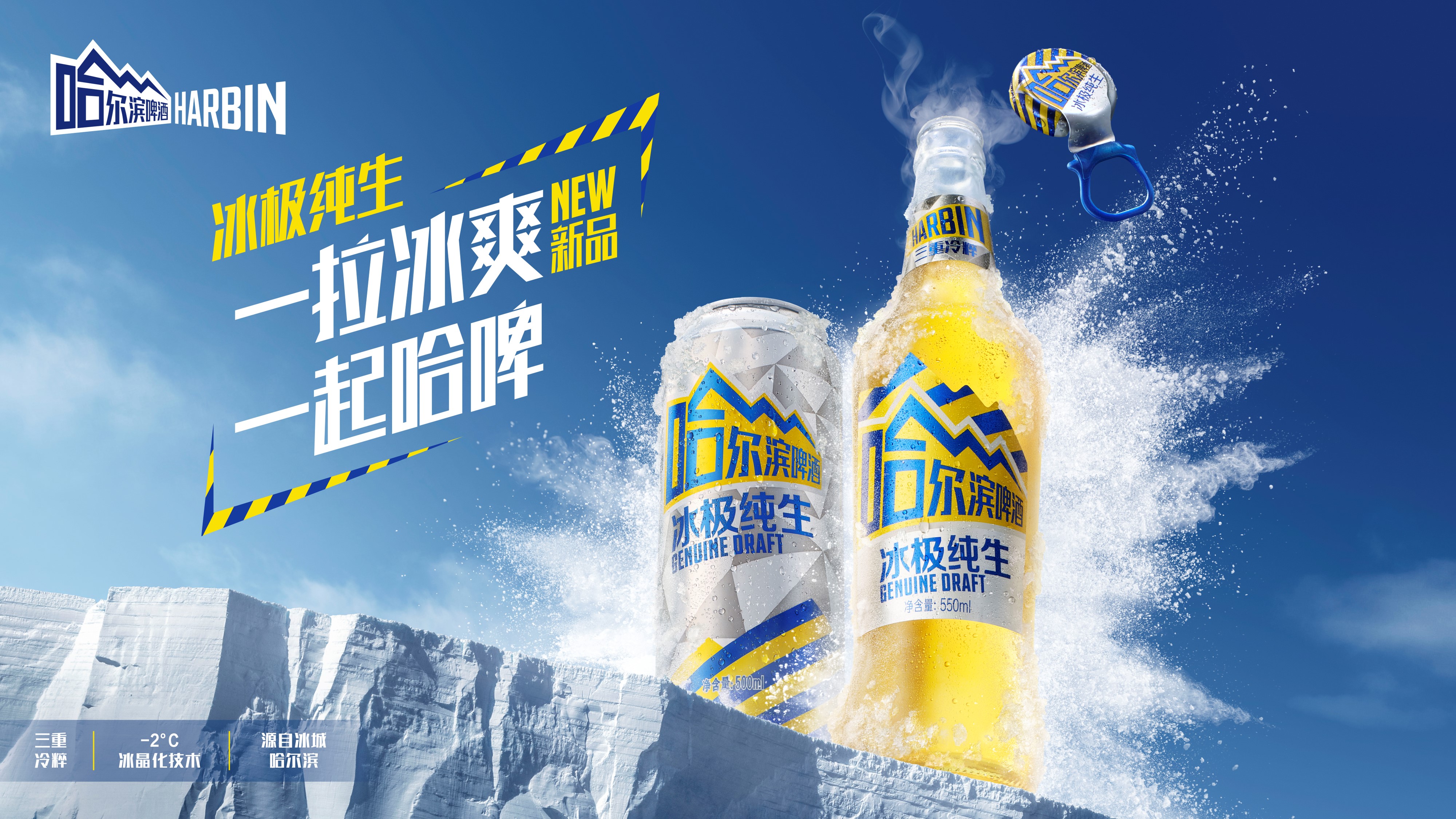 Grand New Launch of HRB Ultimate Icy GO
Commenting on the exciting news of regaining its strong position on the BrandZ list, Mr. Matt Che, Chief Marketing Officer of Budweiser APAC, said: "As brand architects, our duty extends beyond the present, but also shaping the brand's future and its enduring legacy.
Our strong brand matrix has enpowered us to meet the diverse needs of consumers across many varied social drinking occasions, guiding us toward an ever deeper commitment in delivering differentiated marketing initiatives that continue to resonate strongly with consumer interests, and consistently conveying our brand core."
Mr. Matt Che Speaks at The 2023 Kantar Brandz China Gala Event.
As a brand with a century-long heritage, Harbin Beer never stops innovating. Its revolutionary brand spirit, together with its ever-evolving marketing strategies focused toward the young adults have endowed the beer culture in China and injected new vitality into the Chinese beer industry. Re-entering the 2023 Kantar BrandZ Top 100 Most Valuable Chinese Brands list is a testamony to the extraordinary result of Harbin Beer's years of relentless effort. Looking to the future, Harbin Beer will continue to prioritize quality, leverage innovation and deepen its engagement with the younger generations, accompanying more young adults in creating moments of joy!
***
【About Harbin Beer】
Harbin Beer Group Limited was founded in 1900. As one of China's earliest beer manufacturers, it quickly gained popularity in Harbin due to its exceptional quality. In its early years, the annual production exceeded 2,000 tons, establishing a dominant position in the Harbin market. Around 1932, Harbin Beer's daily production and sales reached an impressive 5,000 bottles. Quality and tradition have been the keystones of its legendary journey, paving the way for China as a prominent beer producer.
The superior quality of Harbin Beer arises from the company's unwavering dedication to ingredients and craftsmanship. Harbin Beer adheres to European traditional brewing methods, maintaining a commitment to quality throughout every step of the brewing process. Carefully selected barley malt, beer yeast, and other ingredients undergo meticulous scrutiny during each brewing phase, resulting in pure and authentic quality.
In 2008, Harbin Beer joined forces with Budweiser, adopting its renowned 270-standard brewing process and VPO global management system, setting the stage for the finest brewery and the production of top-tier quality beer. Harbin Beer not only holds a dominant market share in the northeastern provinces of China but also distributes its products nationwide and exports to over 30 countries and regions worldwide.
Harbin Beer has made long-term investments in sports, esports, hip-hop culture, and the market by establishing deeper connections with young adults through music, basketball, football, and other interests. It has become the preferred beer brand among young adults. The brand collaborated with FIFA World Cup in 2010 and 2014 consecutively and has been a long-term partner in the NBA China market. In 2015, Harbin Beer was included in the BrandZ Top 100 Most Valuable Chinese Brands, recognized as the fastest-growing beer brand, with its brand market value steadily increasing. In 2018, Harbin Beer was acknowledged by Brand Finance as the fastest-growing brand among "Global Most Valuable Beer Brands," making it the only Chinese domestic brand to enter the top ten. For more brand information, please visit the official Harbin Beer website: https://www.harbinbeer.com.cn/index.html#homepage
【About Kantar】
As a leading global brand data and analytics company, Kantar is an indispensable professional partner for world-class brands. We combine meaningful consumer attitudes and behavior data, robust and reliable data resources, along with an assessment standard system, and innovative data algorithms and technologies to unveil how people think, feel, and act. We assist clients in achieving comprehensive insights into the consumer mindset, shaping a future of exceptional branding:www.kantar.com