(Yicai Global) June 1 -- Commercial activity is the foundation for each city's establishment and prosperity among other elements that are needed in building an urban hub.
Bartering was the original method of commercial exchange in cities. Through trade in goods and transactions, people began to interact in a systematic way. As the exchange of products widened, the labor market divided into increasingly different professions. Some specialized in sales, logistics, and storage, forming the basic logic of urban operations.
For modern civilizations, commerce is as important as air is to humans. It penetrates almost every aspect of our lives. Consequently, those who have witnessed a city with halted commercial activity may agree that the sight resembles a machine with a broken engine.
When compiling the first edition of the Cities' Business Attractiveness Ranking, The Rising Lab emphasized using the progress of modern commercial activities in cities to indicate their actual prosperity.
The annual ranking makes use of retail outlet data from 170 mainstream consumer brands, user behavior data from 17 leading internet firms in different fields, and information providers' Big Data to assess 337 Chinese cities' development based on dimensions such as concentration of commercial resources, transportation and logistics, residents' activity, lifestyle diversity, and future potential.
The 2022 edition mostly uses data from 2021 or early 2022.

Chengdu, Chongqing, and Hangzhou are the top three emerging first-tier cities on this year's list. Xi'an, Wuhan, Suzhou, Zhengzhou, Nanjing, and Tianjin follow. Next in the ranking are Changsha, Dongguan, Ningbo, Foshan, Hefei, and Qingdao. Compared to the previous edition, Hefei returned, while Shenyang didn't make the list. Not a single northeastern city was featured in the latest edition.
Some cities have stabilized their presence on the list over recent years. These can be considered highly developed commercial cities. They don't necessarily have higher levels of administration, but certainly serve as commercial hubs for their surrounding cities.
More than half of urban residents in these 15 cities engage in occupations related to business and service industries. Consumption or related activities are necessary parts of these persons' enjoyment of urban life. And some of them choose to stay in these cities not just to work but to pursue unique lifestyles.
Cities are facing the challenge of protecting residents' health at a higher level, at least in the short term. This may interfere with businesses' operations to some extent but at the same time, close cooperation with commercial actors is necessary.
During lockdowns and authorities' strict management measures, allowing e-commerce and group-buying platforms, as well as other commercial actors, to participate in solving residents' basic needs can be majorly efficient.
For cities that have been under lockdown for some time, the evident and reassuring logic is that individuals who are acting out of self-interest cause unintended social benefits. Once the commercial logic is recovered, the invisible hand will pick up all the scattered, rusted and broken parts of cities so they can return to normal.
Commercial civilization is the core of the urban machine. Besides measuring economic development, it solves issues beyond economic dimensions. It concerns the efficiency of urban operations and the quality of life. It points to our longing for freedom and yearning for a better life. When wondering whether a city has charm, commercial activity is the most powerful proof of that.
A: Concentration of Commercial Resources Index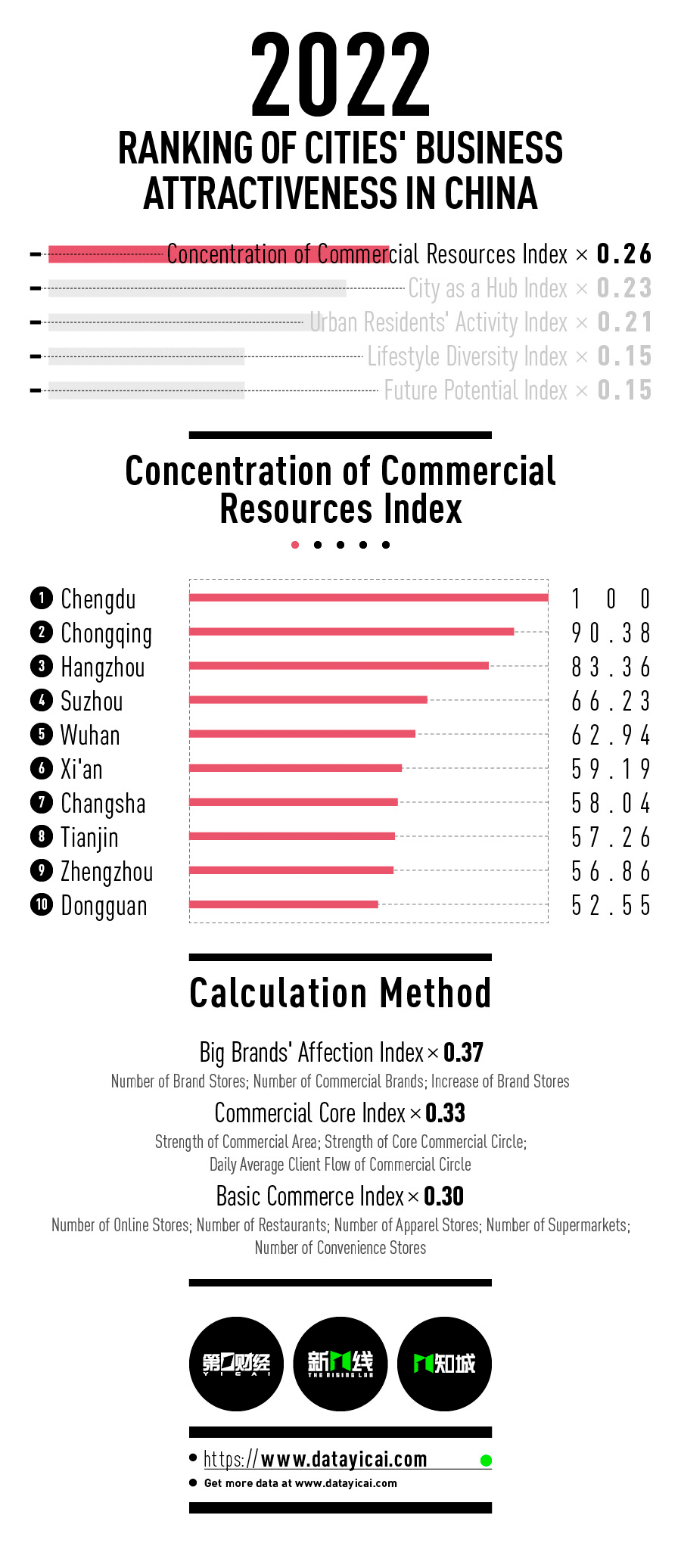 The way by which a successful business model in one city is replicated in an increasing number of other cities demonstrates how business culture evolves. It gives rise to different commercial resources among cities and also makes the concentration of brands the most directly perceived measure of a city's commercial prosperity.
The Concentration of Commercial Resources Index measures the degree to which a city is favored by mainstream consumer brands, the strength of a city's business clusters and the maturity of its basic businesses. It has three sub-divisions, namely the Big Brands' Attraction Index, Commercial Core Index and Basic Commerce Index.
The gaps between cities were larger than expected when we examined the long-term monitoring of 170 mainstream consumer brands by emerging first-tier municipalities' databases. The emerging first-tier cities at the bottom of the list have yet to become home to many brands, meaning there are still a great number of 'first-store opportunities.' 'First store' refers to the opening of a brand's first shop in a city. The appearance of each first store means more choices for consumers and another fulcrum for cities to improve their business energy level.
Yicai's Research Institute for Emerging First-Tier Cities has traced the formation of multi-center development in a number of municipalities using the Commercial Core Index, based on the identification of urban business clusters' boundaries and energy levels through geographic information and spatial algorithms.
The upgrading and expansion of business clusters increase cities' capacity to support commercial resources. In addition to brand-specific commerce, core businesses such as restaurants, clothing stores, supermarkets and convenience shops are just as significant as they penetrate dense suburban networks and become the background color of modern civilization.
B: City as a Hub Index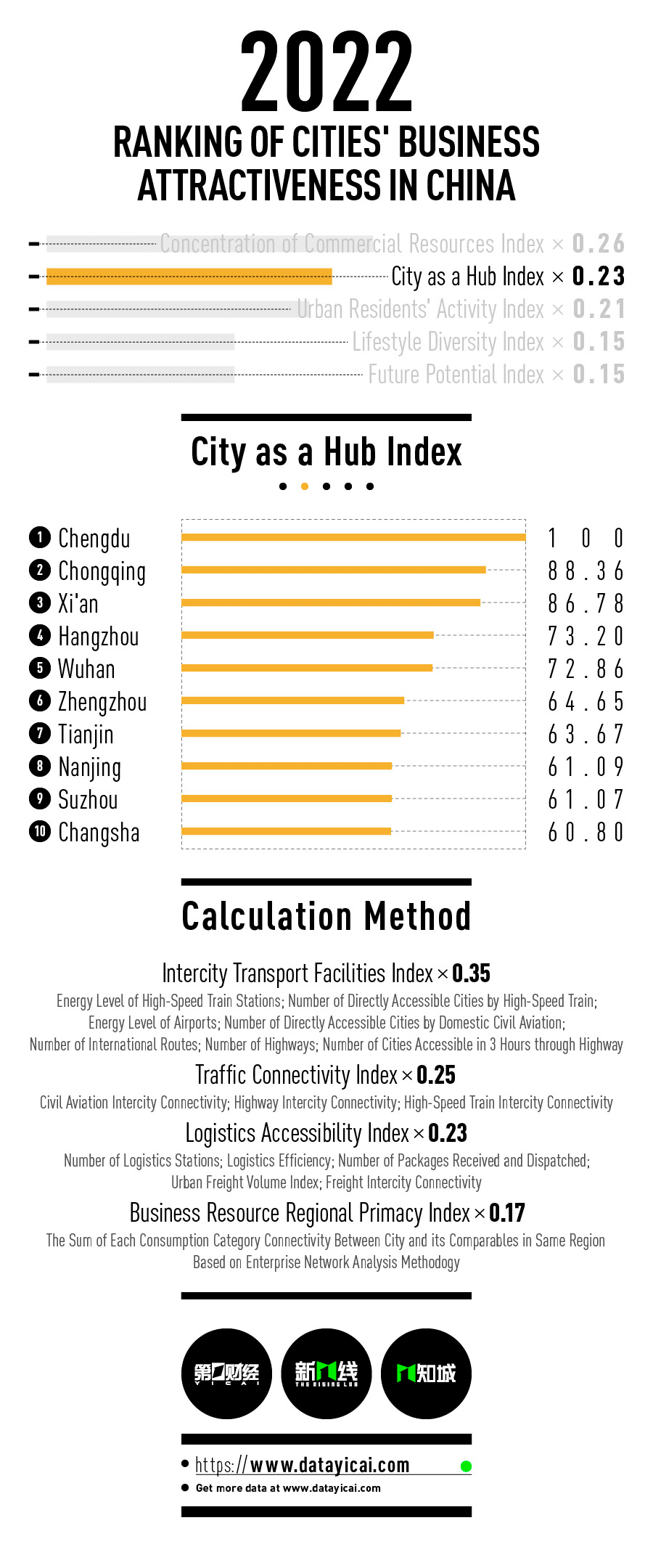 The establishment of multi-city networks has eliminated the vulnerability of a single municipality. It not only deploys commercial resources across a wider range, but also distributes cities' functions and roles to various nodes, thus constructing a multi-layered anti-risk system in today's urban business environment.
The City as a Hub Index measures the connectivity of traffic and logistics and the reach of urban commercial resources. It consists of four parts, namely the Intercity Transport Facilities Index, Traffic Connectivity Index, Logistics Accessibility Index as well as the Business Resource Regional Primacy Index.
Regarding traffic connectivity, air passenger throughput in China's first-tier cities rebounded to around half of pre-pandemic levels in 2021. Chongqing and Sichuan province's capital Chengdu did much better with throughputs of 87 percent and 84 percent respectively. Flight resources tend to focus on business-oriented cities, while those to tourism-driven municipalities are shrinking.
Last year, nine cities opened new high-speed rail routes, with the most impressive one being the Lhasa-Linzhi section of the Sichuan-Tibet railway. It connects Lhasa, Shigatse, Linzhi, Shannan and other places, providing high-speed rail services on the Qinghai-Tibet plateau.
There are stronger regional networks for road haulage between important city clusters. For instance, in eastern Shandong province, good road connections between the provincial capital Jinan as well as the cities Linyi and Jining not only allow the smooth flow of goods across the province, but also along the entire eastern coast.
China's northern and northwestern regions have remained a single hub since the start of the Business Resource Regional Primacy Index. While China's eastern areas continue to develop with Shanghai as the hub and multiple emerging first-tier cities as junction points.
C: Urban Residents' Activity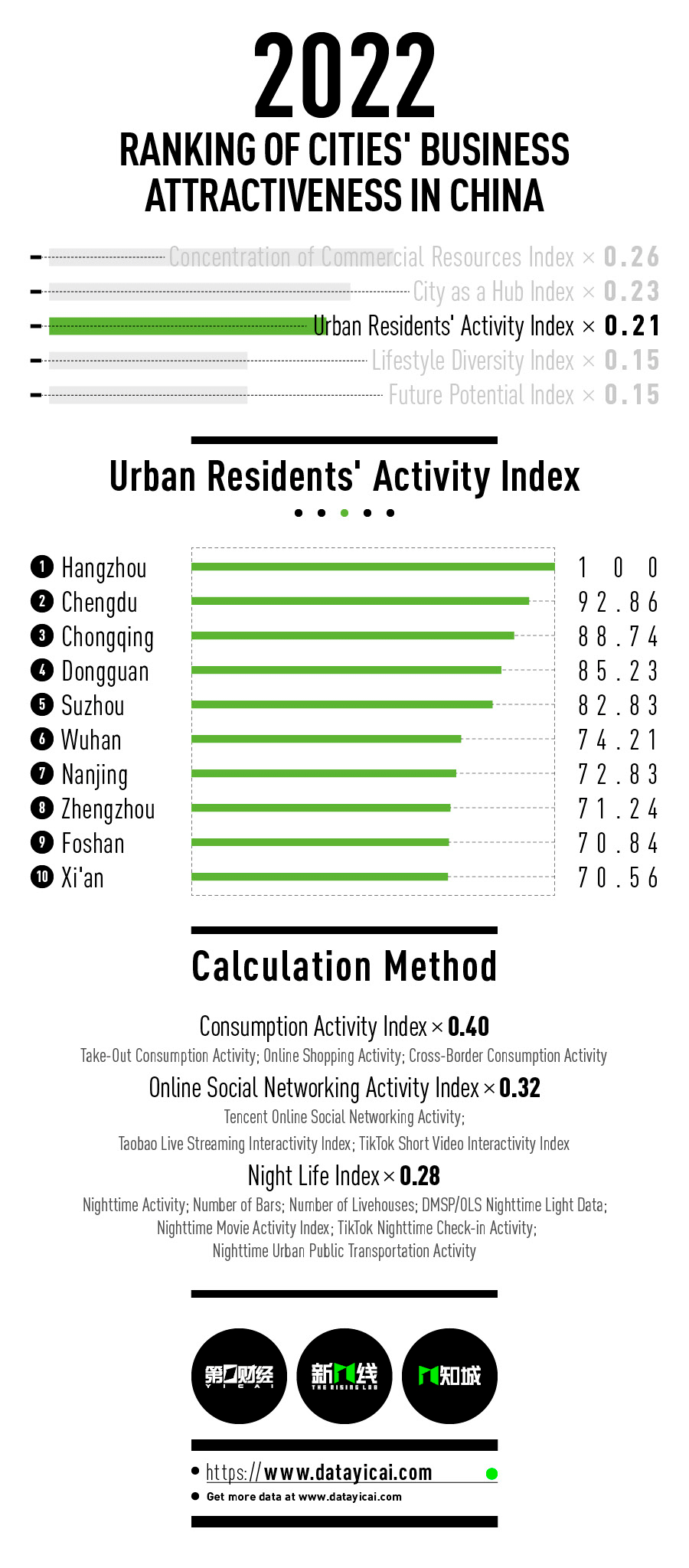 The modern civilization of cities originates from various kinds of needs generated during interpersonal communication and consumption of urban resources. A cycle, which moves back and forth between the emergence of demand and fulfillment, creates or activates cities' functions, turning them busy and lively.
The gauge includes behavioral data from internet users. It incorporates three activity indicators, including consumption, social, and night-time activities.
Most cities in Hubei province, including Wuhan, witnessed considerable declines in takeout activity in 2020. However, on-demand delivery basically rebounded to earlier levels just one year after.
Live-streaming data from Alibaba Group Holding's e-commerce platform Taobao can reflect how the urban environment affects online consumption. Several emerging first-tier cities, including Hangzhou, Chengdu, Foshan, Tianjin, and Suzhou, are major hubs for live-streamers to live and secure manufactured products to market, as well as serve as home towns for their audiences. These cities are where supply and demand meet.
Certain second and third-tier cities, such as Baoding, Zhoukou, Shangqiu, Zunyi, Jinan and Weifang, are ranked in the top 20 of TikTok short-video interaction index. But first-tier cities such as Shanghai and Guangzhou, as well as emerging first-tier cities including Chongqing, Chengdu and Zhengzhou, are still ranking above them.
A city's vitality can be assessed by its night-time economy. Municipalities with a high number of night-time activities were largely adding an increasing number of pubs over the past year.
Culture experienced at night is becoming increasingly diverse. Besides watching movies or going to see a gig, city people can find jazz bars in their neighborhoods to enjoy live performances or watch a popular talk show. The main point is enjoying the charm of urban nightlife.
D: Lifestyle Diversity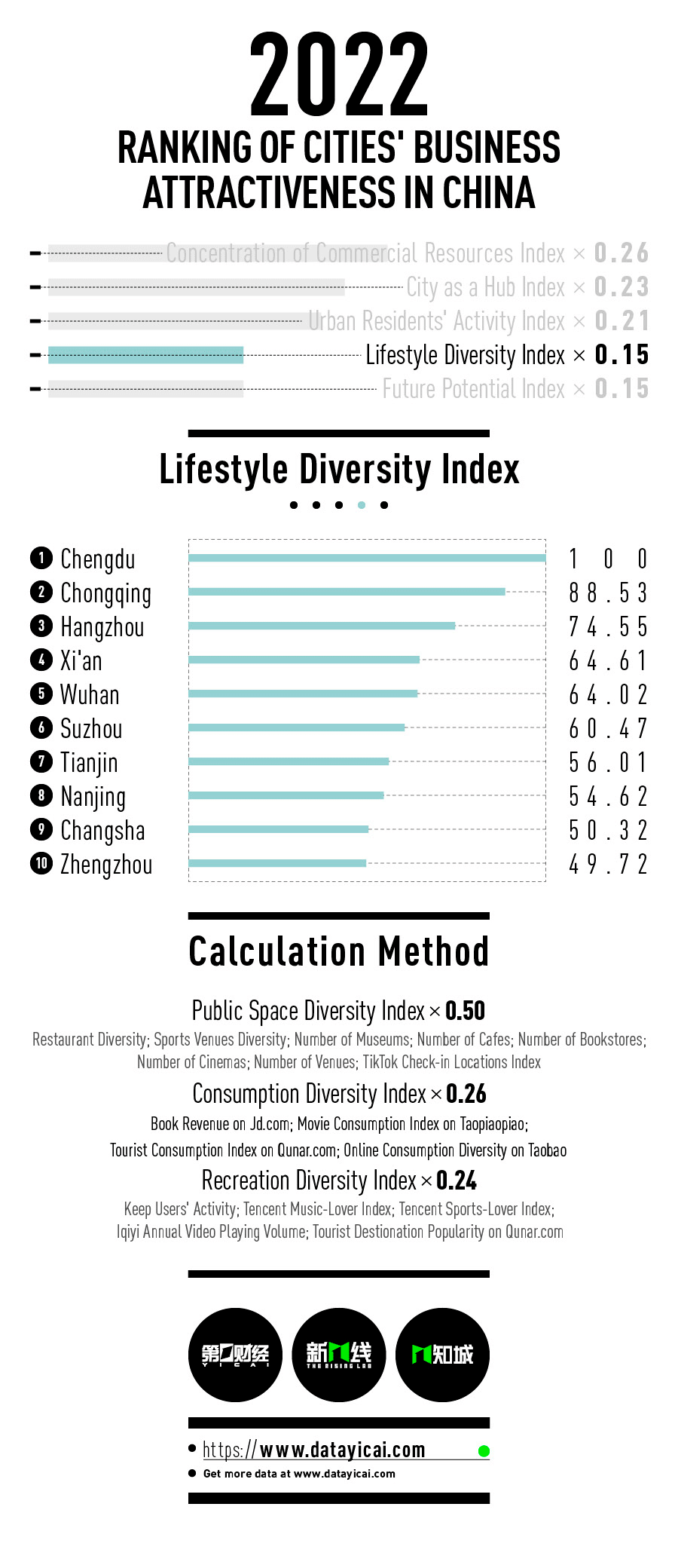 After years of tracking recreational supply and demand in cities, the latest data show that the direction is changing toward a contraction of motivation. As Maslow's hierarchy of needs proves, people tend to first compromise their requirements of self-actualization after dramatic shifts take place in the external environment.
Lifestyle diversity mostly measures residents' leisure, entertainment and consumption behaviors. It includes the three dimensions of the novelty of going out, consumption diversity and leisure richness.
The novelty of going out assesses the number and diversity of restaurants, sports venues, cafes, bookstores, museums, and other offline venues. The tally of restaurants and bookstores has not yet rebounded to pre-pandemic levels.
Urban cinemas hosted 1.2 billion moviegoers in 2021, down 561 million from 2019, per data from Dengta, a box office platform owned by Alibaba. Cinemas are still to recover from the pandemic impacts as people go to movies less frequently even though the per capita movie consumption has surpassed pre-Covid levels.
On average, Chinese cities' box office dropped 20 percent from the levels seen in 2019. The declines are the biggest in first-tier cities at almost 35.9 percent, followed by emerging first-tier cities with a nearly 30.3 percent decrease. In second-tier cities, the slump is almost 29.1 percent.
When traveling, people now choose to go to nature parks nearby more often as long journeys to other cities are becoming less popular. The index of total tourism consumption was 10.35 last year, still far below the reading of 14.09 in 2019, according to data from online travel agency Qunar.Com.
Only the cluster of two major cities Chengdu and Chongqing recorded a higher total tourism consumption in 2021 than in 2019. Other major urban zones, including the Yangtze River Delta, Beijing-Tianjin-Hebei region and the Pearl River Delta, logged lower consumption levels than in 2019.
Exercise has become more popular. The number of sporting venues has surged and an increasing number of people have started a running hobby. In 2021, users of fitness platform Keep increased their total running distances by 11 times from 2018.
E: Future Potential Index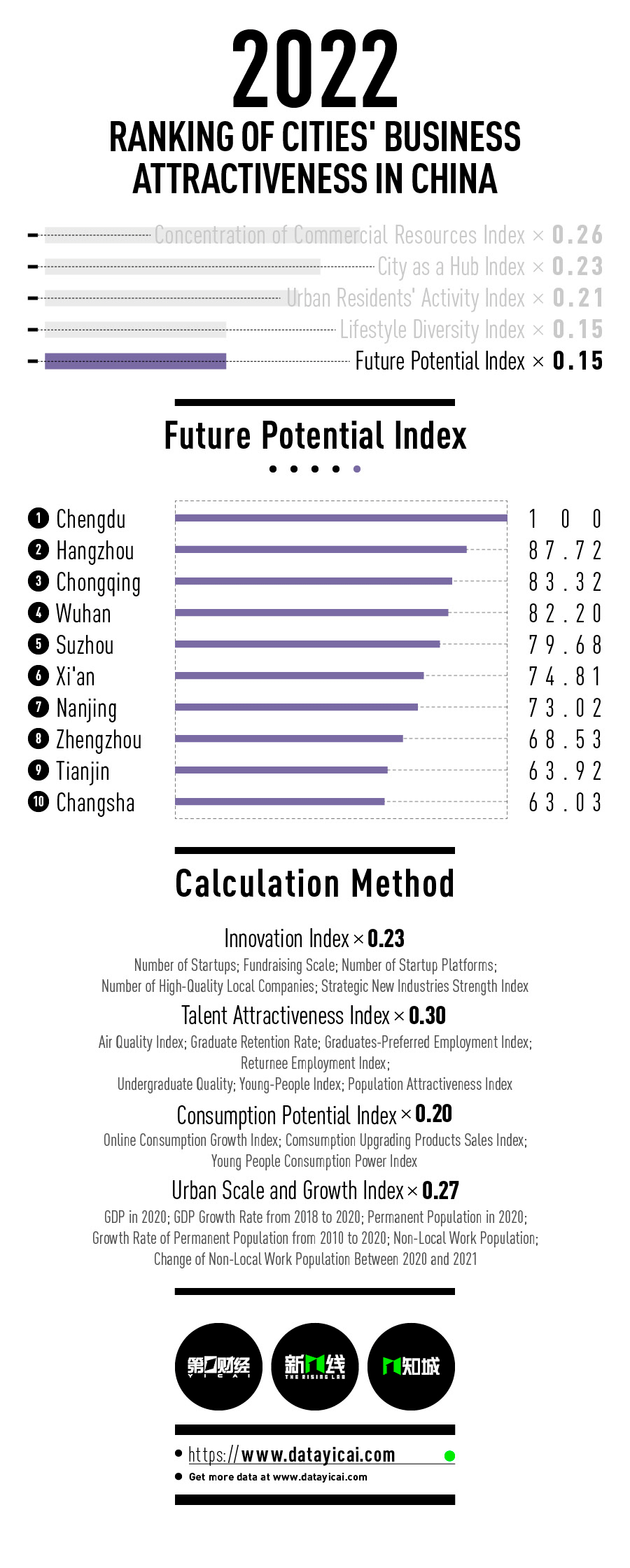 Future Potential Index focuses on cities' resilience amid changing conditions in their environment while maintaining sound development. The factor reveals high-growth cities.
The index involves four sub-dimensions. Those are innovation atmosphere, talent attractiveness, consumption potential, and the urban scale and growth index. These four categories dig into cities' current industrial and talent charm and judge their potential for future development.
Emerging first-tier and second-tier cities that seize opportunities are becoming hotbeds of novel industries. These cities are homes to 52 percent of all high-quality domestic firms, consisting of high-tech firms, small and medium-sized enterprises in the science and technology field, as well as listed companies and startups.
Yicai used business registration data platform Tianyancha's information about business scale and patents in order to measure firms' innovative technologies by compiling the index of strategic emerging industries' advantages.
Shenzhen leads all other Chinese cities in this dimension. Suzhou ranked higher than Beijing, and Nanjing surpassed Guangzhou by a wide margin. Among second-tier cities, Wuxi joined the leaders in the development of emerging industries as it has quickly turned into a smart manufacturing hub.
Young people are favoring unexpected cities while central Chinese cities are rising in competitiveness. The populations of Xi'an, Zhengzhou, and Changsha have all soared by more than 40 percent over the past decade.
Almost 3.1 percent of Chinese college graduates who have registered on career platform Zhaopin.Com said Zhengzhou was their preferred place of employment in 2021. Hubei province's Wuhan, Anhui's Hefei and Jiangxi's Nanchang rank three spots higher in mobility than they did a year ago, according to data from Baidu Map Huiyan. Moreover, the ranking of Shanxi's Taiyuan moved up by six places.
No matter how the external environment changes, cities continue to upgrade and attract high-quality talents with their high-quality industries while promoting urban prosperity.
Eventually, all focus comes back to the people. Humans inject their energy into creating cities and keeping them active by using urban services. But individuals rarely deliberately draft municipalities' rules. Respecting and conforming to the urban development logic is the best strategy for prosperity.