(Yicai Global) March 20 -- Last week, the American Chamber of Commerce in the People's Republic of China (AmCham) released its 2020 China Business Climate Survey Report. The AmCham is a non-profit, non-governmental organization, whose membership includes the major US businesses operating in China, such as Apple, Cisco and JPMorgan. I am an avid reader of these Reports, which give us American companies' on-the-ground perspective.
Survey respondents appear to be looking through the headlines, soundbites and tweets and remain committed to China. They say China's investment environment has gotten better, intellectual property rights (IPR) protection is improving and that they are feeling more and more welcome here.
This is my summary of the Report's highlights. For those of you who want to read the Report and enjoy its rich detail, I refer you to the AmCham website, where you can download it for free: https://www.amchamchina.org/about/press-center/amcham-statement/2020-business-climate-survey-released.
Last year was a challenging one for AmCham members. Only 46 percent of survey respondents reported a year-over-year increase in revenue, down from an average of 60 percent in recent years (see graph below). Those firms which produce for the US market had the toughest time. Only 26 percent of them reported higher revenues.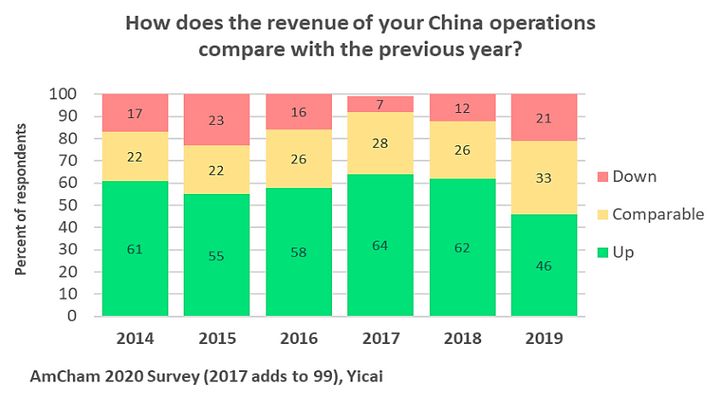 While 61 percent of the respondents reported that they were either "profitable" or "very profitable" last year, this is down from close to 70 percent, on average, over 2014-18. Indeed, AmCham reports that, in 2019, profitability dropped to its lowest level since it began asking the question 18 years ago.
Despite the challenges of operating in China, 72 percent of the respondents said that their profit margins were higher than, or comparable to, those of their global operations. This suggests that times are tough everywhere.
Respondents continue to see an improvement in the business environment (graph below). In 2016, more than half said that foreign companies were treated unfairly, relative to local ones. By 2019, that share had dropped to just over a third.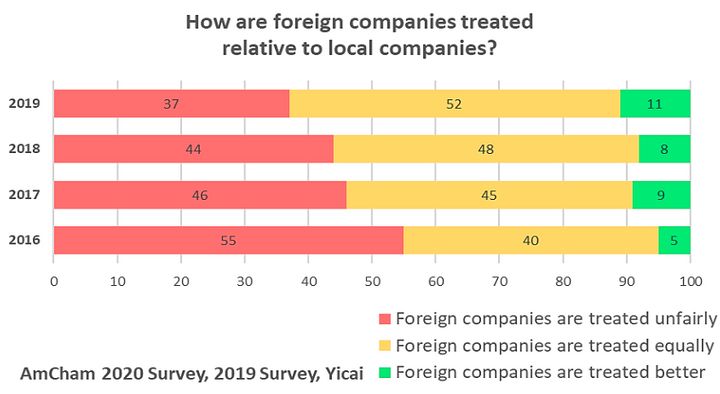 Unequal market access remains the principal concern. Indeed, more than a quarter of the respondents said that lack of market access "significantly" inhibited their China operations. This was a particularly sore point for firms in the Consumer sector.
China's investment environment looked a lot better in 2019. Half of the respondents saw the quality of China's investment environment improving, up from one-third over 2013-18 (graph below). The Report noted that concrete actions taken in 2019 – the Foreign Investment Law, the Guiding Opinions on Optimizing the Business Environment, and the reforms in the financial services sector – were important confidence boosters.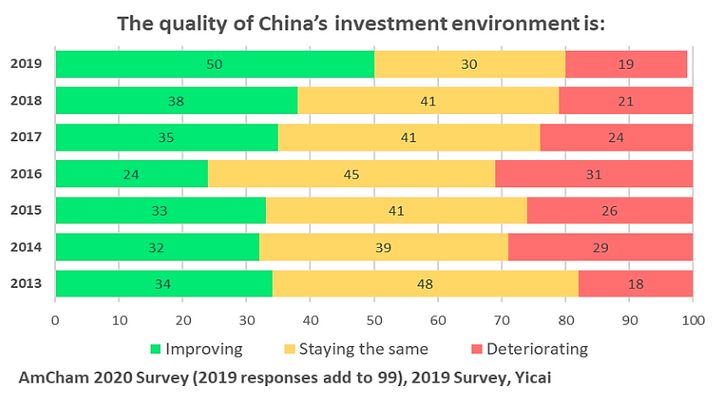 Close to 70 percent of the respondents said that China's enforcement of IPR has improved in the last five years (graph below). This is up 10 percentage points from last year's survey.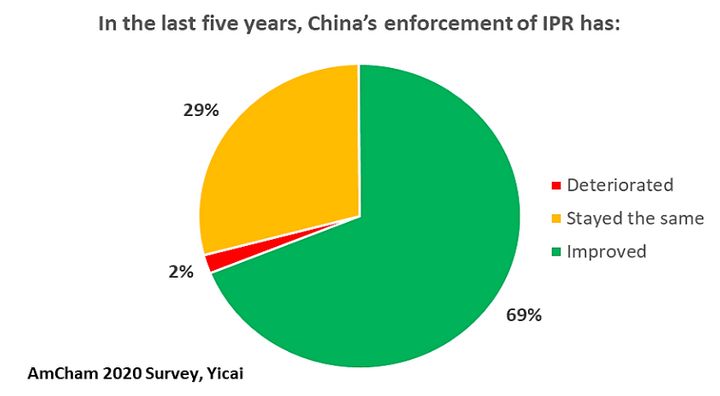 Despite the news reports about the trade tensions leading firms to relocate their supply chains, respondents show an increasing commitment to China. The graph below illustrates that fewer firms were relocating, or considering doing so, in 2019 than in previous years. This increased commitment to China is consistent with the steady improvement in the business environment.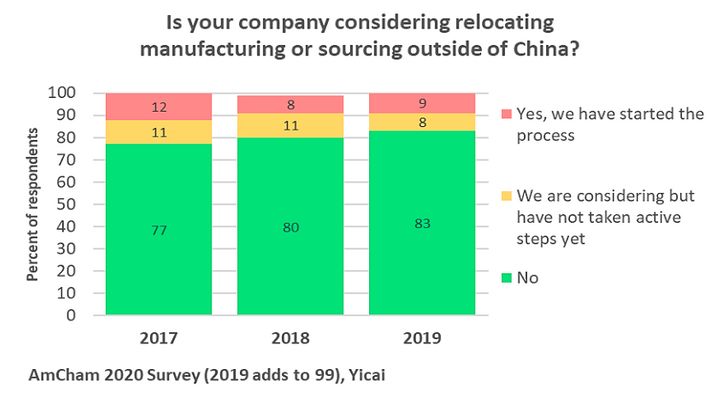 While US firms may be here to stay, a growing share of respondents will not expand, or may actually decrease, their investments in the near term. Uncertainty over US-China relations and the tariffs are weighing on investment plans as is the expectation of slower growth in China.
Policies that increase the transparency, predictability and fairness of the regulatory environment would boost investment. More than 40 percent of the firms surveyed said such measures would have a "very significant" or "extremely significant" impact on their investment levels.
All local governments are not created equal when it comes to offering foreign investors a welcoming investment environment. The respondents overwhelmingly chose Shanghai, among the mainland provincial and municipal governments, as being most effective in attracting and working with foreign investors. The graph below shows how Shanghai's rating compares with the four next-best ranked provincial governments.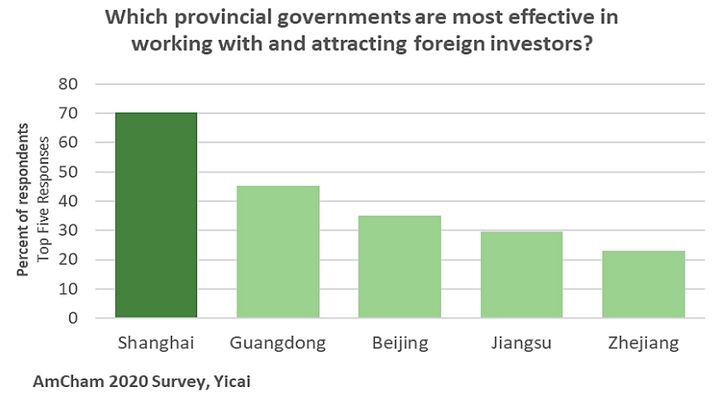 AmCham's 2020 survey was conducted between October 24 and November 25, 2019. This was prior to the signing of the Phase One trade deal and the COVID-19 outbreak. While these are certainly significant events, I do not expect they will alter these companies' long-term commitment to China.
Mark Kruger is Yicai Global's Opinion Editor and Senior Research Fellow with Yicai Research Institute. He is also a Senior Fellow at both the University of Alberta's China Institute and the Centre for International Governance Innovation. Mark was formerly a Senior Policy Director in the Bank of Canada's International Department, a Senior Advisor to the Canadian Executive Director at the International Monetary Fund and head of the Economic and Financial Section in the Canadian Embassy in Beijing.