(Yicai Global) Dec. 19 -- Some 39 financial books focusing on globalization, technological innovation and China's reform have been selected as Yicai-J.P. Morgan's financial books of the year for the insights into current economic development and challenges that they bring to a global audience.
The categories for winners, selected by the Yicai Research Institute, J.P. Morgan and Abu Dhabi Global Market Financial Services Regulatory Authority last week, include Theme Books of the Year, Most Popular Books of the Year, Chinese Books of the Year, English Books of the Year and Bilingual Books of the Year.
"This year's book list resonates with big issues facing the whole world today, such as the role of globalization, China's development model and technology change," said Yang Yanqing, managing director of the Yicai Research Institute.
"With the reverse of hyper-globalization amid worldwide populist temptation, the 'China Model' faces serious challenges
- "How should industrial policies and the role of the government be redefined in the nurturing of technology and innovation?
- How should the line be drawn between the government and markets?
- How should state-owned enterprises be reformed?
- How should subsidies be dealt with?
- How should communication with the international community regarding intellectual property rights issues take place?
"Recommending books is part of our efforts to meet these challenges," added Yang, who is also deputy editor-in-chief of China Business News, an Yicai Media Group affiliate.
Inaugurated in 2009, Yicai Financial Books of the Year have become the most recognized among policymakers, regulators, financial practitioners and economic professionals in China. A list of financial books in Chinese and English are selected at the end of each year based on their 'global perspective' and 'insightful foresightedness,' with winners being picked through public votes and committee evaluations.
"People are entitled to read and learn," said Mark Leung, chief executive of J.P. Morgan China. "I'm glad that Yicai and J.P. Morgan have joined hands again this year to introduce the most popular international financial books to Chinese readers while making outstanding Chinese financial books more widely known around the world.
"2018 marks the 40th anniversary of China's reform and opening up, a critical moment for us to reflect on our past and share our experience accumulated over the past 40 years," he continued. "We sincerely hope that by sharing and promoting these excellent books and diverse viewpoints that we are able to invite more thinking and discussions among the public and decision makers at government agencies and businesses, which will benefit China's economic development in the long term."
Systematic, cutting-edge policy research undoubtedly laid the strongest intellectual foundations for China's outstanding national policymaking over those 40 years, added Richard Teng, chief executive of the Abu Dhabi Global Market Financial Services Regulatory Authority. This valuable wisdom, especially the financial research, is rightfully included in this award-winning list, he said.
Yicai and J.P. Morgan unveiled the 2018 list at an annual event on Dec. 9, where the winning authors shared insights and the stories behind their books with policymakers, financial regulators, top economists and financial leaders in-person or via video conferencing.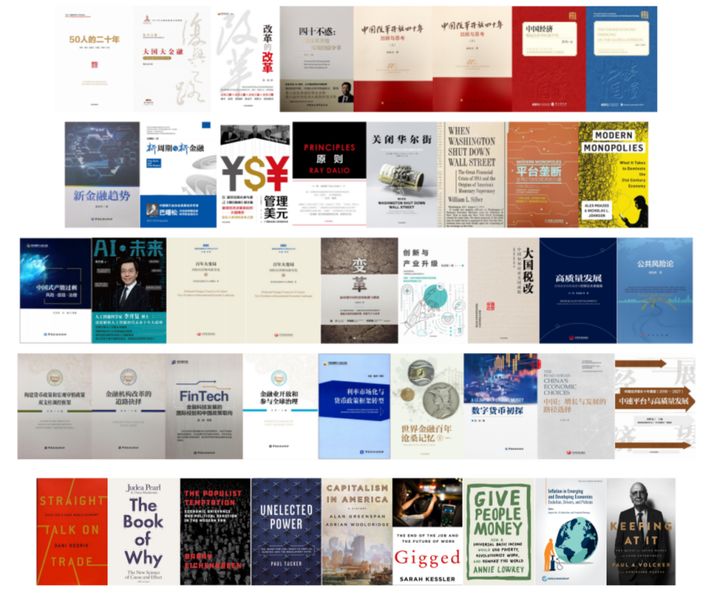 Covers from some of the winning books
Six books were selected as "Theme Books of the Year":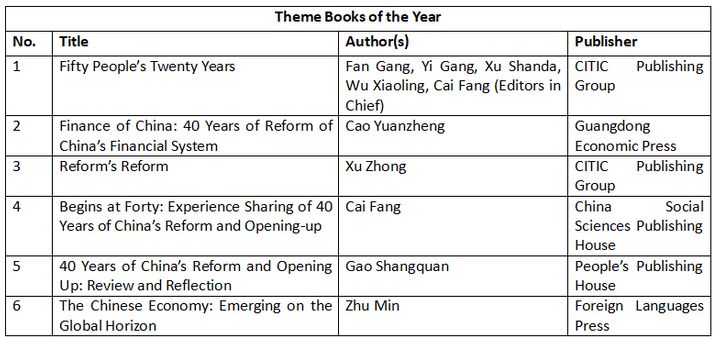 Four books were selected as "Most Popular Books of the Year":

Eighteen books were selected as "Books of the Year (Chinese)":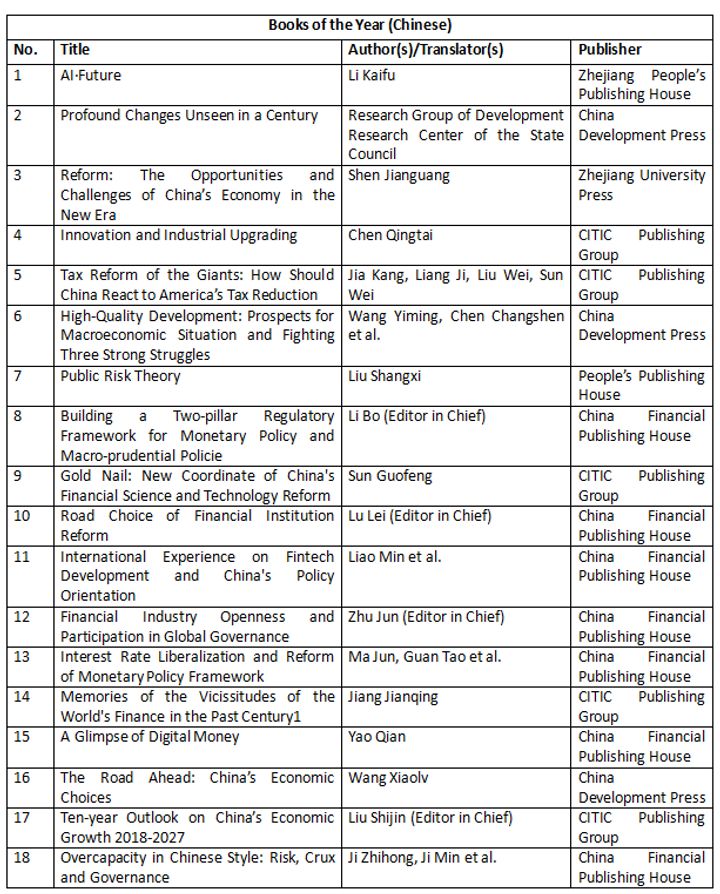 Two books were selected as "Book of the Year (Bilingual)":

Nine books were selected as "Books of the Year (English)":