(Yicai Global) Jan. 22 -- Yiwu China Commodity City, the source of most tourism souvenirs in China, has upgraded in recent years to become an international trading hub for commodity experts the world over.
The wholesale market in Yiwu, Zhejiang province, is not just a channel for overseas products to enter China, but also a distribution center for global products, handling hundreds of millions of goods and boosting the local economy and its international reputation.
From January through November last year, Yiwu's total import volume increased by 34.3 percent annually, compared with a national rise of 18.7 percent. The market's import commodity festival has played a large role in boosting trade development in the region.
Yiwu Import Growth Tops Nationwide Average
Yiwu has introduced a host of preferential policies since China brought in the Belt and Road Initiative in 2013, which has brought about an increase in imports. The city has offered incentives in business registration, customs clearance, tax, logistics and capital.
Yiwu imports from over 100 countries and regions and attracts 10 million domestic and 500,000 foreign buyers each year. There are now 13,000 overseas merchants living in the city to buy or sell at the trading center.
Foreign small- and medium-sized enterprises can import in Yiwu by setting up a business or using agents. The trading hub will help them sell their products across China and around the world, said Zhu Yongjian, chief of the imports division at Yiwu's foreign trade bureau.
Under the Belt and Road Initiative, Yiwu is speeding up construction of more platforms to open up to the outside world, such as China-Europe freight trains. The Yiwu-Xinjiang-Europe channel has already opened and runs through Central Asia, the Middle East and other regions before arriving in Madrid, Spain.
The route, which travels from the Yiwu West station in East China, has opened nine transport links and set up four branches, eight overseas warehouses and five logistics bases along the line. It is the most efficient China-Europe railroad and hosted 168 round trips last year, transporting 14,910 twenty-foot equivalent units, 84.3 percent more than 2016. There are also plans to open Yiwu-Afghanistan, Yiwu-United Kingdom and six more routes.
The Yiwu-Xinjiang-Europe line is more than just a logistics service, said Jin Kengzhong, deputy director of Yiwu's port authority. It's a trading platform to bring European commodities into China, and has led to the development of trade and industrial chains in Yiwu, increasing import trade there, he added.
Yiwu Is a Foothold for Foreign Merchants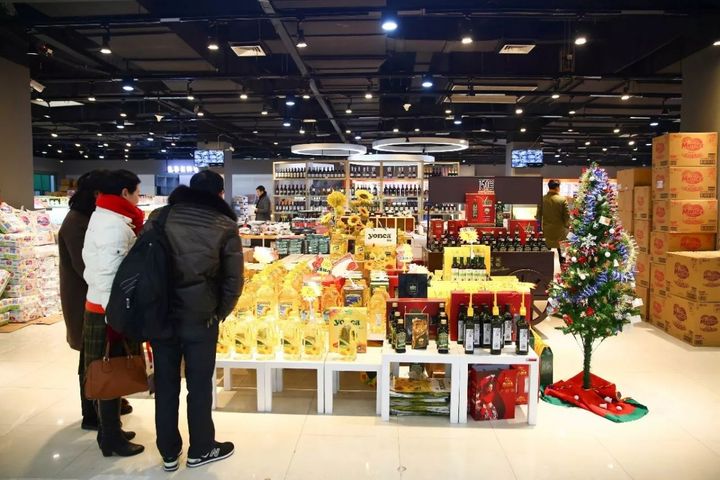 Yiwu China Commodity City has benefited considerably from China-Europe freight trains. It has brought together 88,000 types of goods with the majority being imported from their country of origin. Many are sold even cheaper than their price at supermarkets in producing countries and the market has become a one-stop shop for purchasers.
The market was set up in 2008 and covers 100,000 square meters, or about 20 soccer fields. It covers a range of goods, including parent and child, cosmetics, household products and food and beverages. It leverages strong domestic demand to drive affordable second- and third-tier brands from overseas in China.
Yiwu China Commodity City also actively cooperates with major travel agencies to become a part of local tourism packages.
The trading platform is expanding distribution channels for imported goods via such promotions as the China Yiwu Import Commodities Fair and the Import Commodity Shopping Festival.
Last year, the China Yiwu Import Commodities Fair attracted 1,518 domestic and foreign exhibitors and saw CNY1.3 billion (USD200 million) of deals signed. The Import Commodity Shopping Festival and other events attract more than 500,000 consumers each year.
China Yiwu Import Commodities Fair 2018
In order to cater to growing demand, Yiwu will is hosting its 2018 event from Jan. 20 through Jan. 28 at Yiwu China Commodity City. This year's event is themed on buying foreign goods for Chinese New Year, which falls on Feb. 16.
The event claims to be offering unprecedented deals this year, and will be running lucky draws for participants to win an iPhone X and other prizes. There will also be international food stalls, fashion shows and other events.
The 2018 festival hopes to make the event more popular and increase its influence across the region by enhancing wholesale and retail imports and promoting trade in Yiwu.