(Yicai Global) Dec. 16 -- Budweiser Brewing Company APAC, a subsidiary of the Leuven, Belgium-headquartered AB InBev, will continue to push digital transformation, premiumization and expansion to achieve high-quality and sustainable growth in China, Jan Craps, co-chairman and chief executive officer of Budweiser APAC, said in a recent interview to People's Daily.
"China is the next China, and Budweiser sees great potential in the market." said Craps, a company veteran who has been in charge of the regional business for the last three years and was behind Budweiser's listing in Hong Kong in 2019, when asked what to invest next in the world's largest beer market and second largest economy.
In order to realize its dream to become the "most loved high-quality growth leader in beverages" , Budweiser APAC will further invest in premium products, digital transformation, sustainability and business expansion in China as they are all elements of high-quality growth, added Craps.
Much of Budweiser APAC's growth this year was driven by its strong performance in China, said Craps. The sales of the company were up 8.2 percent in the nine months ended Sept. 30 from the same period last year to over 7.1 billion liters and revenue jumped 14.3 percent to almost USD5.4 billion.
Leading in digital transformation
Budweiser APAC is investing in analytics, automation and artificial intelligence capabilities to better engage with consumers, partners, colleagues and beer lovers around the world, Craps said.
At the beginning of the year, Budweiser APAC launched a Business-to-Business platform called BEES, where small and medium-sized retailers can browse products, place orders, earn rewards, arrange deliveries, manage invoices and access business insights all in one place. So far, the pilot program has achieved excellent results and it will be launched nationwide next year after the Chinese New Year holiday.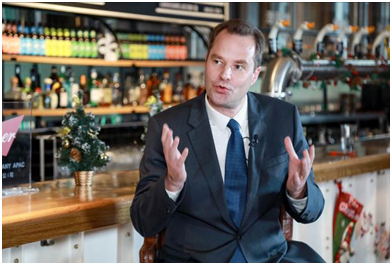 (Jan Craps talks about progress Budweiser APAC made in digitalization.)
Budweiser APAC is also an active player in e-commerce with over 5.2 million followers on its stores on China's main e-commerce platforms TMall and JD.com. During the Double 11 online shopping bonanza last month, Budweiser was the best-selling beer on the two platforms. The company has also built up consumer loyalty programs like BUD SPACE, which have recruited 32 million registered users to have an even stronger connection with consumers.
Production is being digitized too. For example, every part of the manufacturing process in its brewery in Wenzhou, southeastern Zhejiang province can be collected in real time and analyzed.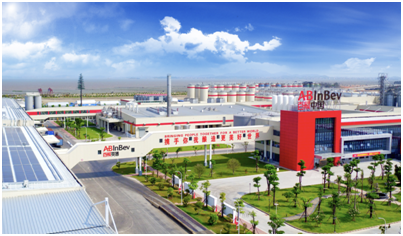 (Overview of Budweiser Putian brewery)
Craps even sent his senior global leadership team to Shenzhen to interact with tech giants to learn about ecosystems and future trends in the field of digitalization. For him, technology is always about how it can be used to improve the lives of consumers, customers, the supply chain and communities. It is never about the technology itself.
Diversifying portfolios, channels and reach
As a dominant player in China's beverage market, Budweiser APAC is seeking to enlarge its presence in the world's second largest economy through the market maturity mode. This  differentiates the economic development level and market position in 250 cities, targeting consumers of diverse backgrounds and income levels, to meet the evolving tastes of middle-income households, whose number is expected to reach 172 million in 2030 from seven million in 2010.
In regions where Budweiser APAC's products have a strong presence, known as a mature market, the firm has expanded its product lines to connect with more customers across different drinking scenarios. For example, the Budweiser range includes the Budweiser Supreme, available in high-end Chinese restaurants, Budweiser Magnum for special occasions and Budweiser ME3 for female drinkers. The firm also offers Corona, Hoegaarden, Blue Girl and other craft beers like Goose Island and Boxing Cat. Local premium beers, such as Harbin 1900 based on a hundred-year old Chinese beer, are also part of its portfolio.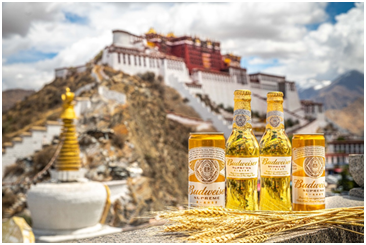 (Budweiser Supreme Launched in Tibet)
In mid-mature markets with over 50 cities, Budweiser APAC has found opportunities with its namesake brand Budweiser.
"We really believe that in the future, premiumization will continue to be a major trend in China. And we believe we are well positioned to continue to offer more choices to Chinese consumers," said Craps.
Budweiser senses great potential in China as the country has a relatively low premium beer penetration rate. At present, 16 percent of China's beer consumption is of premium or super premium brands, while it is 25 percent in South Korea and over 40 percent in Europe and the US. Budweiser's sales in the premium and super premium segments grew by double digits in the first nine months in China.
Sustainability
"At Budweiser APAC, sustainability isn't just part of our business; it is our business," said Craps, who has been working at the Belgium-headquartered company for over 20 years.
Budweiser APAC released its ambitious sustainable development goals in 2018, aiming to reduce its carbon impact by a quarter by 2025 with a particular focus on smart agriculture, water stewardship, circular packaging, and climate action. Already the carbon emissions across the company's value chain in APAC have dropped 12.7 percent last year compared to the baseline year 2017, said Craps.
The brewery in Wuhan, central Hubei province is expected to achieve carbon neutrality by the end of the year, and it will be the first at AB Inbev to do this. Three breweries in China use 100 percent renewable electricity and 11 facilities in the Asia Pacific region will install solar panels on their roofs by the end of 2021. The company is also replacing its diesel and petrol-powered forklifts, trucks and shuttle buses with electric ones.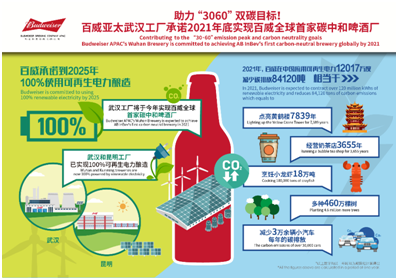 (Budweiser's breakthrough on 2025 Sustainability Goals in 2021)
As for packaging, Budweiser advocates the strategy of Reduce, Reuse, Recycle and Rethink. In 2020, 53 percent of its packaging was returnable.
The firm has also been working closely with farmers to promote smart agriculture and improve farmers' livelihoods through technology and sustainable agricultural practices. For example, it is teaming up with Jiangsu Nongken to produce malting barley. This year, about 30,000 tons of barley is expected to be harvested from 3,000 hectares of farmland, benefiting around 5,000 local farmers.
The firm secured a USD500 million loan in July with interest rates tied to its sustainability performance with a bank consortium led by Bank of China. It is one of the largest loans in the consumer business sector.
Editor: Kim Taylor