(Yicai Global) Nov. 19 -- German chemical giant BASF has jointly developed three electric concept cars with the research center of Guangzhou Automobile Group, GAC R&D.
Targeting urban women, car-sharing services and seniors, these two-seater U+X series debuted on Nov. 16, the opening day of the 16th Guangzhou International Automobile Exhibition, which will run in the southern Chinese city for 10 days.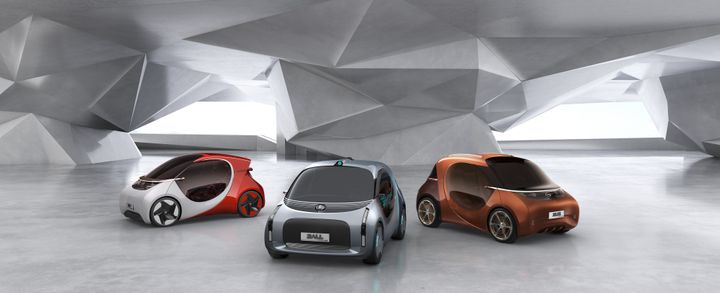 "This is the first time BASF has cooperated with a Chinese OEM to develop concept vehicles. We are excited to work with GAC R&D Center in shaping future mobility with our sustainable and innovative materials and solutions," said Dr. Zheng Daqing, senior vice president, business and market development Greater China, BASF.
BASF has also collaborated on the Mercedes Benz-brand Smart Forvision of Germany's Daimler, Korean Hyundai Motor's RN30 and the i3 model of Bayerische Motoren Werke, also based in Germany, Zheng told Yicai Global.
"Car-sharing and electrification are highly important developments in the world's largest auto market. Also, the needs and individual style preferences of Chinese drivers have diversified due to a rising number of women and senior drivers," said Zhang Fan, Vice President, GAC R&D Center. "BASF's innovative materials enable flexible design and extended functionalities that best serve the different styles of our concept vehicles."
Based in Ludwigshafen am Main in west-central Germany, BASF is the world's largest chemical maker, public information shows.
Its auto business now makes up 18 percent of the company's total revenue. The firm is deeply involved in the automotive industry's whole supply chain, including exteriors, paint, oil additives and battery cathodes.
Faced with the challenge of vehicle electrification, BASF is also trying to meet demand by innovating lightweight materials, energy management systems and new catalysts.
The Chinese market contributed EUR7.3 billion (USD8.33 billion) in revenue last year, over 10 percent.
BASF and Beijing-based China Petroleum & Chemical -- better known as SINOPEC -- agreed to build another petrochemical plant last month and to further expand their existing 50-50 joint venture, Nanjing-headquartered BASF-YPC.
BASF also set up a new battery material lab in Shanghai last year to meet the needs of the fast-growing electric vehicle industry, and the first Asia-Pacific automotive application R&D and process catalyst research center.
Editor: Ben Armour