(Yicai Global) Feb. 21 -- Zhejiang China Commodities City Group, the umbrella organization for the world's largest small commodities market, is seeking to lure foreign buyers to it with incentive measures such as flight subsidies, charter flights and free accommodations.
Purchasers from abroad who come to Yiwu, the city in the center of China's eastern Zhejiang province home to the gargantuan emporium, who arrive by air before Feb. 29 will get fully subsidized economy-class flights with payment on arrival, while those alighting from March 1 to March 10 will have half of their airfare refunded. Yiwu will also lay on free charter flights for those eligible, depending on their actual circumstances.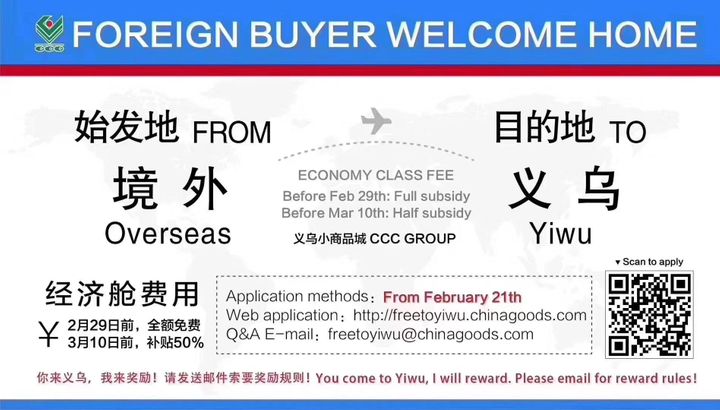 CCC Group will grant seven days of free accommodation to inbound foreign buyers arriving in Yiwu before Feb. 29, while three days will be on offer if the arrival date is from March 1 to March 10, all at hotels designated by the company. If purchasers who come to Yiwu before March 10 need services such as translation, logistics and the like, CCC Group will assist them by contacting relevant municipal departments to provide these.
Foreign buyers with no entry/exit or procurement records in Yiwu will get three days of free accommodation if they arrive before March 10 and also qualify for the flight subsidies if they register in advance with local foreign trade companies or market dealers or purchase USD50,000 or more in goods within 15 days of their arrival.
These measures will be valid from Feb. 21 to March 10.
Those interested can browse for more information at http://freetoyiwu.chinagoods.com or send requests to freetoyiwu@chinagoods.com for more specific guidance.
Yiwu, population 1.2 million, is famous for its small commodity trade and vibrant market, and as a regional tourist destination. Over 1.8 million varieties of products leave the city en route to more than 200 countries and regions. Yiwu boasts over 8,000 foreign investors, 17 percent of the province's total. It produces two-thirds of the world's Christmas decorations, China Radio International reported on its English-language news portal. The city has direct rail links for its exports that stretch as far as London.
Founded in 1993, the CCC Group listed in 2002. Its share [SHA:600415] price rose 1.08 percent to CNY3.74 (USD0.53) in mid-afternoon trading today.