(Yicai) Aug. 7 -- China's first ultra-high purity magnesium oxide and power co-production line recently debuted in the northern steel hub of Tangshan, after crossing the so-called valley of death from laboratory to factory.
The production line, with an annual capacity of 300 tons of MgO and 400,000 kilowatt hours of electricity, is based on the galvanic method developed by the Tangshan Translational Research Center of the Beijing Institute of Technology.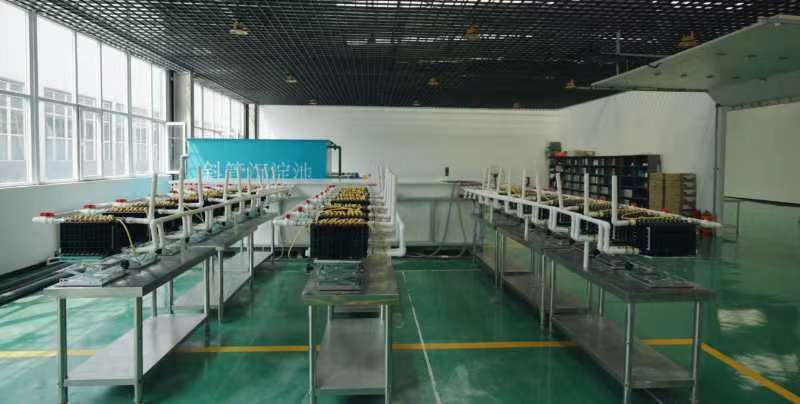 Compared with conventional magnesite calcination and seawater/brine synthesis processes, the galvanic cell method has the advantages of low cost, more stability and higher yield. MgO produced in this way can reach 99.95 percent purity with no industrial waste.
The technology was recognized as internationally advanced by the science and technology department of Hebei province, where the industrial city of Tangshan is located, in December 2020.
Magnesium batteries have great potential, according to Dong Mingming, director of the Translational Research Center at Tangshan Harbor Economic Development Zone and a professor at the Beijing Institute of Technology.
Rechargeable magnesium batteries are a promising alternative to their lithium counterparts owing to their safety, low price, and high theoretical volumetric density. They are widely used as power devices outdoors as well as in electric vehicles and power generators.
'Valley of Death'
"In the journey of technological innovation, the challenges intensify as we move towards the later stage," said Liang Liang, executive director of the Translational Research Center. "From a global point of view, we all face such problems."
Between technological advancements and industrialization a formidable 'valley of death' must be crossed, Liang said, adding that the MgO and power co-production technology is fortunate to have the unwavering support of the Tangshan Harbor Economic Development Zone for manpower, financial resources, and physical infrastructure.
The ultra-high purity MgO and electricity co-production line signifies a major step towards industrialization for the galvanic cell method, according to Mo Hui, deputy secretary of the Party Working Committee of Tangshan Harbor Economic Development Zone.
Producing high-purity MgO as a fine chemical product and high-temperature refractory material, drives forward China's steel industry, freeing the country from reliance on this imported product, and also benefits its high-end manufacturing industry, Mo said.
Magnesium Cycle
The production line covers an area of no more than 200 square meters and has 27 individual electric stacks, according to Dr. Zhang Yu, a member of the project. Each stack is equipped with separate water inlet, outlet, and circuit systems, enabling independent and adjustable operation.
Zhang also said an internet monitoring system will enable information to be uploaded from each stack to help with remote and real-time monitoring in the future.
Liang said an innovative SWOME (solar, wind, ocean, magnesium, and electricity) system has been formed by further expanding the cogeneration of magnesium and electricity to the upstream and downstream of the industry. By integrating green energy sources like solar, wind, ocean, magnesium materials, and electricity, this system creates a distinct cycle separate from the traditional carbon cycle.
"When energy is sourced from offshore photovoltaics and other green energy sources, eventually transforming into metallic magnesium for energy storage, it creates a sustainable and recyclable energy system," Liang said. "But we recognise that this concept is still in its infancy."
"To ensure the healthy development of this nascent technology, the support and active involvement of the government, industry, as well as human resources, physical assets, and financial investments are still needed," he added.
Over the next one to three years, the research center aims to achieve the milestone of establishing the smallest measurable unit of the SWOME model and validating the crucial components of magnesium circulation technology, Liang said.
Editor: Peter Thomas