(Yicai Global) Jan. 17 -- MSD aims to triple the number of its clinical trial patients in China this year, the US pharma giant's global head for research and development told Yicai Global in an exclusive interview.
"Right now, we have about 6,000 patients under study in clinical trials in China and next year we will probably triple that number," MSD Executive Vice-President and MSD Research Laboratories President Roger M. Perlmutter said, adding that trial work is coordinated at the New Jersey-based firm's Beijing facility.
The project will provide a platform for MSD to submit the necessary information to Chinese drug regulators and to identify drugs applicable to the market.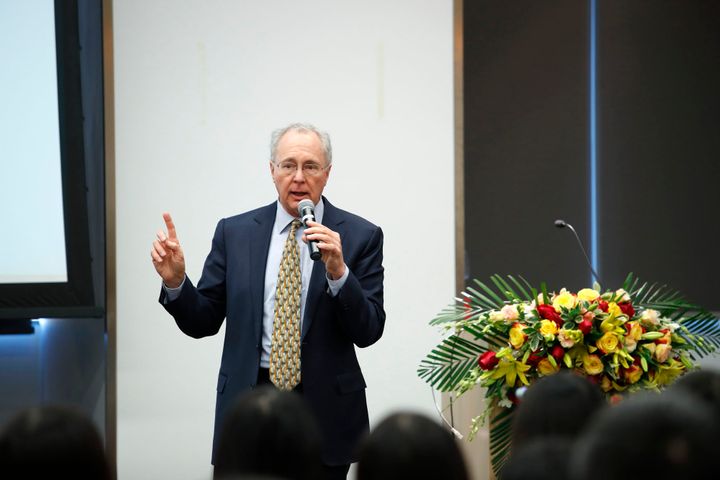 This article is sponsored by MSD.
Shares in Merck [NYSE:MRK], which trades as Merck, Sharp & Dohme (MSD) outside of North America, surged by nearly one-third last year to hit a twelve-year high. The company's remarkable performance owes largely to the strong growth of its PD-1 inhibitor pembrolizumab, and China has become a crucial part of its global growth strategy, especially in last year.
Perlmutter assumed his post as global head of research five years ago and his recent visit to Beijing and Shanghai marked the first time that he has visited China.
Importance of Chinese Market
Although MSD has not disclosed specific financial data for the Chinese market, the company has received approvals to sell several major innovative drugs and vaccines there, reflecting the market's future importance. The firm has also highlighted the Asia-Pacific market as a key growth driver.
Sales of the company's quadrivalent and nonavalent human papillomavirus (HPV) vaccines grew by over one-quarter annually to reach USD608 million in the second quarter of last year and MSDpledged in November to quadruple the supply of the vaccine in China amid buoyant demand.
Approved in China last July, pembrolizumab is a treatment for unresectable or metastatic melanoma patients who have not responded to first-line treatment, and it marks the second PD-1/L1 molecular drug approved for marketing in China.
The firm employs some 5,000 staff in China, mainly at its commercial facilities in Shanghai and Beijing. MSD has added a wide range of special R&D funds for cancer treatment, including pembrolizumab, as well as cooperation with AstraZeneca on the drug olapariband the joint development of lenvatinib with Japanese pharma company Eisai.
Drugs for China
Perlmutter expressed his eagerness for Chinese patients to start using pembrolizumab, olaparib and lenvatinib. "We are developing many other medicines under various conditions," he commented. "Our research has yielded a multitude of reports and data, which need to be introduced to China.
"We either perform clinical tests in China, or include Chinese patients' statistics in global studies," said Perlmutter. "Chinese specimen data is extraordinary since the volume of data submitted to regulators is huge."
2019 will mark another breakthrough year for MSD in China, he noted. pembrolizumab's first approval in China applies to melanoma treatment, which is not a common cancer type in the country. The company expects to gain access to a broader, more important, and more destructive disease areas, especially in the field of lung cancer, he explained.
MSD also invested more than USD16 billion to support therapists' research to expand HPV vaccine production to meet the needs of the world and China, Perlmutter added.