Seoul's air quality was "poor" last February 20. In the skies over the South Korean capital, fine particles measuring less than 2.5 microns (PM2.5) concentration levels exceeded 50 micrograms per cubic metre. That was twice the daily average recommended by the World Health Organization and five times higher than the annual average. 
But it was a whole different world behind the door of a warehouse in the city, where the smell of fresh green grass invaded the senses and the air was moist like a greenhouse. Two young workers in brown clothes were busy transplanting seeds into pots. This was the headquarters of Tree Planet, a South Korean social enterprise that plants trees around the world.
Founded in 2010, the company has created 190 forests in 12 countries, planting 400 to 500 trees per forest for a total of roughly 800,000 trees. Its first project, based on a tree-growing game application, was launched that same year and officially ran until early 2019. If a user successfully took care of a virtual seedling until it became a full-grown virtual tree, the company would plant a real one in a forest, funded by the advertisements in the game.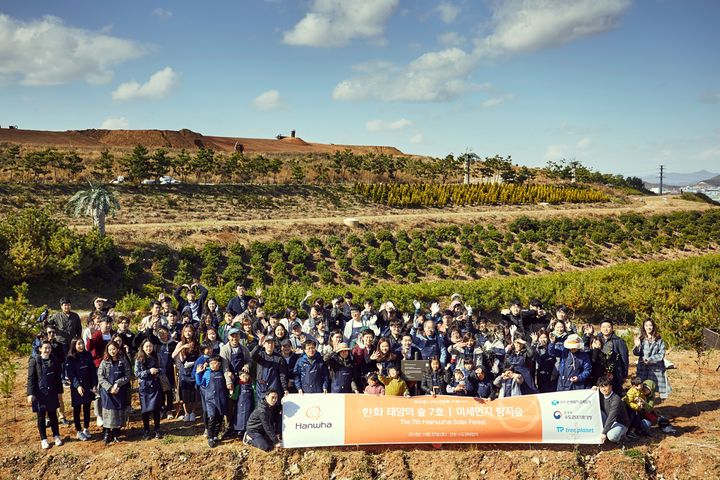 Tree Planet's co-founders Min-Cheol Jeong and Hyoung-Soo Kim came up with the idea during their mandatory military service. They were interested in environmental issues, and knew that trees play a vital role in environmental protection because they reduce air pollution. "A 40-year-old tree absorbs 35.7 grams of fine dust in a year," said Jeong. "It's the equivalent of a cup of espresso."
They wondered how they could prompt people to plant trees, and found the answer after seeing a fellow soldier who was deeply into farming simulation games. This gave them the idea of using mobile game.
Their game quickly became very popular, reaching more than one million downloads in five years, especially thanks to the popularity of K-pop. In 2012, the company started the Star's Forest project, in which fans of a particular celebrity work together to grow virtual trees. Tree Planet then created real forests named after the fans' idols. Today, 32 of the company's forests are named after K-pop groups such as Shinee and Girls' Generation.
Part of the project's success has been due to increasing public concern about air quality degradation. The country started suffering from environmental pollution during the 1960s and 70s, with the onset of industrialization and toxic emissions from factories. By 2015, South Koreas' forests had decreased from 70 percent of its territory to around 52 percent. Since 2017, South Korea's annual PM density average amounts to 25.1 micrograms, the highest of any OECD country.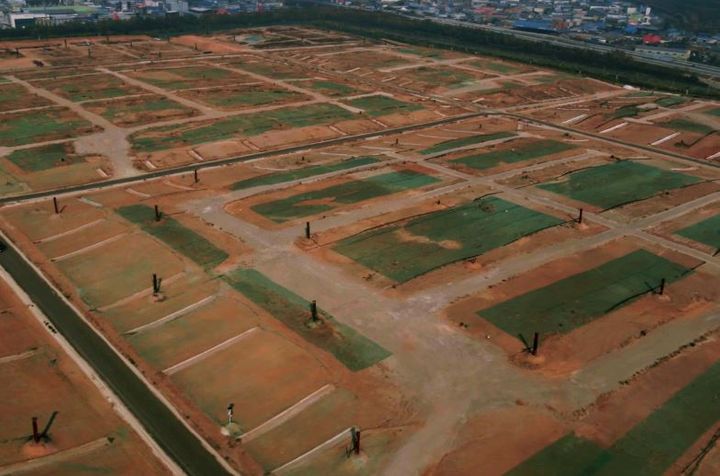 Media reports emphasizing the severity of the issue have increased since WHO's International Agency for Research on Cancer classified fine dust as Group 1 carcinogens in 2012. Last year, South Korean President Moon Jae-in called for extraordinary measures against fine dust, stressing that it should be considered a "disaster-like situation."
One of the easiest and surest ways to address this issue is reforestation. Forests absorb 42 percent of Seoul's fine dust, according to the National Institute of Forest Science. "Electronic air cleaners consume electric power, which is generated by the use of coal," said Chan-yeol Ahn, a researcher at the institute. "Ironically, they pollute air to clean it. Forests only need sun and water."
But although growing public concern about fine dust turned Tree Planet's mobile game into a countrywide hit, the mobile gaming community recently started moving away from the likes of virtual farming. So the company began diversifying its business model by launching its latest project, "Companion Trees," in 2017 – selling households local trees such as yews and blue candles as well as exotic species including olive trees, sophora plants and guava trees. 
"We thought that if people adopted a real companion tree, rather than growing one in a mobile game, they would develop affection for trees," Jeong said. "We donate one tree per every tree purchased. People can feel proud of the trees growing in their homes, while imagining those growing in real forests they have helped create. We also considered the fact that the market for indoor gardening was growing because of fine dust. "Since the project's birth, a total of 32,000 trees have been adopted– and an equivalent number donated and planted in forests.
Now, Tree Planet is creating a forest in a 16-square-kilometre landfill site in Incheon, on the western coast of the country, where waste from 25 million people living in and around Seoul is dumped. The forest is also meant to become a windshield against fine dust.
"Our goal is to have 100 million people experience growing trees," said Jeong. "Their experiences will lay the foundation for their love of trees and nature. In time, there will be no more fine dust."
This article is being published as part of Earth Beats, an international and collaborative initiative gathering 18 news media outlets from around the world to focus on solutions to waste and pollution.