(Yicai Global) Dec. 2 -- China's Chang'e-5 spacecraft successfully landed on the near side of the moon late yesterday and sent back images, the China National Space Administration announced today.
The lander touched down at the preselected landing area near 51.8 degrees west longitude and 43.1 degrees north latitude at 11.11 p.m. Earth (Beijing) time, the CNSA said.
China launched the Chang'e-5 spacecraft on Nov. 24. It comprises an orbiter, a lander, an ascender and a returner.
The lander-ascender combination of Chang'e-5, from about 15 kilometers above the lunar surface, and started a powered descent with a variable-thrust engine firing at 10.57 p.m. yesterday. Its relative vertical velocity to the Moon was fell by 1.7 km per second to zero.
The probe was adjusted and approached the lunar surface.
After automatically detecting and identifying obstacles, the probe selected the site and touched down on the north of the Mons Rumker in Oceanus Procellarum, also known as the Ocean of Storms, on the Moon's near side.
Cameras aboard the lander snapped images of the touchdown area during landing, the CNSA said.
The lander carried out a series of status checks and settings, guided by ground-control, to gear for around 48 hours of work on the lunar surface.
About 2 kg of samples is expected to be collected and sealed up. The ascender will then take off and dock with the orbiter-returner combo in orbit. After transferring the samples, the ascender will separate from the orbiter-returner.
The orbiter will then carry the returner back to Earth, where it is programmed to reenter the atmosphere and land at Siziwang Banner in northern China's Inner Mongolia Autonomous Region.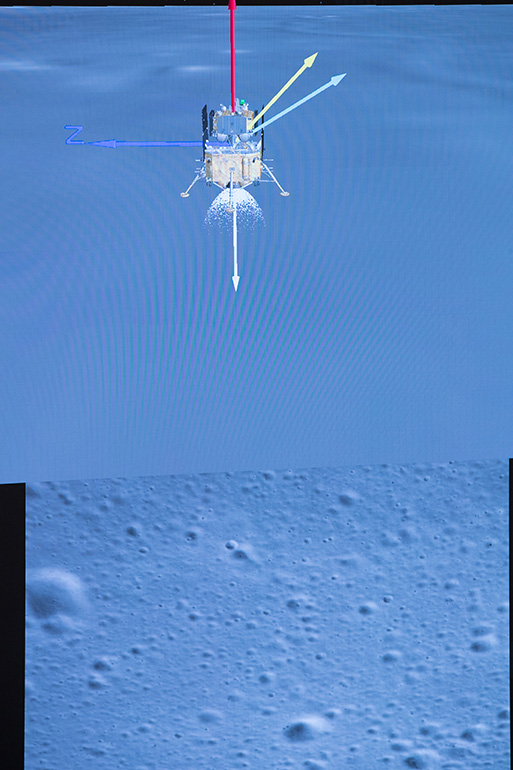 The Chang'e-5 spacecraft lands on the Moon.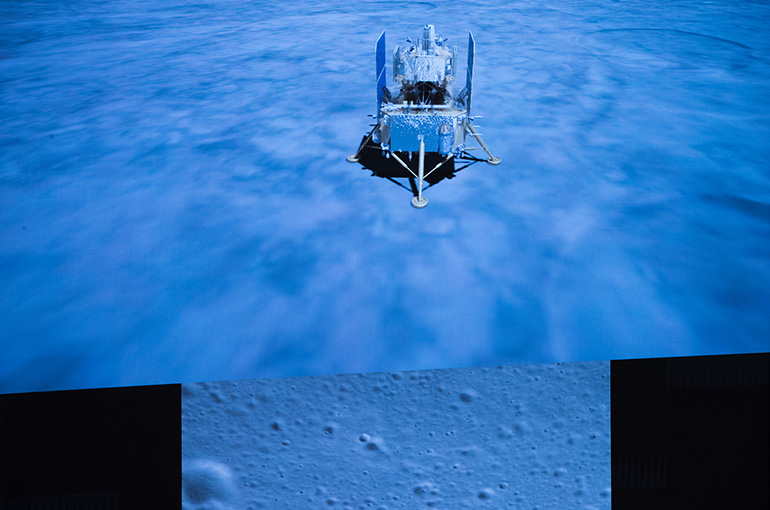 Chang'e-5 makes landfall.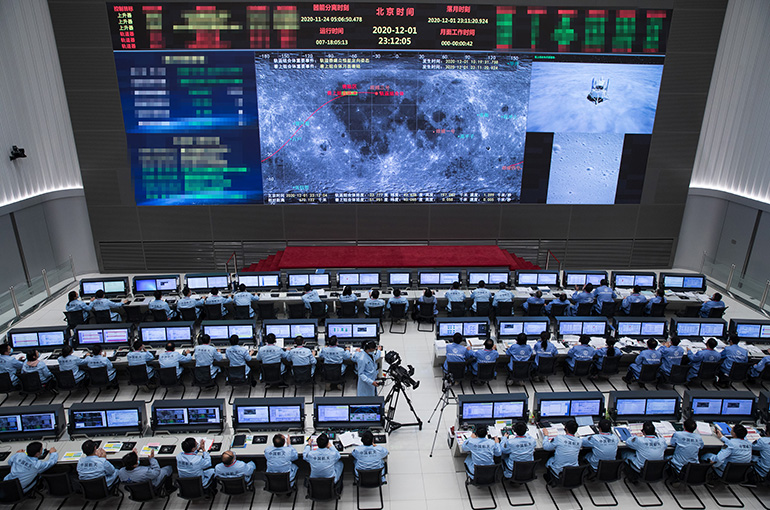 Technicians work at the Beijing Aerospace Control Center on Dec. 1.
Editor: Ben Armour