(Yicai Global) Sept. 23 -- China is becoming a top global innovation center, drawing not only venture capital but also entrepreneurs from around the world.
Yicai Global kicked off this year's selection process for the Yicai Brilliant award, now in its third year, back in February. We seek out and honor outstanding foreign business people in China via an objective, fair and rigorous methodology.
Over the past three years, we received submissions from over 100 entrepreneurs recommended by project founders, investors, venture capital firms, incubators, and Yicai's own editorial team. These go-getters hail from all across the world, and their founding teams boast international education and global professional backgrounds.
The sectors in which they are active reflect the world's latest trends. Over half are in internet technology development such as e-commerce and blockchain, followed by lifestyle catering, tourism and entertainment, as well as media, new energy, environmental protection and construction.
Although the international economic environment and industry trends have changed in the past three years, we can still sense the passion of entrepreneurship in these individuals. They usher in a new round of global business development to the drumbeat of their own practices, bridging the differences between countries and cultures.
Yicai Global drew up a comprehensive review system based on the nine factors of leadership, founder, team, innovation, technology, business model, growth, scale and valuation, and selected the five award winners for this year based on these criteria.
Yicai Global is joining hands with Slush, the world's leading tech innovation event, to announce the Yicai Brilliant 2019 list at Slush Shanghai on Sept. 26.
Starting out in Finland, Slush is the largest and best attended science and tech innovation conference in Europe. Slush Shanghai 2019 became the largest sci-tech innovation event with the most attendees and widest industry coverage in China after the event staged a successful Slush Nanjing and Slush Shenzhen this year.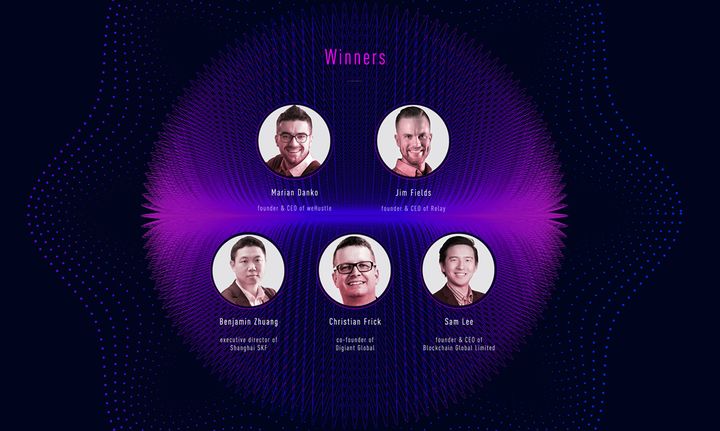 So without further fanfare, the winners of 2019 Yicai Brilliant award are (in no set order):
Sam Lee, founder and chief executive of Blockchain Global
Under Lee's vision and leadership, Blockchain Global has invested more than USD300 million in 80 blockchain-enabled companies and projects.
In 2014, Lee formed Blockchain Centre, the world's first non-profit innovation hub dedicated to promoting blockchain education and awareness. Blockchain Centre has partnered with government stakeholders in Australia, China, Russia, Lithuania, the US and UAE, leading to the setup of physical blockchain technology knowledge hubs across a footprint of 15 cities.
Lee is also a prominent member of the sector, with multiple speaking engagements and keynote addresses at international conferences such as the World Economic Forum, Future Investment Initiative, and APAC Blockchain and Consensus.
Jim Fields, founder and chief executive of Relay
Fields set up Relay, a Beijing-based cross-border marketing agency that helps visionary Chinese tech companies expand into Western markets, with the intention of crafting the first truly global Chinese brand.
With over 15 years of Chinese study and 10 years in China, Fields has focused on helping Chinese tech brands creatively and effectively communicate and engage with Western audiences. His work has gained millions of views across various platforms, both in China and internationally, for clients such as Xiaomi, Tencent Holdings, Lenovo, Meituan-Dianping, Pinduoduo and many others.
Benjamin Zhuang, director of Shanghai SKF
Zhuang founded Shanghai SKF, a company specializing in engineering, procurement and construction of high-end wooden structural projects, in 2012. He has helped government and real estate developers by providing consulting and planning services for wooden buildings all around China ever since.
Zhuang has collaborated with top domestic and overseas designers to improve on and bring these projects to fruition. He graduated from the University of British Columbia, Canada with a Master of Science degree. He has over 20 years' experience in planning, design and construction of edifices crafted from this warm organic building material.
Marian Danko, founder and chief executive of weHustle
Danko is a serial businessman with a passion for innovation and technology. As a founder and chief executive of weHustle, a platform for innovators, he is working on building and aggregating resources much needed for the ecosystem's players to grow.
Three years of partnering and working with 20 or more tech and entrepreneur communities in China led Danko to launch TECOM Conf, an annual event celebrating the power of the community. TECOM Conf Shanghai 2019 brought Danko to the attention of Forbes China.
With eight years of China experience, he has a deep understanding of the startup ecosystem, which has brought him to prominence and guarantees him a warm welcome as a frequent speaker and panelist at many entrepreneurship and innovation-related events.
Christian Frick, co-founder of Digiant Global
Frick is an investor and businessman, who holds a master's degree in Finance and Accounting and co-founded Digiant Global, which offers digital marketing and e-commerce solutions to companies to grow their business in China.
He has worked more than 25 years in different companies and sectors and spent several years living in Eastern Europe and in Asia (China and Singapore) in the course of his career.
Editor: Ben Armour