(Yicai Global) Jan. 19 -- As it turned out, GDP in the fourth quarter was not nearly as weak as I had feared.
On January 17, the National Bureau of Statistics (NBS) reported that growth in Q4 slowed to 2.9 percent, year-over-year, down from 3.9 percent in the third quarter.
The level of GDP was unchanged quarter-over-quarter (Figure 1). At year end, it lay some 2½ percent below its pre-Covid trend. The gap had been close to 4 percent in 2022Q1 and more than 11 percent in 2020Q1.
Figure 1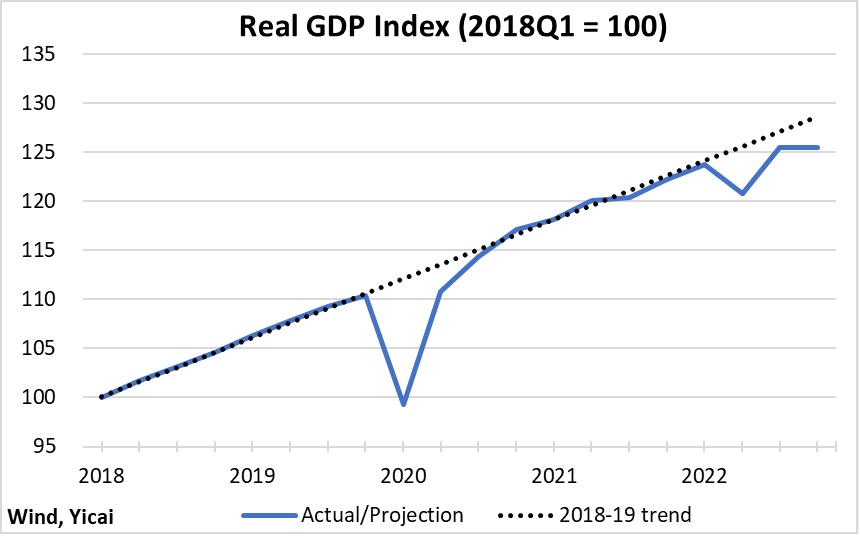 Notwithstanding mobility data indicating very few people were out and about, it appears that the economy picked up slightly in December. The rebound in activity was due to a smaller drop in the service sector than was recorded in November (Figure 2).
Figure 2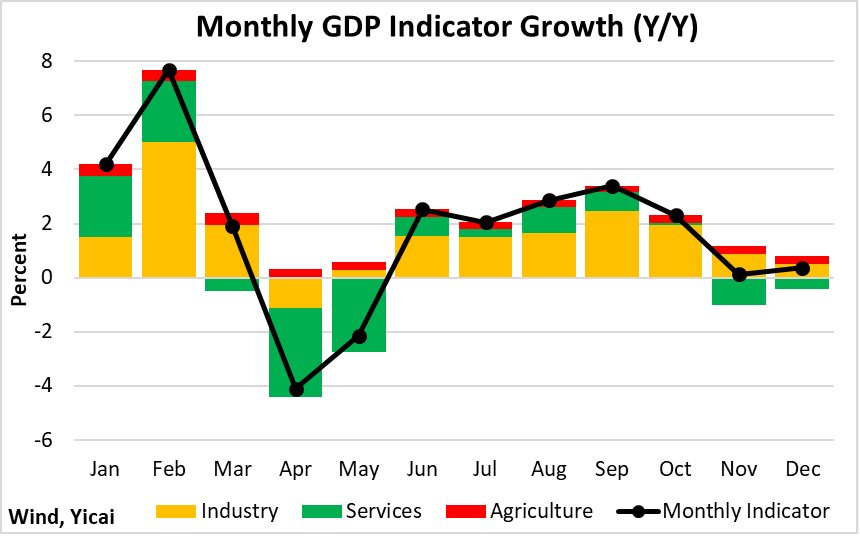 Growth for 2022 as a whole came in at 3 percent. This was down from 6 percent in 2019 and 5 percent, on average, over 2020-21 (Figure 3). Many factors weighed on the economy. Foremost of these was the spread of Covid-19 and efforts to contain the virus. In addition, a weak property market and geopolitical frictions also played a role.
Figure 3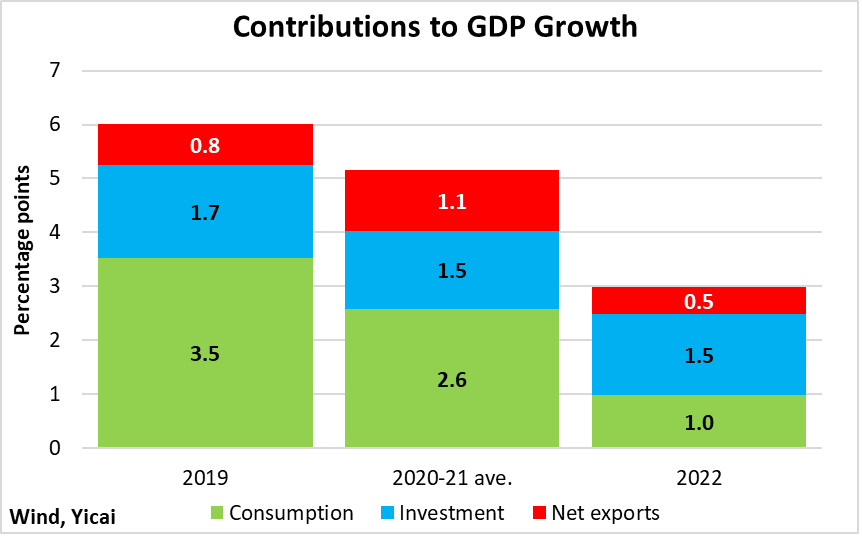 Consumption only contributed one percentage point to GDP growth in 2022, compared to 3 percentage points, on average, over the previous three years. Last year, households did not spend as much because their incomes increased less rapidly and an uncertain environment led them to stash more money away.
Investment contributed 1.5 percentage points to growth, roughly the same amount as in previous years. Investment in 2022 was largely state led, as real estate investment, 80 percent of which is undertaken by private firms, collapsed.
The contribution of net exports fell to 0.5 percentage points in 2022, about half the amount of the three previous years' average. Moreover, their contribution fell sharply in the fourth quarter.
More than 12 million new jobs were created in 2022, exceeding the government's target of 11 million (Figure 4). The pace of job creation slowed somewhat in the fourth quarter as the labour market was hit by the Omicron outbreak.
Figure 4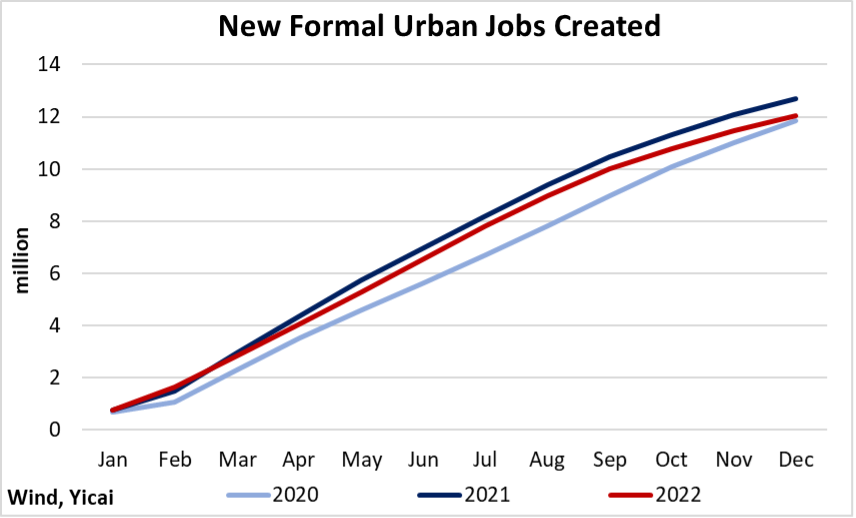 In 2022, consumption suffered from both slowing income growth and an increased willingness to save.
On average, over 2019-21, both households' disposable incomes and their expenditures rose by roughly 5 percent in real terms. In 2022, real incomes only rose by 3 percent and real expenditures were essentially flat. Given the uncertainties, households decided to increase their savings rate from already high levels (Figure 5).
Figure 5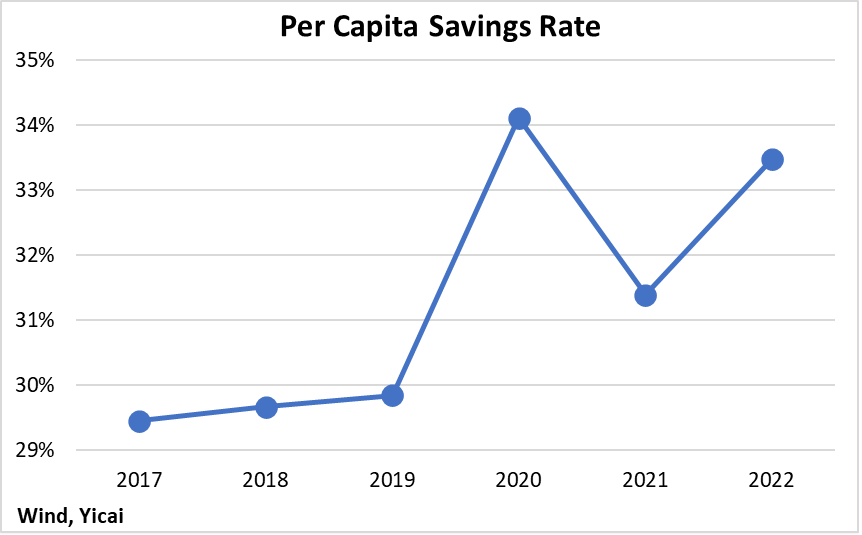 The modest rebound in sales of residential real estate and housing units completed, we saw mid-year, stalled in October while housing starts remained well below 2021 levels (Figure 6). The Omicron outbreak made house hunting even less attractive in the fourth quarter and developers continued to struggle to find the financing to complete existing projects.
Figure 6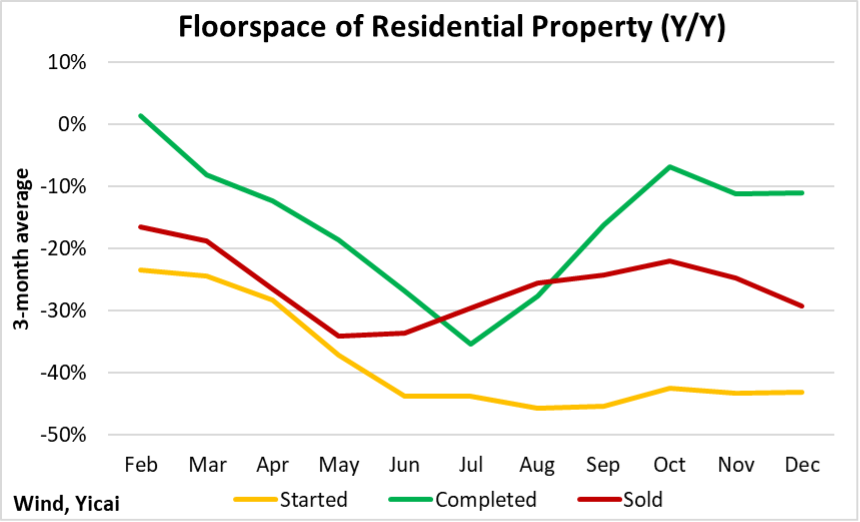 According to Kang Yi, the Director of the NBS, real estate and related industries account for 13-14 percent of the Chinese economy. He noted that the value-added of the real estate industry fell by 5 percent In 2022. This implies that the downturn in the property market took about 0.7 percentage points off of GDP growth.
He expects that, as supportive policies take effect, the market should improve in 2023. Moreover, he remains fairly upbeat on real estate's prospects. China's urbanization rate reached 65 percent last year, a rise of 0.5 percentage points from 2021. Compared to developed countries, where some 80 percent of the population lives in cities, China is far from fully urbanized. Thus, continued urbanization should underpin the demand for housing over the medium term.
The impact of the weak property market can also be seen in the fixed asset investment data. Investment in real estate development fell by 10 percent in 2022. Nevertheless, overall fixed asset investment growth remained stable at 5 percent. This was due to a sharp increase in infrastructure investment (Figure 7). Priority infrastructure sectors included water conservation (+14 percent), public facility management (+10 percent), and information transmission (+9 percent). Moreover, investment in health and social work increased by 26 percent last year.
Figure 7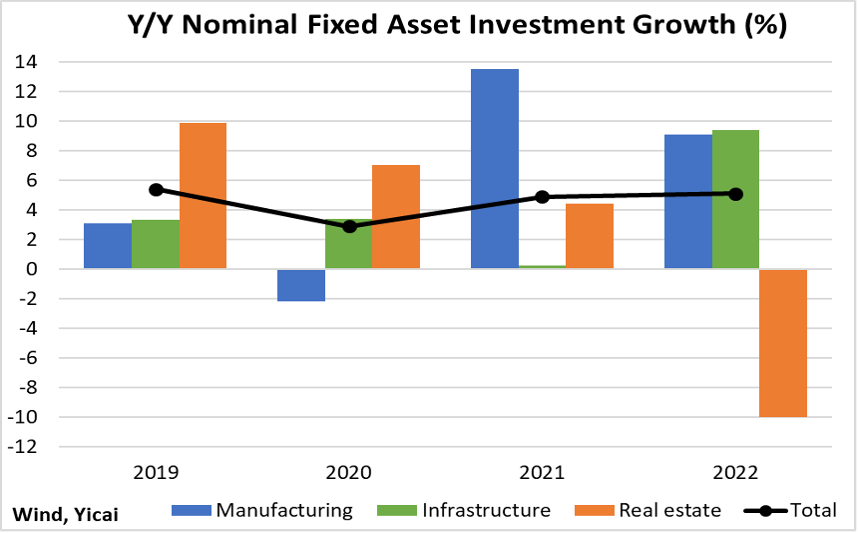 With China's per capita infrastructure capital stock only 20-30 percent that of developed countries', Kang Yi believes there is considerable scope to increase infrastructure investment further. Moreover, China's infrastructure is not evenly distributed across the country. Kang Yi sees room to close the infrastructure gaps in the central and western parts of the country and in rural regions.
Kang Yi says that infrastructure investment will not only be driven by upgrading traditional areas such as transportation, energy, and water conservation. Investment in "new infrastructure" will be focused on 5G, ultra-high voltage electricity transmission, intercity expressways, and big data.
After rising rapidly from the second half of 2020, China's exports weakened significantly in the fourth quarter, falling below year-ago levels (Figure 8).
Figure 8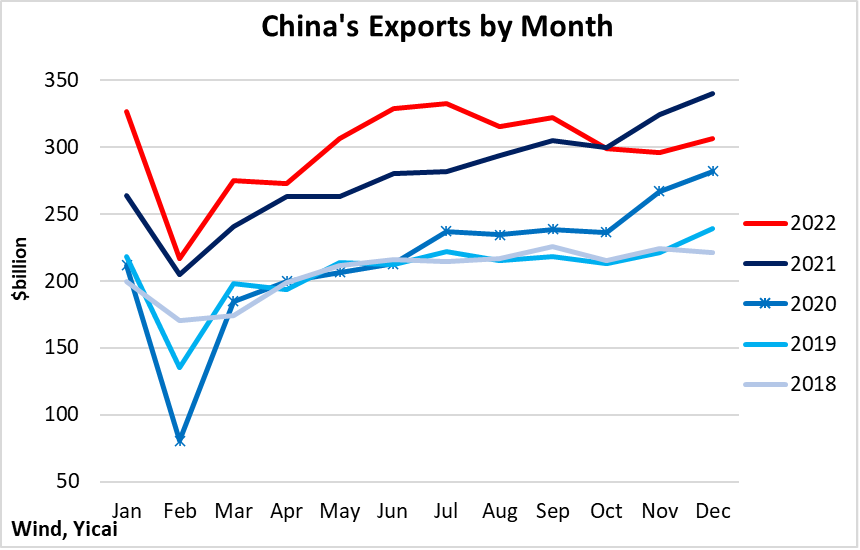 Export demand in many of China's trading partners is falling as their central banks raise interest rates to rein in inflation. However, there are also signs that China is losing share in key markets. Figure 9 shows the share of imports the EU and the US buy from China. Estimates for 2022 are based on the data available through November.
China's import share in the EU is down from 2020 highs but remains at a relatively elevated level. However, its share in the US is now the lowest in more than a decade, with much of the decline coming after the imposition of the tariffs imposed in 2019.
China sells its goods to a wide variety of countries and it can make up for lost sales in the EU and the US elsewhere. But a loss of share in the richest markets could indicate budding competitiveness problems and needs to be monitored closely.  
Figure 9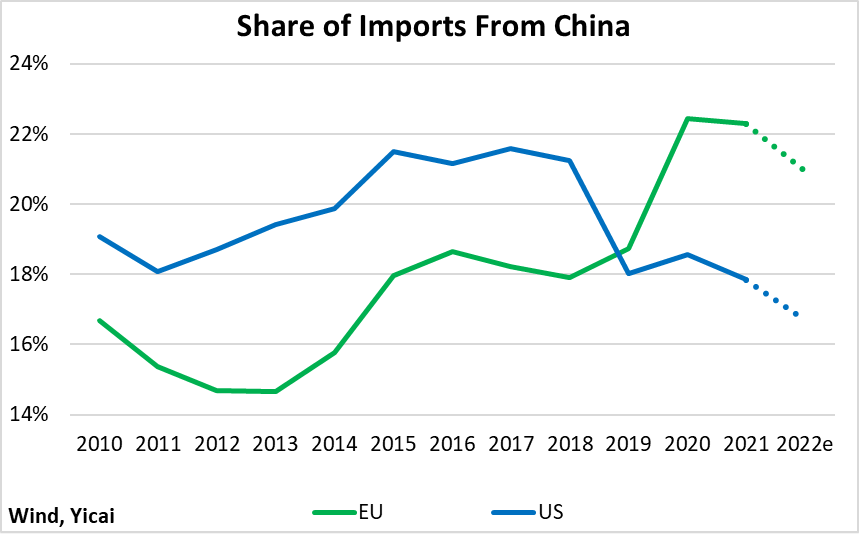 These GDP data are backward looking and, given the unique developments last year, they may be of limited usefulness in helping to project how the economy might evolve in 2023. Luckily, the Yicai Research Institute recently conducted its annual survey of Chief Economists and we can benefit from their collective wisdom.
The eleven participants see GDP growth rebounding to 5.1 percent in 2023, with the most optimistic among them forecasting 5.5 percent and the most pessimistic at 4.8 percent.
They predict that consumption will benefit from the adjustment in public health policy and that retail sales will grow by almost 7 percent in 2023, up from essentially no growth in 2022. All of the economists foresee an improvement in real estate investment from 2022's decline of 10 percent. On average, they expect it to remain flat in 2023. However, there is no real consensus, with the most bullish predicting growth in excess of 6 percent while the most bearish see a decline of 3 percent. All of the economists expect export growth to fall well below 2022's 11 percent but the range of forecasts is wide: -10 to 5 percent.
Some early data that suggests 2023 is getting off to a good start.
The large negative mobility gap which indicated much less traffic congestion in December, compared to a year earlier, dissipated fairly quickly. And, by the second week of January, the gap had actually turned positive (Figure 10). This points to a rapid return to normal business operations in China's biggest 30 cities.
Figure 10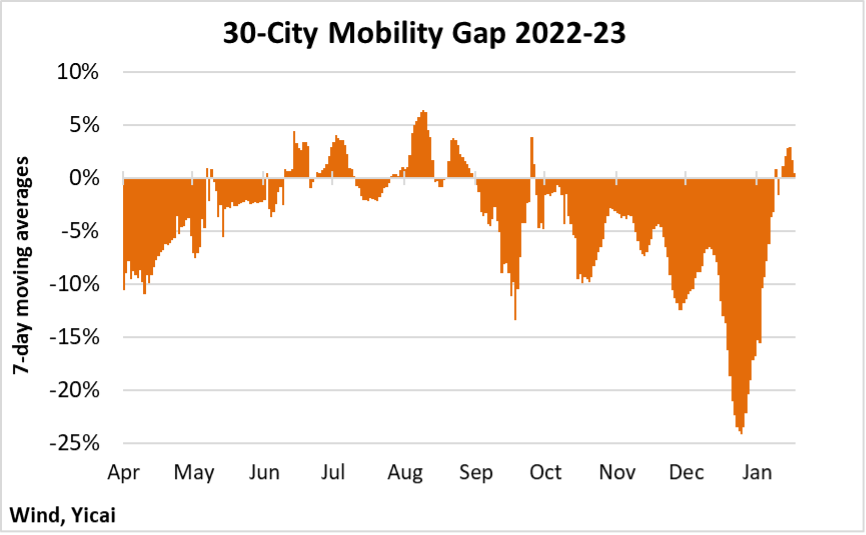 Not only are people going back to work, they are travelling for pleasure as well. The Chinese New Year will soon be here. After having to stay put, many Chinese people are deciding to return home and visit their families. Figure 11 shows person-trips during the New Year period with "0" on the horizontal axis indicating New Year's Day. While they remain well below pre-Covid levels, trips this year are up close to 60 percent from 2022.
Figure 11
With the Tiger Year quickly drawing to a close, I look forward to a much tamer Year of the Rabbit.
I wish you and your families health, peace and prosperity – 万事如意!