(Yicai Global) Oct. 15 -- The Yicai High Frequency Economic Activity Index fell to its lowest level in three months in the week ended Oct. 13, dragged down by a big drop in commercial real estate sales following the eight-day National Day public holiday.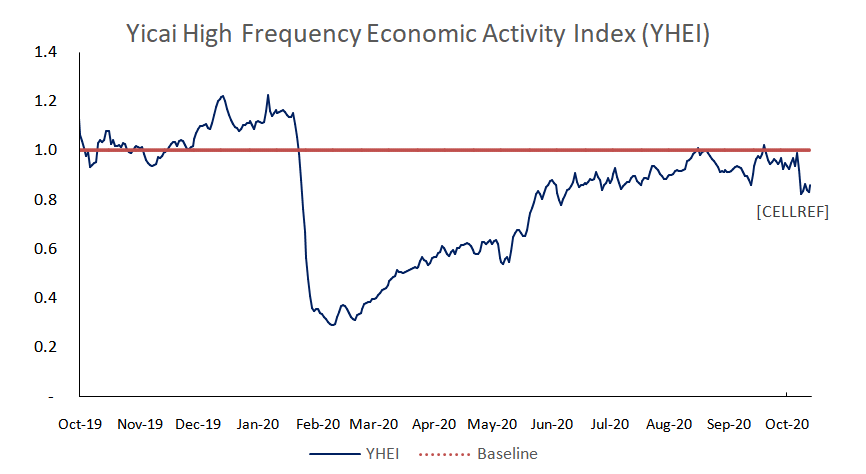 The YHEI reading, which is a gauge developed by the Yicai Research Institute and Yicai Global to track and project China's economic recovery amid the Covid-19 pandemic, came to 0.86 that week. This is a 13 percent decline from the week before and a 20 percent fall from the same period last year.
The 'Commercial Property Sales Index in 30 Cities' plummeted 0.44 points to 0.78, or 36 percent, in the five days to Oct. 13 from the previous week which coincided with an extended public holiday that would have seen a peak in sales.
As real estate borrowing reaches new highs, China's regulators have recently set new financing rules to require property developers to find ways to reduce their debt levels and mitigate risk. In August, the Ministry of Housing and Urban-Rural Development and the People's Bank of China drew up "three red lines" to control the scale of debt in the real estate sector. These are a 70 percent upper limit of debt-to-asset ratio after excluding advance receipts, a 100 percent upper limit for net debt ratio and a one-to-one down limit ratio for cash against short-term debts.
These new rules might force some developers to push sales in the short term, which could affect their future ability to expand.
The weekly YHEI, which started on June 5, uses daily high-frequency data in the five fields of transportation, energy and environment, consumption and trade, businesses and consumer confidence to design new economic indicators based on a science-based analytical framework to grasp trends in a timely and effective manner.
Editor: Kim Taylor