(Yicai Global) July 21 -- It's been about seven weeks since they removed Shanghai's mobility restrictions. With people moving freely about the city, life appears to be back to normal. But the scars are also evident. Many storefronts remain shuttered. The malls aren't nearly as crowded as they used to be. And waitresses regularly tell me how slow business is.
Shanghai's GDP fell by close to 14 percent year-over-year in the second quarter, as measures taken to contain the Omicron outbreak closed down much of the city for two of the three months. Its unemployment rate was close to double the national average.
While the city staged a valiant comeback in June, a pervasive sense of caution remains. People are worried that Covid can re-emerge. Even being detected in the presence of infected individuals can have serious consequences. So, despite a renewed push to roll out vaccines, folks stay close to home and keep a tight rein on their spending.
At the national level, the economic data were not nearly as miserable.
The economy eked out a 0.4 percent year-over-year gain in the second quarter. Our monthly indicator suggests that growth turned positive in June after having declined in April and May (Figure 1).
Figure 1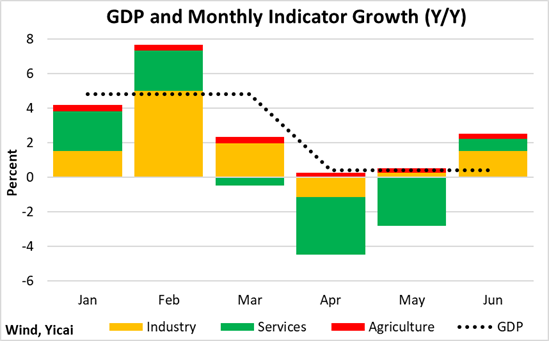 Exports remain the brightest spot.
Despite the logistical difficulties caused by the pandemic control measures and notwithstanding the strong increase last year, exports were up by 13 percent year-over-year in the quarter (Figure 2). Incredibly, they are about 50 percent higher than their 2018-20 average. This is a testament not only to China's trading partners' strong demand for goods but also to China's ability to get those goods to market.  
Figure 2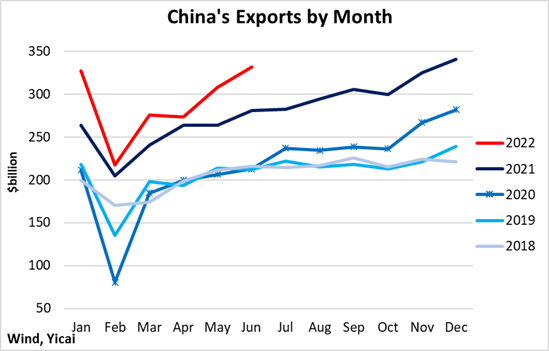 China's labour market continues to improve.
After lagging last year's performance in March through May, job creation in June was on par with 2021's level (Figure 3). So far this year, the economy has created 6.5 million new urban jobs in the formal labour market and it appears that the target of 11 million for the year is well within reach.
Figure 3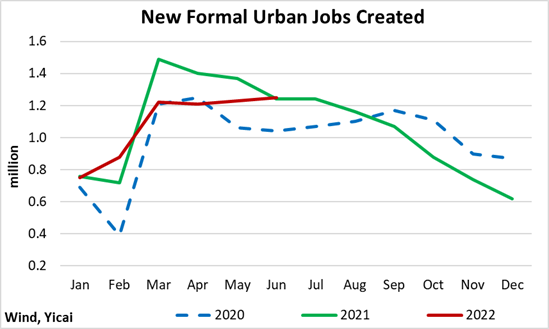 The unemployment rates show that the labour market has become increasingly segmented.
The unemployment rate for core workers – those aged 25-59 – dipped to 4.5 percent, which is a touch lower than before the first outbreak of the pandemic in early 2020 (Figure 4). 
Meanwhile, the youth unemployment rate exceeded 19 percent. According to National Bureau of Statistics spokesman Fu Linghui, the number of college graduates reached a record high this year but Covid-related uncertainty is making employers wary of taking on new staff.  
Figure 4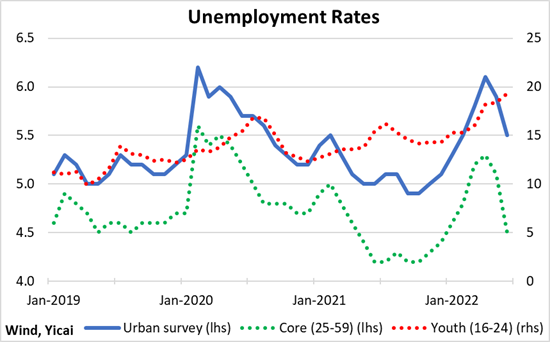 Despite the labour market's improvement in the last couple of months, concerns about job security weigh on the economy.
The People's Bank of China's recent survey revealed a sharp drop in the employment expectations index. Indeed, survey respondents are more pessimistic about their job prospects now than they had been during the first Covid outbreak in 2020Q1, which had a much more devastating impact on the economy (Figure 5).
Figure 5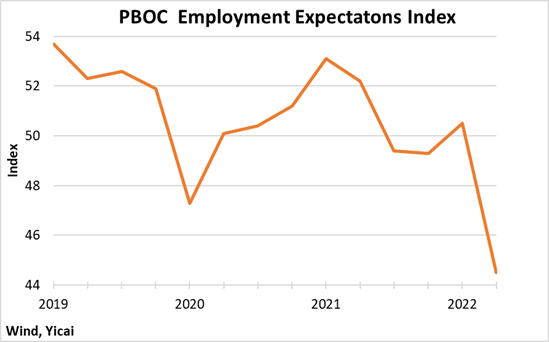 As long as consumers feel that their employment is at risk, it is hard to expect a strong rebound in consumption.
While the Omicron outbreak resulted in a shallower decline in retail sales than the 2020 episode, consumer caution suggests a very gradual rebound over the coming months (Figure 6).
Figure 6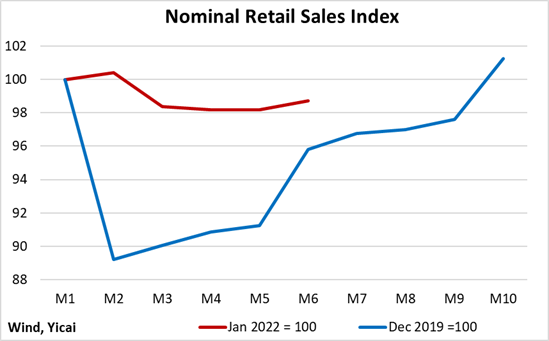 It is also not surprising that new home sales are tepid, down 27 percent year-over-year in the first half. However, some of that weakness arises from the very strong performance in 2021 (Figure 7). Compared to the 2017-19 average, this year's sales are "only" down 14 percent.
Figure 7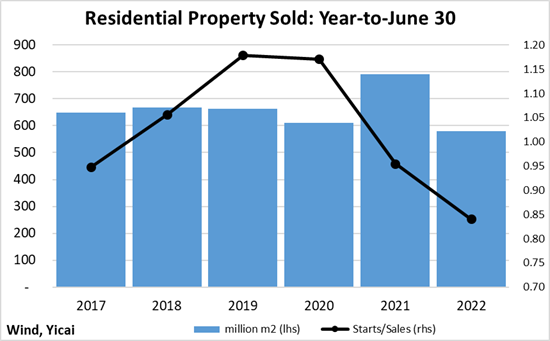 The volume of housing starts has fallen more sharply than that of sales. The starts-to-sales ratio dropped to 0.84 in the first half of this year, well below the 1.06 average over the previous five years. This suggests that even the sharply reduced sales volume we have seen this year should support significantly more housing activity.
The weakness in housing demand is reflected in falling home prices.
Since their peak in August 2021, second-hand apartment prices have fallen by 3 percent (Figure 8). This is in line with what we saw during the downturns in 2011 and 2014.  If the pandemic remains under control, experience suggests that we should be reaching this cycle's trough.
Figure 8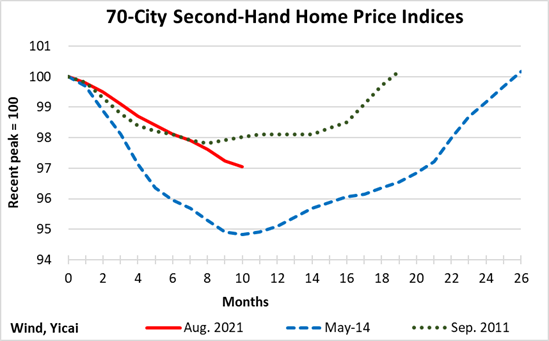 The reduction in real estate investment has been more than offset by increases in infrastructure capex (Figure 9). This is, in part, in response to the package of 33 measures released by the State Council in late May, which is designed to support the economy.
Investment in "new infrastructure" – 5G base stations and data centers – as well as wind and solar power farms and water conservancy appears to be growing rapidly. This rebalancing of investment away from housing could be a blessing in disguise. It will likely improve the economy's long-run efficiency and hasten its transition to a low-carbon mode of production.
Figure 9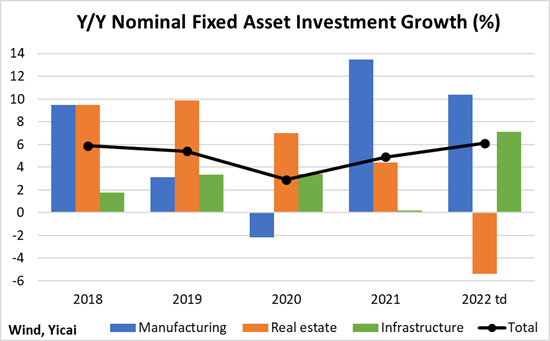 As was the case in previous years, state-owned enterprises have stepped up their spending in response to the weakness of private investment demand (Figure 10).
Figure 10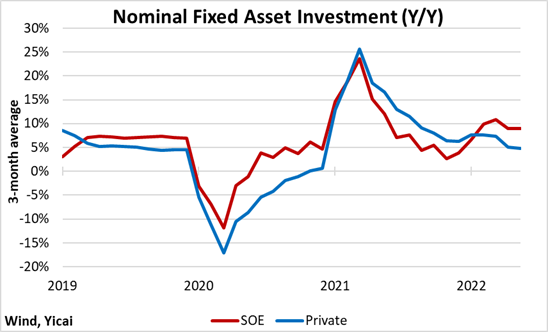 Fiscal policy's "automatic stabilizers" have also provided considerable support to the economy.
The cumulative fiscal deficit in the first half of the year was CNY 2.4 trillion, CNY 1.9 trillion larger than the deficit recorded in the first six months of 2021 (Figure 11). The increase in red ink was the result of a 10 percent drop in fiscal revenue, while government expenditures rose by 6 percent.  The swing in the deficit is 3.8 percent of GDP at annual rates.
Figure 11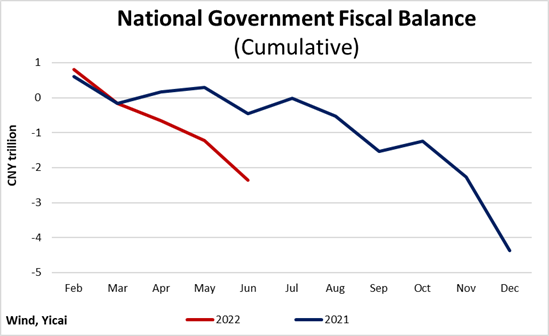 Credit policy also highlights the importance of government support in the first half.
The growth of credit to the private sector has remained stable at 9 percent, with slower demand from households being offset by stronger demand from firms. In contrast, the growth of finance tapped through government bonds accelerated to 19 percent year-over-year in June from 15 percent in December 2021 (Figure 12).
Figure 12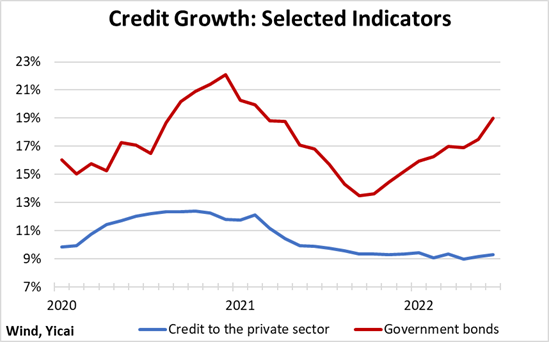 What can we expect in the second half of the year?
So much depends on the course of the virus. New variants continue to be detected and the Chinese leadership has been clear that it will prioritize public health.
In a scenario in which Covid is well contained, I think that it is reasonable that the economy can rebound to its pre-pandemic trend in the third quarter and then remain there in Q4. This would put annual growth in the 4.2-4.7 percent range (Figure 13).
However, the composition of demand will be different from what we would have expected before the pandemic hit: private consumption and housing demand will be weaker, while exports and public investment will be stronger.
Figure 13