This article was originally published on China Tech Insights.
(Yicai Global) Sept. 22 -- Apple held its 2017 iPhone event on Tuesday, showcasing its much-expected new models. These models include the iPhone 8, iPhone 8 Plus and its grand finale, iPhone X. Without a doubt, the new iPhone combo has stolen the attention of individuals on a global scale, and therefore became the tech scene buzz of the week. Countless media reporters and analysts have passionately engaged in predicting the future performance of the new iPhones in the market.
Amongst all the markets, China has been described as Apple's biggest hope and greatest headache. The acceptance and sales of iPhone 8 & X in China is particularly important for the tech giant to determine how effectively they could assist in driving Chinese consumers' interest in order to boost its sales numbers. Will the new iPhones help Apple pick up its sparkle in China? Penguin Intelligence and China Tech Insights conducted an online survey with 73,900 Chinese netizens and released some data that may shed some light on the future of the new releases by Apple. We handpicked some key figures and stats from the report as follow.
30% of current iPhone users said that they will buy a new iPhone
Before the recent iPhone Event, 29.5% of iPhone users (excluding users who formerly but no longer use iPhone) say that they intend to purchase one of the new iPhones. Consequently, that figure has risen to 33.8% after the event. In comparison, a greater percentage of users after the event apparently made up their minds to refrain from purchasing any of the new iPhones. That percentage of users has risen from 29.4% to 39.9%. On the other hand, only 5.2% of Android users (*those who have never used an iPhone) were motivated to purchase one of the new models. Meanwhile over 80% have stated that they are not interested.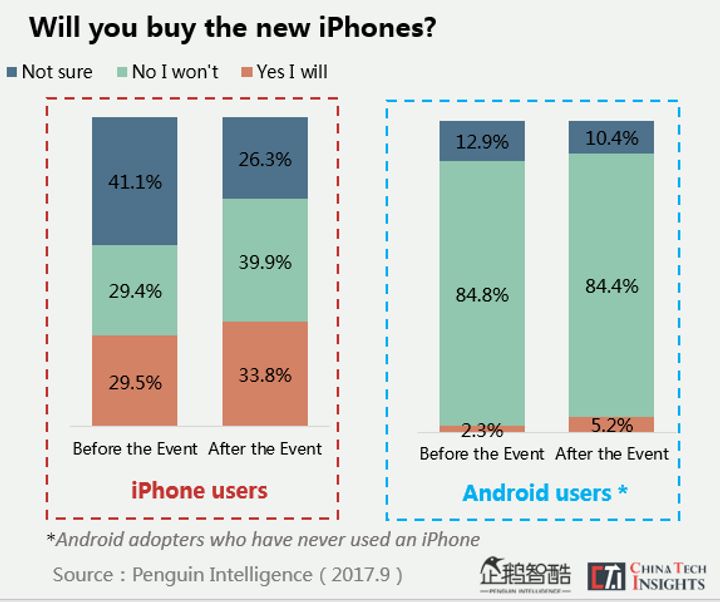 Despite the high cost of the iPhone X, Chinese users prefer it over the iPhone 8
With its entry-level model starting at RMB 8,388, the iPhone X can certainly be considered as pricey. More than half of current iPhone users (66.2%) are considering purchasing the iPhone X over the other new models. While 20.4% said that they would consider iPhone 8 Plus and the remaining 13.4%, iPhone 8.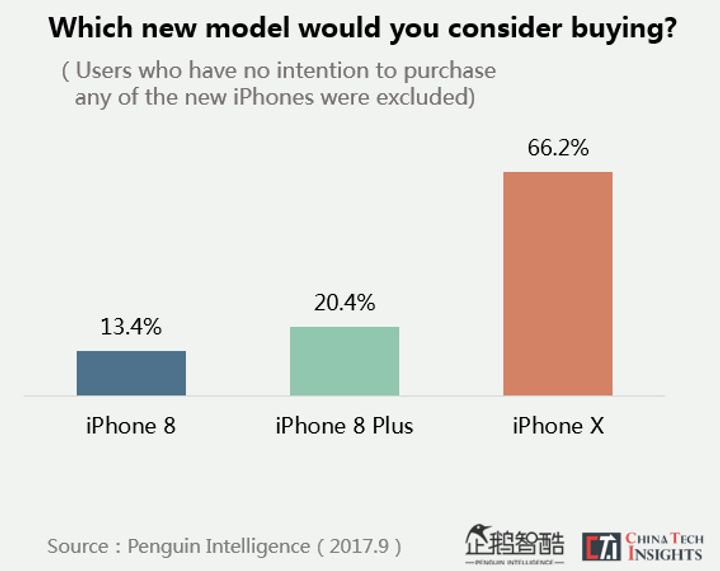 Gold color is still the love for Chinese users
In regards to the new iPhone 8/8 Plus, 45.6% chose the Gold color, 31.9% for Space Gray and 22.5% for Silver. For iPhone X, 58.9% of Chinese customers chose Space Gray over Silver (41.1%). In terms of storage capacity, 46.3% chose the 256GB version and the remaining 53.7% chose 64GB.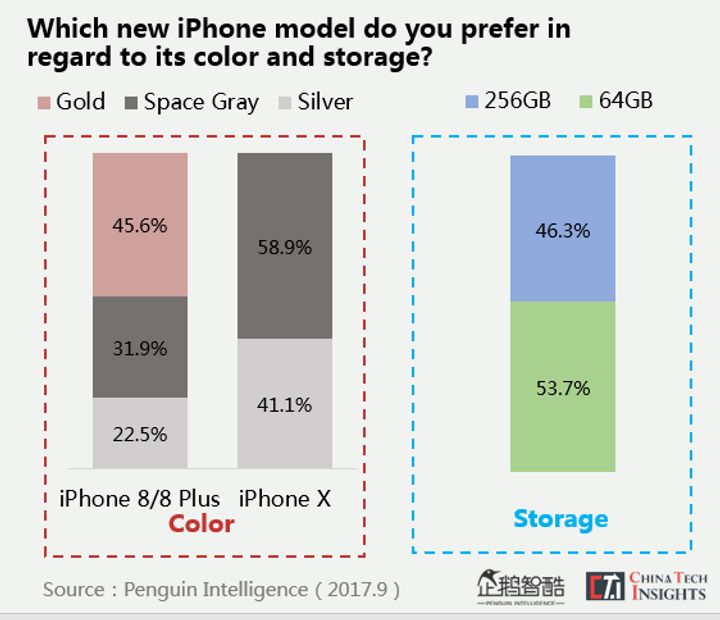 Most users choose iPhone 8 for its wireless charging over iPhone X's all-screen design
Approximately half of Chinese customers would like to purchase an iPhone 8/8 Plus because of its wireless charging function, while 36.7% would rather purchase the new iPhone X for its all-glass design and 25.8% for the upgraded chips. The integration of AR (augmented reality) technology is the least attractive feature for users. What's also worth noting is that 20.4% of respondents' reports revealed that none of those changes were actually attractive, however, they would still consider buying a new model.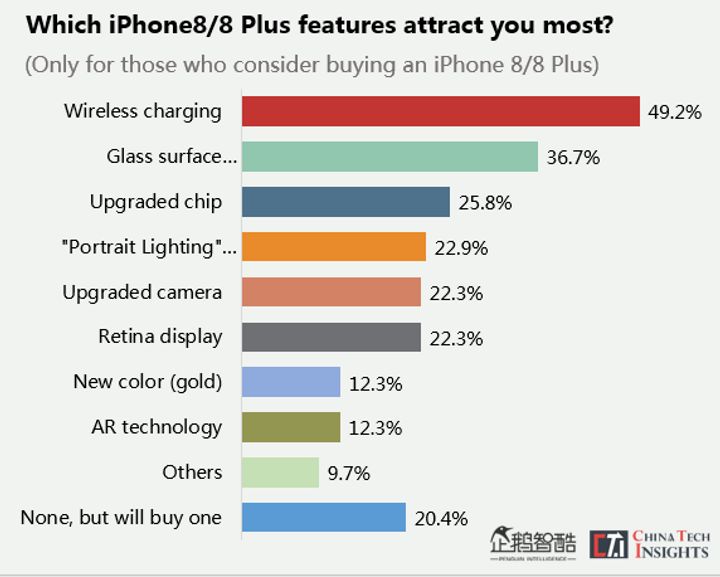 For those who considered owning the new iPhone X, 64.1% said that the full-screen design is its most attractive feature, followed by 55.5% for its facial recognition and 49.9% for wireless charging.
The high cost is the main reason for some individuals to consider not purchasing an iPhone X
71.4% of respondents who considered an iPhone 8/8 Plus over iPhone X said that it was primarily due to its high price tag. Comparatively, 20% said it was due to the removal of the home button and the "bang" area (located on the upper region of the phone, it is the area which housed modules like the front camera, laser sensor, etc.).