(Yicai Global) Aug. 4 -- Confidence in China's economy remained positive for the second month in a row in August, despite a modest dip, according to a survey of chief economists by Yicai Global.
The Yicai Chief Economists Confidence Index edged down to 50.2 for August from 50.6 for July, the poll of 17 leading economists in China showed. A reading above 50 indicates positive sentiment. The figure was 49.8 in June.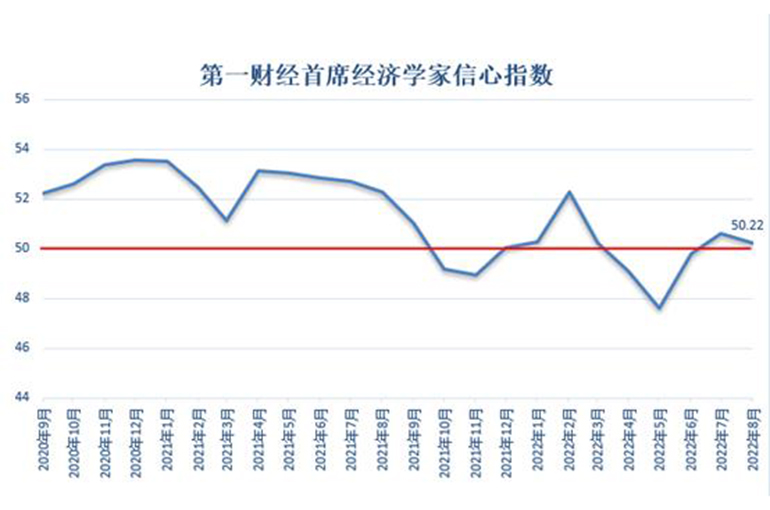 China's economic data for last moth will improve as policies to stabilize growth continued to be enhanced, and the economy kept on gradually recovering, according to the economists.
The consumer price index likely rose 2.8 percent in July from a year earlier, up from 2.5 percent in June, the results of the survey showed. The producer price index is expected to have soared 5 percent, slowing from June's 6.1 percent clip.
The economists predicted July's annual increase in consumption, value-added industrial output, and fixed-asset investment to have climbed 4.8 percent, 4.9 percent, and 6.2 percent, respectively, higher than the official figures for the previous month.
China's trade surplus likely shrank more than 15 percent to USD82.8 billion, they said.
The economists also predicted that the Chinese yuan will remain steady versus the US dollar at 6.75 before rebounding to 6.68 by the end of the year.
New yuan loans probably shrank to about CNY1.3 trillion (USD188 billion) in July, and social financing is expected to have reached CNY1.6 trillion, a big drop from June. Growth in M2 broad money is thought to have averaged 11.5 percent, slightly higher than the official 11.4 percent the previous month.
Property market risks had a relatively limited impact on developers and banks, so the market will gradually adjust in the future, the economists noted, adding that interest rates on deposits and loans, as well as banks' reserve requirement ratio, are not likely to be cut this month.
Editors: Xu Wei, Futura Costaglione