(Yicai Global) Oct. 13 -- A "tidal wave" of power cuts has recently swept across several provinces of China. Different factors have contributed to the blackouts. In some provinces, power cuts were caused by active responses. The local governments of those provinces implemented stringent measures to actively respond to the energy consumption limits "dual-control" – on total energy consumption and energy intensity. The measures required factories to limit manufacturing operations to three, two or even one day a week. Whereas for those provinces facing unexpected imbalance between power supply and demand, the power cuts were driven by passive responses. They were forced to implement unannounced power rationing to avoid power grid system accidents. This round of power cuts, which initially hit factories, has spread to residential users and made "power rationing" a burning social issue.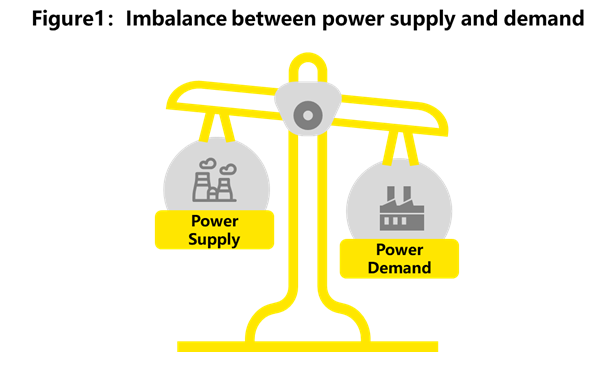 What is causing the imbalance between power supply and demand?
1. Tight power supply
1.1 The shortage of raw coal has led to a sharp rise in prices.
China has made substantial progress in the supply-side structural reform (SSSR). By the end of 2020, China has closed about 5,500 coal mines, eliminated over 1 billion tons of outdated coal output capacity annually, and shrunk coal mines to less than 4,700. However, the large amount of withdrawn production capacity has not been supplemented by advanced production capacity in a timely manner, resulting in a mining volumes shortfall in the domestic market.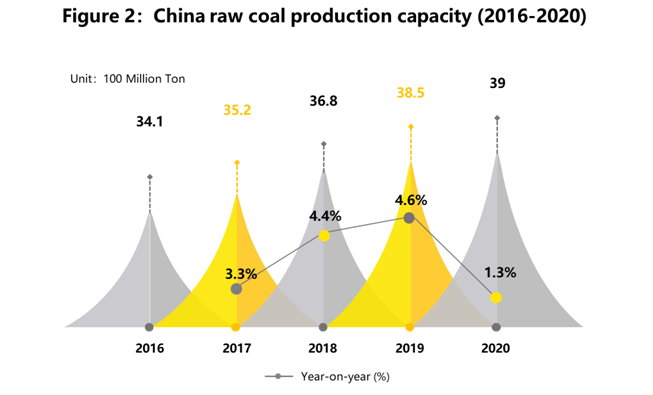 Source: China National Coal Association
On the other hand, China's coal imports have trended downward. China is the world's largest coal importer, mainly from five countries: Indonesia, Australia, Russia, Mongolia and the Philippines. However, owing to factors linked to geopolitics, epidemics and rising shipping prices, China's coal imports are on a downward trend. From January to August 2021, China imported 198 million tons of coal, 10.3% down from the same period last year.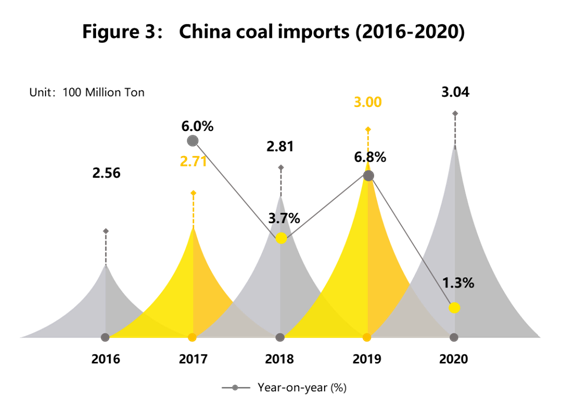 Source: China National Coal Association
The shortage of coal supply has led to a sharp rise in prices. According to the monitoring information released by the Ministry of Commerce, the national coal price continued to rise from August 30 to September 5, during which the prices of thermal coal, coking coal and anthracite coal has increased by 2.1%, 1.8%and 1% respectively. From January to August 2021, the domestic and imported coal supply was 2.8 billion tons. The consumption was estimated to be 2.94 billion tons, creating a widening gap between supply and demand of about 140 million tons. The coal stockpiles of power plants have hit a five-year record low, presenting the pressing needs for coal supply.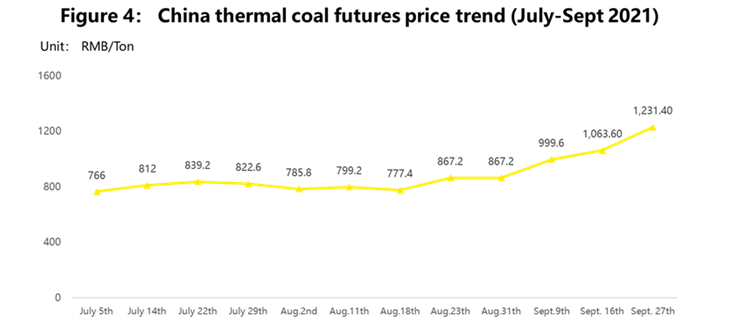 Source: Zhengzhou Commodity Exchange
1.2 High coal price has led to the dilemma – the more power, the higher loss
In 2019, China abolished the "coal-electricity linkage" policy and thoroughly decoupled the coal-electricity linkage mechanism after 15 years of implementation. According to the National Development and Reform Commission's (NDRC) guidelines, the tariff for coal-fired power generation will be set based on the "base price + fluctuations" calculation, with an increase of no more than 10% and a decrease of no more than 15% in principle. This electricity price mechanism results in the cost pressure of ascending coal prices not being effectively transmitted. The more power coal-fired power plants generate, the more money they lose, thus lacking the incentive to increase their supply proactively.
1.3 Renewable energy has not yet made up for the decline in coal-fired electricity
According to the data from January to June this year, the national wind and solar energy generation accounted for less than 10%. The rates were even considerably lower in some particular areas. To ensure a secure and stable operation of the power grid, it is important to ensure that the system frequency is kept within its safe range when the output of the coal-fired electricity drops. Otherwise, the grid connecting and absorptive capacity of renewable energy will be further diminished. As a result, the new energy and fossil energy cannot effectively complement each other.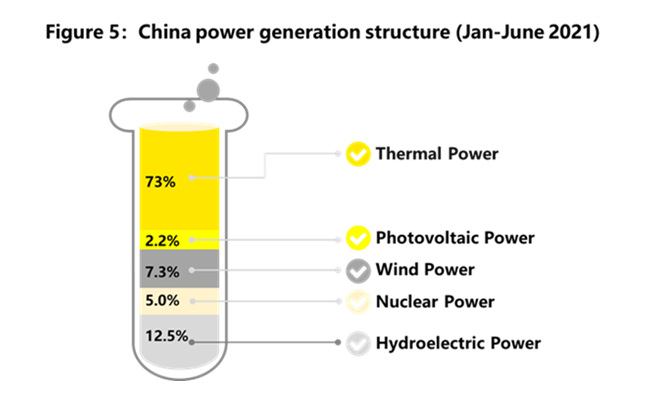 Source: National Bureau ofStatistics
2. Significant increase in demand
2.1 Industrial production drives the rapid growth of electricity consumption
As China has taken a lead in successfully controlling the COVID-19 pandemic and also formed a comprehensive industrial system and value chain, China's exports have continued to grow since last year, which has strongly stimulated China's industrial production. Since October 2020, China's exports have maintained a double-digit year-on-year growth rate, and industrial electricity consumption has also continued to rise. In the first half of 2021, industrial electricity consumption increased by 16.5% year-on-year, contributing 67.5% to overall electricity consumption growth in the society, significantly exceeding the previous year's level.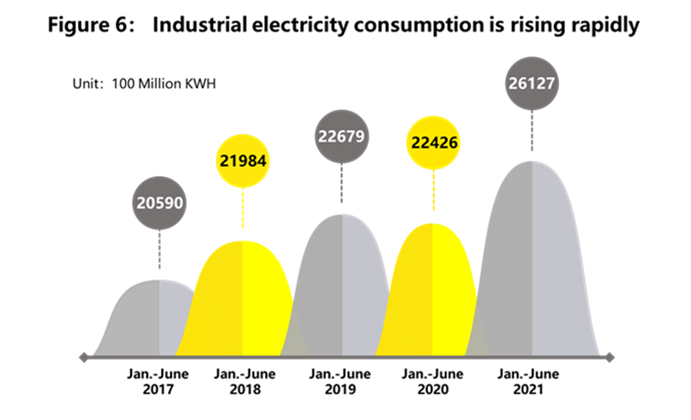 Source: National Energy Administration
3. How can we avoid power rationing in the context of carbon neutrality?
What is the connection between the sudden wave of power cuts and the "dual carbon" goals? In the context of"emission peak" and "carbon neutrality", will China still be able to supply sufficient and stable power throughout the year and avoid the energy crisis similar to what Europe is facing? The answer is yes. In fact, only by getting rid of fossil energy dependence and embarking on a low-carbon development path can China avoid the long-term power supply gap.
In response to active power rationing, under the policy of dual control of energy consumption, enterprises with "high energy consumption and high emission" will have to actively adopt green technology to achieve industrial transformation upgrade and optimize energy consumption structure. Both the government and enterprises shall scientifically plan the path of green development to avoid short-term behaviors and pursuing short-term interests.
In response to passive power rationing, in the short run, the governments (including the NDRC and the National Energy Administration) have been actively taking measures to alleviate the pressure of coal supply, to ensure an orderly power supply and to fulfill the electricity consumption demand for residential use and industrial production. To establish a long-term mechanism and rise above the "new normal" of intermittent imbalance between power supply and demand on the road to decarbonization, we need to objectively analyze the underlying reasons behind the power shortfalls. From the perspective of long-term development, we shall find a fundamental solution to the imbalance of energy supply and demand balance.

3.1 Scientifically plan alternative paths to clean energy
The substitution of clean electricity for fossil energy is an inevitable trend of energy structure transformation. However, eliminating fossil energy shall not be done in an over-aggressive manner. The adjustment of energy structure shall be in pace with technological development. In the planning of energy substitution, we shall focus not only on the deduction of the ideal future state, but also find a solution for the contradiction between energy supply and demand in extreme scenarios. We need to rationally plan the demand for reserve power plants and reserve capacity, strengthen the interconnection and microcirculation of power grids, diverse the single power supply mode, and formulate a thorough contingency plan to avoid emergencies and incidents.
3.2 Accelerate the construction of a new generation power system
Electricity consumption will continue to grow due to the large-scale electrification in the industrial sector, transportation and buildings. Renewable energy can maintain a high grid connection and absorptive capacity by establishing a multi-energy supply system based on "wind, solar, water and thermal power as well as energy storage", building an intelligent and strong digital grid system with cross-regional coordination of transmission and two-way energy flows, and developing a power regulation and control system with active defense and smart decision-making capability. Furthermore, improving the accuracy of electricity load forecasting will enhance the power system's resilience and promote an orderly power usage in the society.
3.3 Guidelines to help industries reduce energy consumption and carbon emissions
It is suggested that the government can consider all the viewpoints, coordinate the overall energy chain and establish a pricing mechanism. Electricity and carbon trading markets, green certificate mechanisms as well as other reward and penalty system will guide the society to share the responsibilities of carbon reduction cost. Furthermore, local governments need to improve the willingness of enterprises to actively reduce their carbon emission intensity and seek green transformation opportunities. Restricting regular production and operation activities through administrative orders is not the answer to achieve the goal of dual control of energy consumption. It may even undermine market-oriented economic principles and lead to a retaliatory backlash.
3.4 Promote green and low-carbon transformation
Energy transformation driven by green technology innovation is fundamental to the realization of low-carbon, clean and efficient energy. Enterprises need to fully understand their energy consumption characteristics and carbon footprint from their business and industrial supply chains to accurately identify the starting point of green transformation and effectively put the low-carbon development into practice. At the same time, we can create innovative green financial products to build a better industry-financed ecosystem for investors and enterprises, explore investment opportunities, guide capital investment flows, and help achieve the dual carbon goals for the society.