(Yicai Global) June 10 -- We celebrated my daughter's birthday last weekend. Julia actually turned ten on April 1, but because of Shanghai's mobility restrictions, Sunday night was the first time we could get together with the extended family.
I suspect that Shanghai's economy will benefit from the release of pent-up demand. We may see spending on birthday cakes and other consumer goods spike as shoppers now make the purchases originally intended for April and May.
Unfortunately, spending on some services will be lost forever. For example, my wife and I like to go for a weekly foot-massage. We are going to resume our old schedule but we will not make up the eight or nine sessions we missed. This represents a permanent loss of income for the masseuses, who be sending less money home to their families in the countryside, who – in turn – will not be able to spend as much.
The speed of China's recovery in the second half of the year will depend both on the willingness of consumers to begin spending again and the ability of those that supply goods and services to resume production. As was the case in 2020, the recent COVID outbreak should be a temporary shock to the Chinese economy, which retains the ability to expand at "medium to high" rates of growth. The People's Bank of China (PBOC) estimates the Chinese economy has the potential to grow at 5.4 percent over the period of the 14th Five-Year Plan (Figure 1). The question is how quickly the economy can rebound from the COVID-related shock.
Figure 1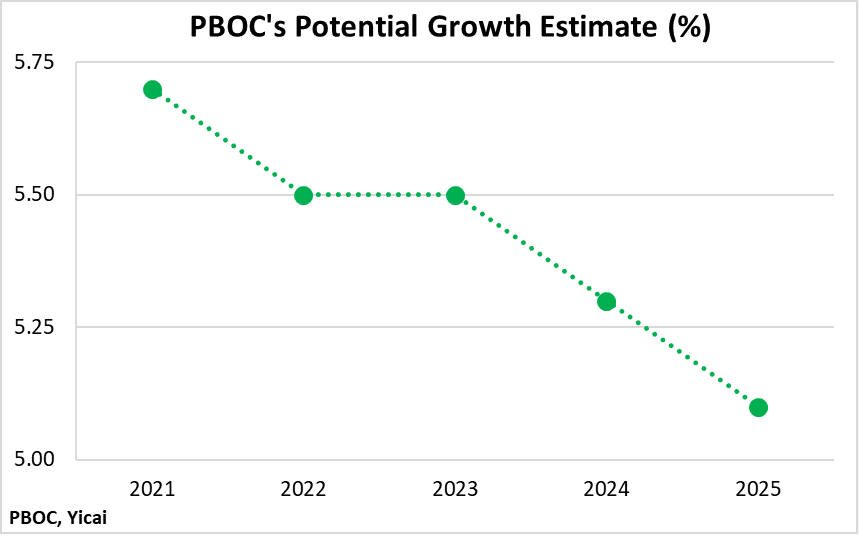 Some analysts are quite negative on China's prospects. Foremost among these are the folks at Bloomberg Economics who, on May 20, forecast that China's GDP will only grow by 2 percent this year. Bloomberg's pessimistic prediction is predicated on the widespread spillovers from Shanghai's mobility restrictions and insufficient policy support. While Bloomberg assumes that the Zero-COVID policy will remain in-place, it does not foresee another major outbreak this year. Even the US, which Bloomberg projects will increase by 2.8 percent this year, will grow faster than China.
Indeed, President Biden referred to Bloomberg's forecasts during his June 3 remarks on the May employment report. He noted that "independent experts" predicted that economic growth in the US would out-pace that of China for the first time since 1976 "nearly one half century ago."
With data for the second quarter still coming in and considerable uncertainty around how the second half of the year will play out, it is hard to make definitive economic forecasts. Still, I believe that the odds of the US growing more rapidly than China are small. Let's look at three assessments of how much COVID may have affected GDP growth in Q2.
First, I rely on work done by Chen et al – a team of academics from Chinese mainland, the US and Hong Kong. Using truck-flow data, they estimate that imposing a one-month lockdown on a city like Shanghai would reduce its monthly GDP by 61 percent. Last year, Shanghai's GDP was CNY4,321 billion. A 61 percent reduction in one month's GDP works out to a loss of CNY220 billion.
Chen et al further estimate that locking down China's four biggest cities for a month would reduce the country's monthly GDP by 8.6 percent. Given Shanghai's share of the top four cities' GDP, I reckon that locking it down would reduce China's monthly GDP by 2.6 percent, or some CNY236 billion. Shanghai's mobility restrictions were in place during April and May, so we assume that China's GDP in each of those two months fell by CNY456 billion or 4.5 percent below baseline (Figure 2).
Figure 2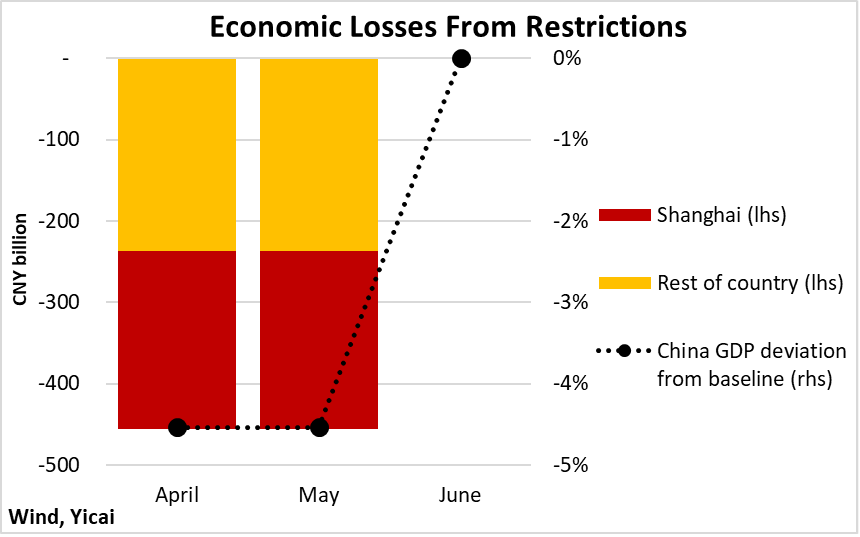 If we assume business as usual during June, then quarterly growth in Q2 would be 3 percentage points below baseline. With baseline growth at 1.3 percent per quarter (5.5 percent at annual rates), Q/Q growth in Q2 would come in at -1.7 percent or +1.8 percent year-over-year (down from 4.8 percent Y/Y in Q1).
We can make a second assessment of Q2's decline by using information from the Purchasing Managers' Indices (PMIs) to scale the decline in GDP we observed in the first quarter of 2020, when China was hit by the earlier COVID outbreak. Note that we will not get the PMIs for June until the end of the month. In the interim, I assume that they will return to their pre-pandemic level. This is consistent with the pace of improvement we saw in May.
Figure 3 shows the deviations of the PMIs from their pre-pandemic levels. The three months correspond to January-March 2020 and April-June 2022. The drop in 2020 was very deep and its rebound was also very rapid. The cumulative drop in the PMIs in 2020 was 27 points and GDP fell by 10.3 percent Q/Q. In the absence of the COVID shock, GDP would have grown by 1.3 percent. This implies that the COVID shock reduced growth by 11.6 percentage points. The fall in the PMIs during the second quarter of this year is likely to be closer to 14 points. Scaling the 2020 shock by 14/27 implies a drop of 5.8 percentage points from baseline, or a quarterly decline of 4.5 percentage points (-1.7 percent Y/Y).
Figure 3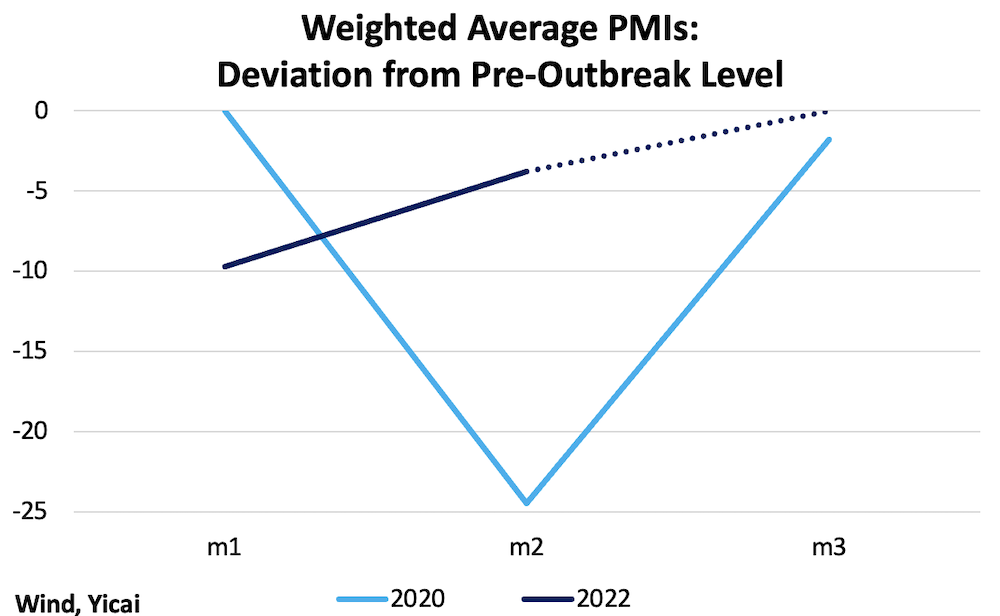 We can make a third assessment using the traffic congestion data. Here we have the benefit of data through June 8. These data are highly seasonal, so Figure 4 compares their Y/Y growth rather than their levels (m1-m3 are as in Figure 3 above). In 2020, the average decline in the traffic congestion indices, across the three months, was 14 percent. So far in 2022, the average decline has only been 4 percent.
Figure 4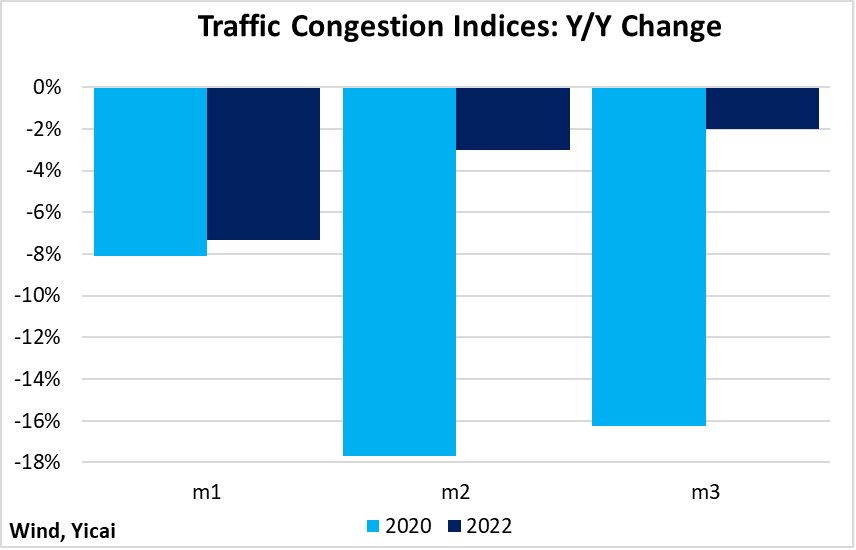 In the first quarter of 2020, the Y/Y decline in GDP was 6.8 percent, down from 5.7 percent growth in the previous quarter – a swing of 12.5 percentage points. If we scale this swing by the smaller change in the traffic congestion decline in 2022Q2, we get -3.6 percentage points.  Adding this to trend growth of 5.5 percent, we get an estimate of 1.9 percent for Y/Y growth in 2022Q2. This is very close to what we obtained from our first assessment.
To summarize: our three projections for the Q/Q growth in Q2 GDP are -1.7 percent (trucks), -4.5 percent (PMIs) and -1.6 percent (traffic congestion).
In 2020, the level of GDP essentially returned to its trend in the third quarter, two quarters after the COVID shock. Given the smaller shock this time, I assume that, in all three cases, GDP returns to its baseline trend in Q3 and remains there in Q4 (Figure 5). This baseline trend is derived from actual 2018-19 growth and the PBOC's potential estimate.
For the year as a whole, the "trucks" and "traffic" assessments imply growth of 5.0 percent, while the estimate based on the PMIs is 4.3 percent. All of these estimates suggest that GDP growth in China will be significantly faster than in the US.
Figure 5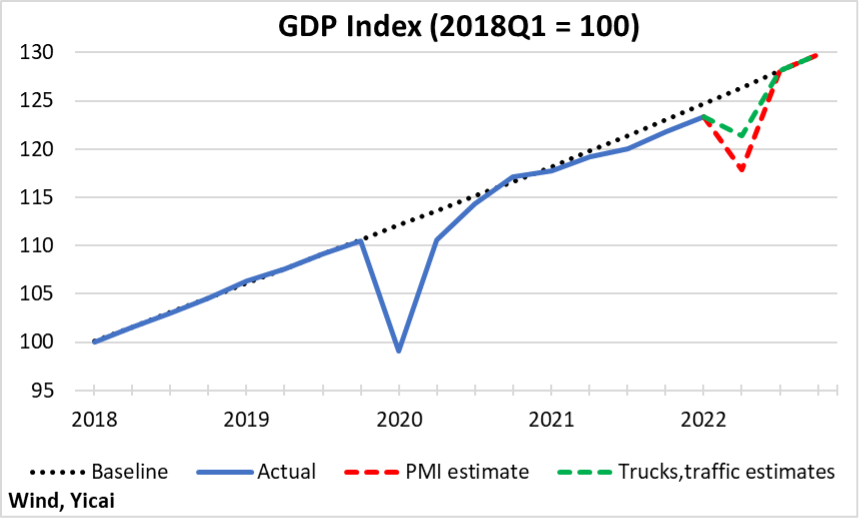 Given the ongoing pressures in the housing market and the widespread economic uncertainty, is a strong second-half rebound reasonable?
I think so.
Policy has been supportive. At the end of May, the State Council released a package of 33 measures designed to facilitate the recovery. Foremost among these are tax relief and increased infrastructure spending. But there are also more liberalized rules to attract foreign investment and provisions to ease companies' cashflow pressures. Looser monetary policy is also playing a role and short-term interbank interest rates have fallen to their lowest levels since mid-2020.
Moreover, the export data suggest that the economy's supply chains remain intact despite the COVID shock. May's export growth was a pleasant surprise. In 2020, exports were subdued until mid year. This year, they remain extremely robust notwithstanding the mobility restrictions (Figure 6).
Figure 6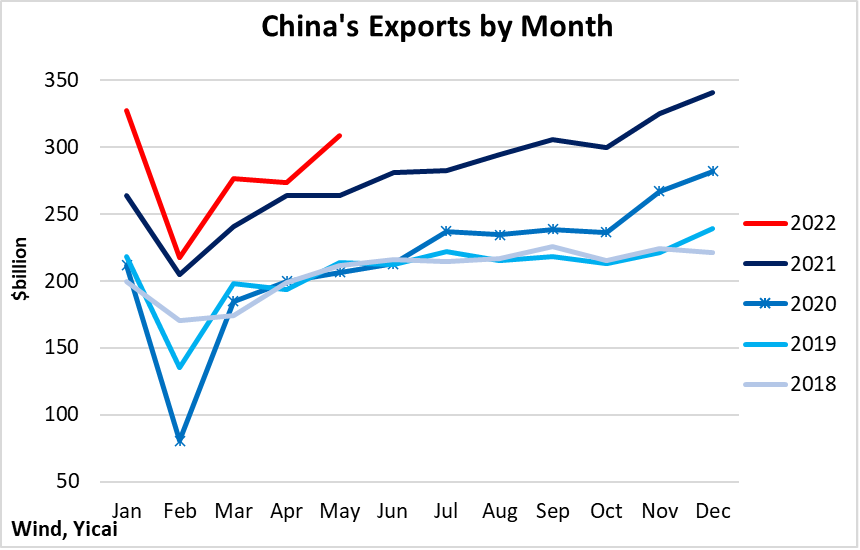 Growing faster than China seems to be something of an obsession for President Biden. In his January 27 statement on GDP growth during the first year of his presidency, he said the American economy grew faster than China's for the first time in 20 years. But he was misled. In 2021, US GDP rose by 5.7 percent, while China's increased by 8.1 percent.
By casting economic relations between the US and China as a race – a "competition" to win the 21st century, President Biden is trying to create a "Sputnik Moment".  However, the metaphor of a race is too one-dimensional to capture the immense volume of products, finance and ideas that continue to flow between the world's two biggest economies. Economic growth in this interconnected and globalized world is a cooperative enterprise, so President Biden should cheer a strong Chinese recovery on.
Last weekend, the family got together to watch Julia blow out her birthday candles. We also celebrated our having made it through the last two months in good health and with unbroken spirits. It was a good reminder that while we appreciate a bigger economy, it takes more than growth to make a happy life.