(Yicai Global) May 27 -- I was allowed a brief trip out of my compound this week.
After two months of confinement, a handful of neighbours and I were allowed to take a two-hour excursion to the local Walmart. We compiled a shopping list for our building's residents and ventured out into the largely deserted streets.
We had to show our travel permits at a couple of different checkpoints and gave a copy to the staff at Walmart's entrance to be admitted. The store, the only one I saw that was open for business, was packed full of shoppers. My friend and I divided up our shopping list: I took the groceries and he took the household items.
Even with all of the cash registers open and the self-checkouts in full operation, the lines to pay were huge. "Here," my friend said, "let me pay for our stuff with my phone." And he proceeded to scan the bar codes, transfer money and generate a proof of payment QR code. We were then able to bypass those standing in line, scan the QR code and leave the store.
My friend explained that Tencent and Walmart had developed a Weixin mini-program that supported this sort of payment. Other retailers have similar arrangements with Tencent.
Weixin is Tencent's ubiquitous instant messaging, social media and mobile payment app. According to Morningstar's Ivan Su, it's like having Facebook, WhatsApp, Netflix, Spotify, and Paypal all rolled into a single mobile app. Some 1.3 billion people used Weixin or WeChat (a sister app for those with foreign phone numbers) in March.
But Tencent is much more than Weixin. It is also the world's biggest developer of digital games, a provider of online music and video and a leader in fintech and business services. At some USD425 billion, Tencent is the world's 13th largest company by market capitalization and mainland China's most valuable listed enterprise (Figure 1).
Figure 1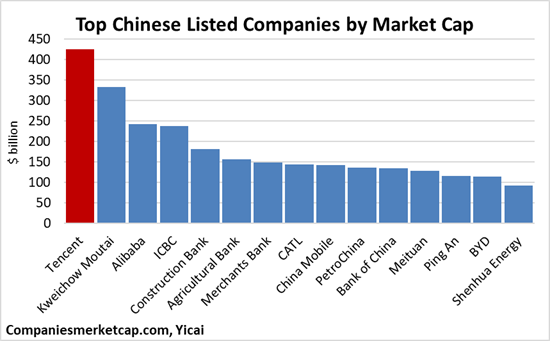 On May 18, Tencent reported that its profits fell by 51 percent year on year.
Since Tencent is seen as a bellwether for the Chinese consumer tech industry, the drop in its earnings was seen as a bad omen. In the wake of China's Zero Covid policy and the regulatory tightening that intensified last year, it is not clear what the "new normal" will be for these companies.
Tencent has been affected by Beijing's increased regulatory oversight both directly and indirectly.
China's National Press and Publication Administration (NPPA) has been limiting the approval of new video games to ensure that their content meets its quality standards and to combat gaming addiction among children. In April, it approved 45 new games. This was the first set of approvals since July 2021, when it gave the green light to 87 games. Previously, it had approved 80 to 100 new games each month.
Even though none of its new gaming licence applications were granted, Tencent's Chief Strategy Officer James Mitchell welcomed the approvals during the company's earnings call. Mitchell suggested that they signal the regulators' satisfaction with the industry. He noted that the nine-month period during which no games had been approved was tougher on smaller companies with negligible cash flows and it made sense to approve their applications first. Mitchell was confident that big companies, like Tencent, will receive their approvals in due course.
With the NPPA unlikely to relax its oversight, Tencent is concentrating on developing fewer, higher-quality offerings. Indeed, two of the games it released in 2021 were the most successful in the industry.
Concern over children's addiction also led the NPPA to regulate gaming time more tightly in August 2021. Children under 18 were restricted to playing one hour on Fridays, Saturdays, Sundays and public holidays. Previously, the regulations limited kids to 1½ hours of gaming on weekdays and three hours on weekends.
The tighter rules on minors' playing time caused their shares of Tencent's domestic gaming time and domestic gaming receipts to fall significantly (Figure 2).
Figure 2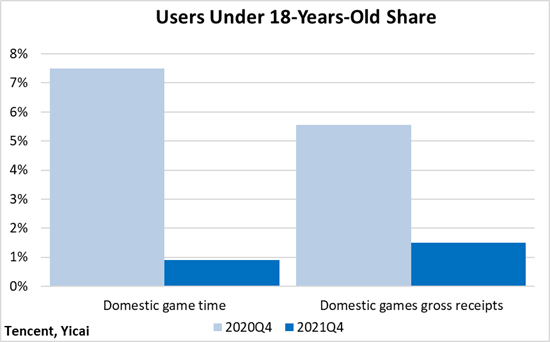 Tencent has fully embraced the obligations of being a responsible gaming company. In 2017, it pioneered a system that allows parents to monitor their children's gaming activity and it upgraded the system to be consistent with the rules introduced last August. Moreover, it provides a facial recognition function to prevent kids from logging in under their parents' accounts.
Tencent's advertising revenue has also suffered from new rules that limit confusing pop-up ads. But perhaps more important was last year's crackdown on the education sector that sharply reduced its demand for advertising. Finally, in July, China's competition watchdog, the State Administration of Market Regulation, denied Tencent permission to merge two videogame streaming sites: Huya and Douyu.
During the earnings call, Tencent President Martin Lau welcomed the government's recent statements of support for the platform companies' healthy development. He noted that the transition from the completion of the rectification measures to the development of normalized regulation and the rollout of supportive actions would take time. In the interim, Tencent would work closely with the regulators to affect this transition.
COVID is impacting Tencent's ability to earn revenue in two ways. First, slower spending both on everyday and big-ticket items is reducing the revenues generated by mobile payments. Second, the demand for advertising has fallen, in part, because of reduced consumption and also because many companies run their marketing budgets out of Shanghai, which is struggling under the lockdown.
COVID's impact on Tencent is likely to increase in the second quarter. Ultimately, however, the outbreak will be brought under control, relieving the pressure on Tencent's profits. Mitchell noted that in Shenzhen, where the outbreak was controlled quickly, spending fell sharply in March, recovered rapidly in April and, by May, was largely back on trend.
A longer-term issue is Tencent's cost structure.
Between 2019Q1 and 2020Q4, Tencent's headcount and its revenue both rose rapidly. More recently, staffing has continued to increase – it was up 30 percent year-over-year in 2022Q1 – even as revenues have levelled off (Figure 3).
Figure 3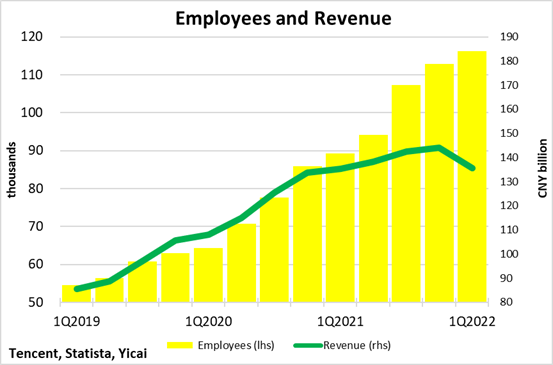 Lau emphasized that Tencent was not going to overreact to temporary factors and it was not planning to cut staff. He suggested that efficiencies could be found by reducing marketing costs.
As a maturing company, Tencent's growth will depend less on adding new customers and more on enriching the value-added of existing customers' experiences. This strategy appears to be working well in its gaming business, where average revenue per user account continues to rise and was up 13-14 percent, year-over-year, in the most recent quarter (Figure 4).
Figure 4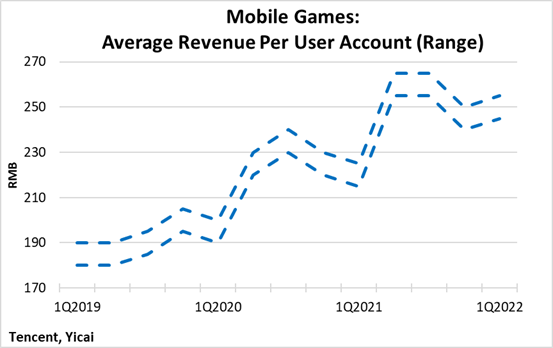 Tencent has also shown the ability to raise revenues by expanding the range of services it offers business. In the 12 months ending March 30, fintech and business services accounted for 31 percent of Tencent's revenue. This was a larger share than either its domestic gaming or its social network segments generated. Tencent is expanding its cybersecurity and video cloud solutions and management sees significant scope for offering firms the ability to chat with their customers via video.
Have COVID and stricter regulation made Tencent uninvestable?
I don't think so.
Tencent is diversified across three distinct business lines – gaming, social media and fintech and business services. This offers would-be investors a margin of safety. Moreover, as at March 30, Tencent had a portfolio of USD95.5 billion in listed-company investments – the equivalent of some 23 percent of the value of its share price.
According to the analysts surveyed by Refinitiv, core earnings are expected to remain flat this year before resuming their growth in 2023. Tencent is selling at 23 times 2022 or 16 times 2024 earnings (Figure 5).
Figure 5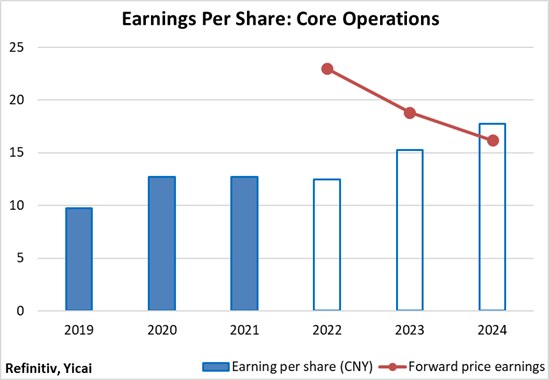 Because Tencent is so well diversified, it is hard to find a single company to which it can be meaningfully compared. Nevertheless, its price with respect to its forecast 2022 earnings is in-line with those of Facebook, Paypal and Activision Blizzard, leaders in social media, digital payments and gaming (Figure 6).
Moreover, between 2021 and 2024, Tencent's earnings are expected to grow at an average annual rate of 12 percent, while those of the other companies are forecast to increase at single-digit rates. This gives Tencent a relatively low price-earnings-to-growth (PEG) ratio and suggests its shares are attractively priced.
Figure 6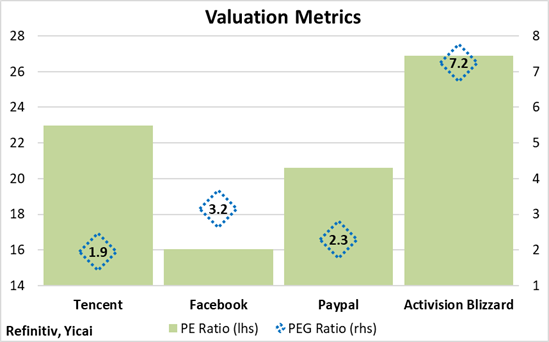 The market has not been kind to Tencent shareholders. Tencent's share price is only 58 percent of what it was on January 4, 2021. Still, notwithstanding China's Zero COVID policy and the regulatory tightening, Tencent's share price decline has not been out of line with what its peers have experienced (Figure 7).
Figure 7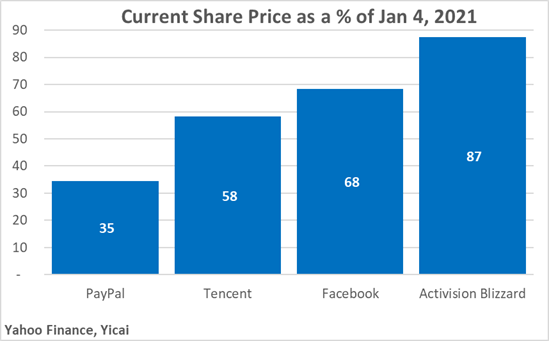 There are operational, financial and regulatory risks to being a leading company in a cutting-edge industry – let alone in three of them – but there can also be great rewards. Prosus, a Dutch multinational, owns 28.9 percent of Tencent and is its largest shareholder. Its stake is currently worth more than 6000 times what its parent, Naspers, originally paid for it in 2001.
While it is hard to predict where Tencent will be 20 years from now, China's most valuable company seems to be well-placed to weather a variety of shocks.