My corner of Pudong is very, very quiet.
Many stores are closed and there are few shoppers out and about. It reminds me of early 2020 when the first wave of the pandemic broke in Wuhan. Back then, Covid seemed like something very far away. We knew of no one who was infected.
Now, however, the virus is very close to home. My wife, my younger daughter and my mother-in-law all tested positive this week. My elder daughter has some symptoms but her immune system is strong and she continues to test negative. I got Covid while on holiday in Canada in October and have been spared infection this time round.
We are all wondering how the virus will progress, how many people will get sick and how we can best protect ourselves and our loved ones.
The course Covid takes depends on demographic, cultural and policy variables, which can vary considerably from region to region. Nevertheless, I think that Hong Kong's experience in dealing with the pandemic can provide useful lessons for the rest of China.
Lesson #1: The virus does not evolve in a linear fashion
Hong Kong experienced its first major outbreak of Covid about two years later than the US and the EU (Figure 1).
Figure 1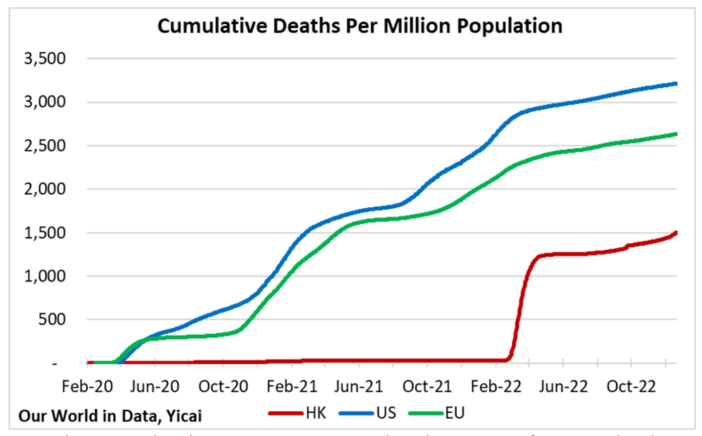 Between early 2020 and early 2022, Hong Kong employed a strategy of stringent border controls, testing, tracing and isolation to minimize the spread of infection. While this approach had been successful against the Alpha and Delta variants, it struggled to contain Omicron, which is much more easily transmitted between people.
The outbreak in Hong Kong followed two distinct phases.
In the first phase, between February and May, it progressed rapidly and the city recorded close to 9000 Covid-related deaths. In the second phase, the next seven months, the virus evolved more slowly and it took another 2000 lives.
Because Covid hit Hong Kong relatively late, deaths per million population have been well below comparable rates in the US and the EU. While Hong Kong's death rate has been trending up since June, its increase since mid-year has been broadly comparable to the American and European experiences.
It is worth emphasizing that the virus progressed relatively slowly in the second phase despite the Hong Kong authorities' relaxation of public health measures designed to reduce its spread.
Researchers at Oxford University's Blavatnik School of Government have developed an index of the stringency for government measures to contain Covid, which is based on nine indicators including school closures, workplace closures and travel bans. The higher the index, the more stringent the restrictions (Figure 2).
Figure 2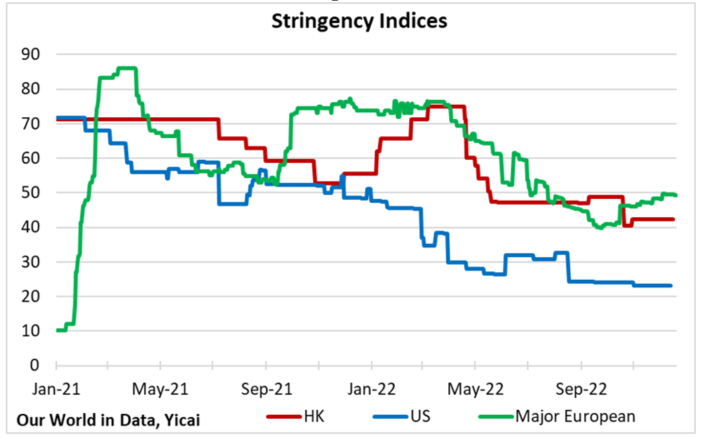 In Hong Kong, the authorities tightened the stringency of their measures in early 2022, as Covid-related infections increased.
Like governments around the world, the Hong Kong authorities wanted to balance protecting public health and supporting livelihoods, especially of those who are unable to work from home. In April and May, they took several steps to relax the restrictions. They liberalized again in October and they have recently made it easier to hold large banquets and to go to cinemas, museums and theme parks.
Currently, Hong Kong's stringency index lies below those of the major European countries (a simple average of France, Germany and Italy) but is above that of the US.
Lesson #2: Deaths were heavily concentrated among the elderly and the unvaccinated
The death toll among older people has been disproportionately high. Only 5 percent of Hong Kong's population is 80 years old or older. Yet this group has accounted for 71 percent of the Covid-related deaths. Conversely, those 59 years old and younger account for 71 percent of the population but only 4 percent of the deaths (Figure 3).
Figure 3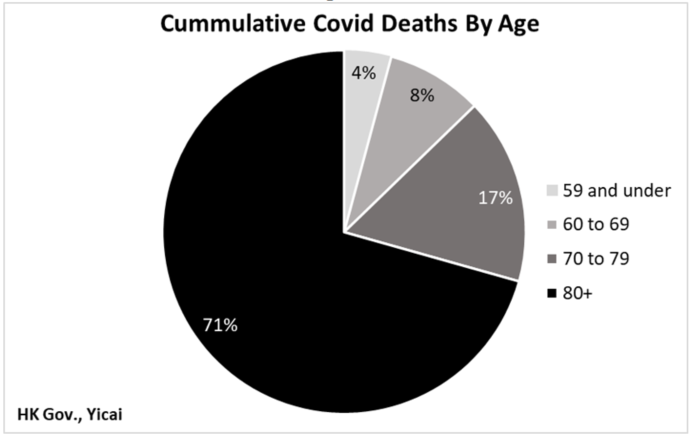 At all ages, vaccinations reduced the likelihood of Covid-related death (Figure 4). Two-thirds of those who died were unvaccinated. Those who had three or four vaccine doses accounted for only 8 and 1 percent, respectively, of the deaths recorded for those 80 years old and older.
Figure 4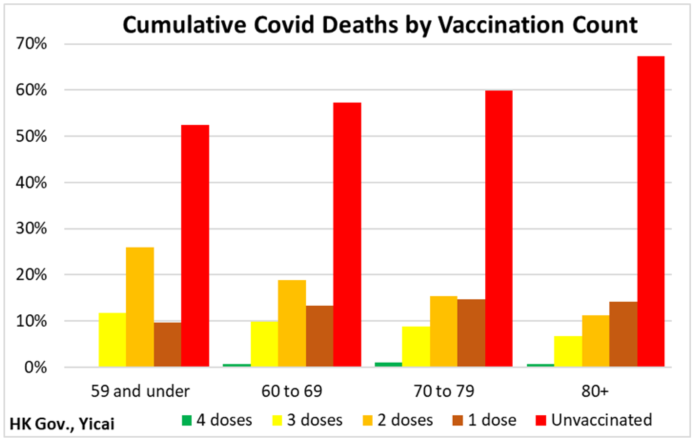 As the father of two young girls, I am especially worried about how Covid affects children. So, I take comfort in noting that Covid was not particularly pathogenic for kids in Hong Kong. Apparently, all children who died had underlying medical conditions.
Lesson #3: It is possible to rapidly increase the vaccination rate
Until the virus hit Hong Kong, the city's vaccination rates lagged those in the US and the EU (Figure 5). In some sense, Hong Kong was a victim of its own success. The odds of being infected were low and people hesitated to roll up their sleeves.
Once the outbreak began, a vaccine campaign supported by incentives from the public and private sectors led to a very rapid increase in the vaccination rate. At the end of January 2022, Hong Kong's vaccination rate was 150 per hundred people. Most recently, it has risen close to 270 per hundred people, which is significantly higher than American and European rates.
Figure 5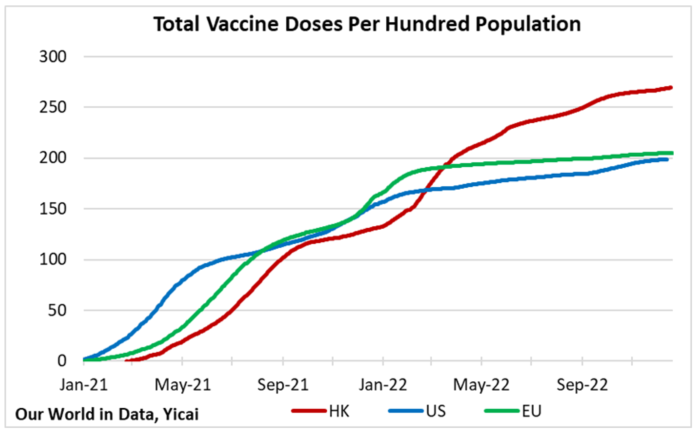 Lesson #4: The health care system must be insulated from excessive pressure
While Hong Kong's population is healthy and its life expectancy is relatively long, its health care system is not particularly well-resourced. For example, it provides 4.3 hospital beds for every 1000 residents. This is only about one-third as many as in Japan and Korea.
Thus, it is not surprising that Hong Kong's health care system was initially overwhelmed as infections jumped. Medical professionals have suggested that Hong Kong should explore more extensive use of community-based primary health care to take the pressure off of its hospitals.
In fact, Hong Kong's hospital capacity remains under pressure as a result of rising Covid cases and an increase in the seasonal flu. Hospital bed occupancy recently reached 113 percent and the authorities urged those with non-urgent conditions to stay home. An influx of residents from elder care facilities with mild respiratory symptoms has been seen as contributing to the problem.
Lesson #5: The economy remains sensitive to the course of the virus
As Figure 6 shows, there appears to be a strong negative correlation between new Covid cases and economic activity as measured by Hong Kong's Purchasing Managers' Index (PMI). As cases spiked in February and March, the PMI sank. It then recovered in April and May as the number of cases declined.
Notwithstanding the loosening of public health restrictions discussed above, the PMI has trended lower in August through November, as new daily cases remained in the 900 range. This suggests that it is very difficult to boost economic activity as long as the public is concerned about its health and safety.
Figure 6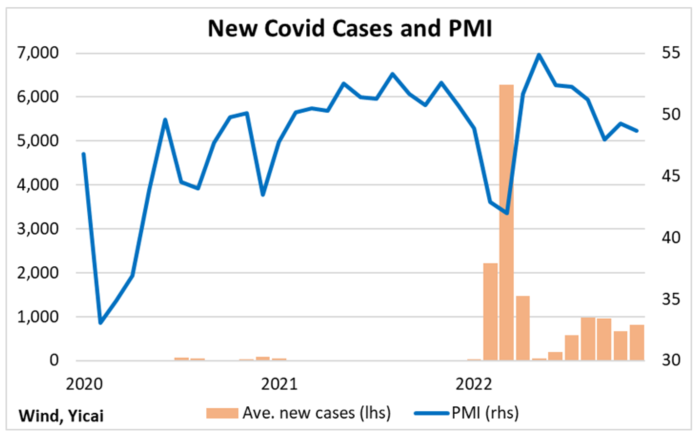 Caveat: Chinese Mainland is not Hong Kong
While it is tempting to draw lessons for Mainland from Hong Kong's experience, it is important to remember three key differences between the regions. All of these differences point to a less severe outbreak in the Mainland than what we observed in Hong Kong.
First, Hong Kong is much more densely populated which makes transmission easier. Indeed, many people live in apartment blocks, with connected ventilation and drainage systems or in subdivided tenements, with tiny amounts of personal space.
Second, the Mainland's population is younger than Hong Kong's. The share of its population over 80 years old is less than half of Hong Kong's. And those 70 and over account for 8 percent of the Mainland's population and 13 percent of Hong Kong's (Figure 7).
Figure 7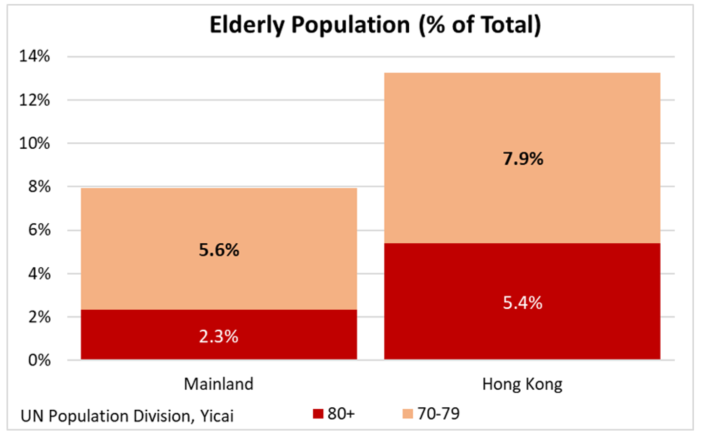 Third, vaccination rates in the Mainland are relatively high. On the eve of the Omicron outbreak in Hong Kong, vaccination rates were 150 per 100 people. The rate on the Mainland is currently 242 per 100 people.
We have just taken our elder daughter for her second vaccination. The clinic was crowded. It was encouraging to see people doing what they can to boost their immunity and help shorten the time until life gets back to normal.