(Yicai Global) May 13 -- Our compound – some 40 buildings which house 2500 residents – is beginning to look more and more like a village.
Some volunteers have opened a small, one-room shop that sells dried goods like flour and noodles, condiments like soy sauce and a few other daily-use items. An enterprising neighbour set up a self-serve fruit stand. They have been offering delicious-looking mangos and bananas and all we have to do is pay via the QR code posted and help ourselves.
In the past week, we were able to get many of Shanghai's seasonal delicacies: bamboo shoots (笋), fava beans (蚕豆) and Manchurian wild rice stems (茭白). My mother-in-law does wonderful things with these ingredients but she is locked down in a separate compound. So, my wife, Feifei, phoned for the recipes, made the dishes herself and did her mom proud.
We have also been able to get some fast food delivered. We had to be part of a larger group that makes the bulk delivery worthwhile for the vendor. My girls appreciated the KFC fried chicken and the bagels and coffee from Tim Hortons reminded me of home.
The food supply situation changes from day to day. The local branch of our fresh vegetable e-commerce platform (叮咚买菜) closed down because it was in an infected area. Feifei figured out how to buy from a central depot that will deliver but offers a more limited menu. Some of our older, less tech-savvy neighbours had trouble navigating the system. So, they turned to Feifei and she helped them order vegetables.
After close to two months of being locked down, our family has found ways to cope. Similarly, the public health measures taken to manage the Omicron outbreak are forcing the firms here to look at new ways of doing business. The American and European chambers of commerce have recently published "flash surveys" detailing the ways that their members have responded to the outbreak.
The surveys report a deterioration in business sentiment with most firms forecasting reduced revenues this year.
Many firms complain that supply chain disruptions are seriously reducing their ability to produce. However, new COVID cases have fallen sharply. On May 11, new infections in Shanghai fell to 1450, or close to 10 percent of what they had been two weeks earlier (Figure 1). At a May 13 press conference, Wu Qing, Shanghai's Executive Vice-Mayor noted the progress being made in containing the outbreak and announced that the city would begin a phased re-opening by the middle of the month. This means that the supply chain disruptions should only be temporary.
Figure 1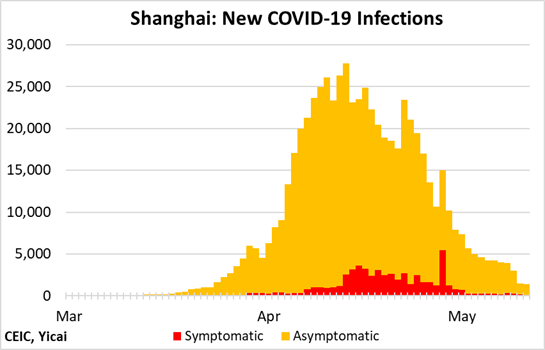 In the meantime, firms are finding workarounds.
Despite logistical issues which caused major congestion at Shanghai's port, Chinese exports were up 4 percent year-over-year in April. While this is significantly slower than the 15 percent growth recorded in March, the level of exports remains at a high level (Figure 2), in part, because exporters were able to ship out of Ningbo and other Chinese ports.
The US flash survey reported that only 15 percent of the firms in Shanghai had yet to reopen in the wake of the Omicron outbreak. This suggests that a variety of coping strategies are being employed by the other 85 percent.
Figure 2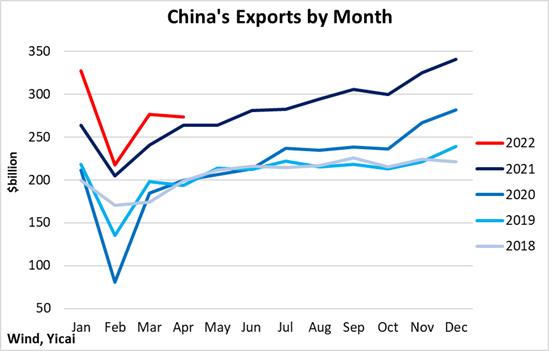 Foreign firms are also concerned about the effect that COVID is having on their ability to attract and retain qualified expatriate staff. This is likely to be a more long-lasting problem and could persist well after the current outbreak is brought under control. But foreign firms are finding ways to adjust to this challenge too. For example, Apple is increasingly relying on local engineers, instead of those sent from the US, to oversee their contract manufacturers. Apple also levers technology like live streaming and augmented reality to keep on top of production. My sense is that foreign firms will continue "localizing" their human resource needs even after the pandemic dies down.
On May 5, the Standing Committee of the Political Bureau of the Communist Party of China met to assess progress in preventing and controlling COVID. In its statement, it noted that "Relaxing the prevention and control measures will inevitably lead to large-scale infections, a large number of serious illnesses and deaths, and will seriously affect economic and social development as well as people's lives and health."
The Standing Committee wants to accelerate the management of existing cases, avoid a one-size-fits-all (一刀切) approach and protect peoples' livelihoods.
Tellingly, it wants to guide people to assume more responsibility for themselves by taking daily protective measures and making progress in getting vaccinated (引导广大群众增强责任意识、自我防护意识,自觉承担防控责任和义务,落实个人、家庭等日常防护措施,推进加强免疫接种工作).
The Standing Committee's approach is supported by the recently-released findings of Chinese and American researchers who model what an Omicron outbreak in China would look like in the absence of mitigating measures. 
Given China's starting point in March 2022, the model suggests that an unchecked Omicron outbreak would result in 112 million symptomatic cases, 2.7 million intensive-care unit admissions and 1.6 million deaths over a six-month period. Such an outbreak would overwhelm the healthcare system as the peak demand for intensive-care beds would be close to 16 times existing capacity. The researchers' estimate of the death toll is consistent with my own back-of-the-envelope calculations.
In the simulation, the burden of the disease falls on those aged 60 and up. They account for 90 percent of the intensive-care unit admissions. Three-quarters of the deaths are estimated to occur among non-vaccinated individuals aged 60+.
The researchers go on to assess three strategies designed to cope with such a hypothetical outbreak: promoting vaccinations among the population aged 60+, anti-viral therapies and non-pharmaceutical interventions, such as the closure of schools and workplaces. They find that none of these strategies pursued in isolation would be sufficient to reduce the Omicron deaths to the number China typically records during an annual influenza outbreak (88,000). They call for a hybrid strategy.
The researchers' findings highlight the importance of vaccinating the elderly to "limit the COVID-19 burden and prevent overwhelming the healthcare system." There are approximately 265 million people aged 60+ living in China. According to the most recent information from the National Health Commission, 39 percent have not yet received three vaccines (Figure 3).
Figure 3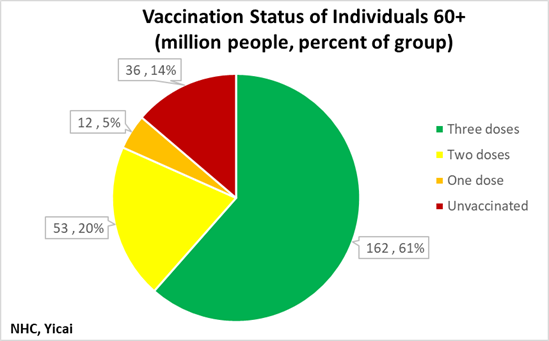 Based on research done on Hong Kong's Omicron outbreak earlier this year, three doses of Sinovac's CoronaVac vaccine were just as effective as the BNT162b2 mRNA vaccine developed by BioNTech/Fosun Pharma. Both these vaccines reduced the likelihood of severe disease or death by 98 percent (Figure 4). However, with only two shots, the CoronaVac's effectiveness rate dropped to 74 percent for those 60+.
Figure 4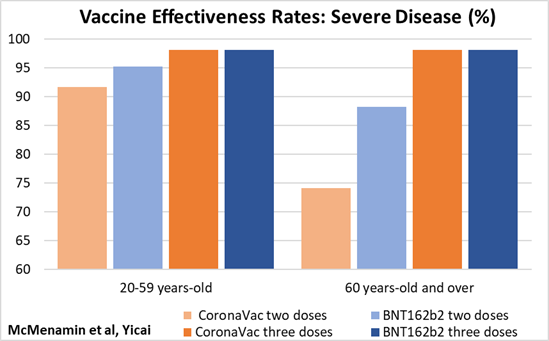 China is making progress in delivering booster shots (third doses) to its greying population. Since the end of March, it administered 19 million booster shots to those 60+ and raised their three-shot coverage by 7 percentage points (Figure 5). However, at this rate, it will take more than six months before the 60+ population is fully boosted.
Figure 5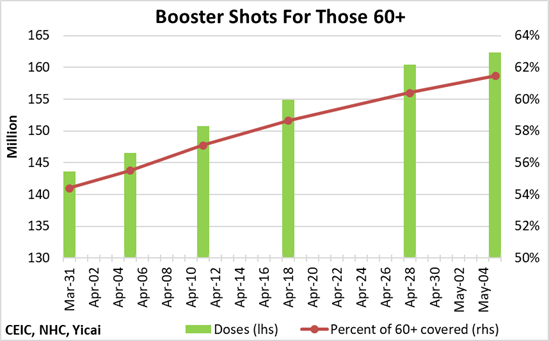 There is still a lot of resistance among older people to getting vaccinated. Better education –based on the data accumulated to date – and stronger incentives – like vaccine passports –would be useful in accelerating uptake.
Encouraging those 60+ to play a greater role in protecting themselves is fully consistent with the Standing Committee's guidance. Moreover, higher vaccination rates will reduce the burden currently placed on "non-pharmaceutical interventions." With a smaller economic fallout, this would be a superior strategy for coping with the outbreak.